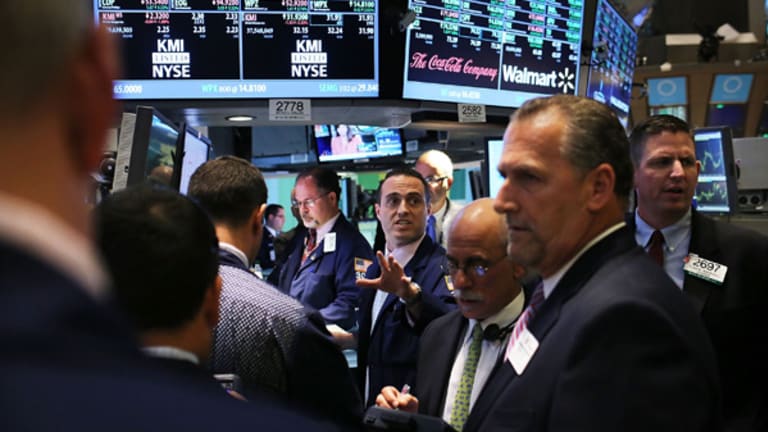 Today's Market: As Earnings Season Kicks Off, Dow and Nasdaq Trading Slightly Higher
<LI>Lehman, Salomon downgrade Altera, Xilinx.</LI><LI>Oil prices up.</LI>
(Updated from 9:36 a.m.)
This market needs a hero -- or a few of them.
After over a month of slogging lower through the nastiest earnings
preannouncement season in a
long
time, investors and stocks need some enthralling earnings reports.
Today kicks off
earnings season, with Internet bellwether
Yahoo!
(YHOO)
and telecom and electronics firm
Motorola
(MOT)
scheduled to report after the close today. Yahoo was 1.9% higher in early action. Motorola was 0.5% higher.
But investors weren't convinced about the rest of the market. Futures were initially trading just over fair value, indicating some tepid optimism. But then they tore into the red. Downgrades this morning on semiconductor stocks
Xilinx
(XLNX)
and
Altera
(ALTR)
from both
Salomon Smith Barney
and
Lehman Brothers
may have helped dampen sentiment.
"There's a reason why investors are going to hold tight and sit tight. They're not going to make any strong commitments, because you've got earnings from Motorola and Yahoo! after the close and a rise of price of oil," said Hugh Johnson, chief investment officer at
First Albany
.
But after a mixed open, both the
Dow Jones Industrial Average and the
Nasdaq Composite Index were both lately trading higher. The Dow was up 17 to 10,585. The Nasdaq was lately 16 higher to 3371. And the
S&P 500 moved 4 higher to 1406.
Also scheduled to report today is
Biogen
undefined
, biopharmaceutical company that makes health care products. Biogen was lately 1.4% lower.
It may take a lot to impress this troubled market -- more than just better-than-expected earnings from some important companies. Last week, for example, semiconductor-maker
Micron Technology
(MU)
got clobbered after reporting blowout earnings.
"Every little piece matters. It's important for the earnings season to do what is expected ... if a number of companies start to report better than expected
earnings, that could turn the momentum," Johnson said.
But a barrage of negative surprises -- as a number of companies gave a heads up that their earnings wouldn't be as good as expected -- has beaten down this market in past weeks and may have made more room for other surprises. At the end of last week, analysts lowered their forecasts of how much earnings grew in the quarter to 14.9% from 15.3%.
In any case, the real thing to watch in earnings reports will be guidance from companies about what they expect from future performance. After more than a year of interest rate hikes from the
Federal Reserve aimed at slowing the pace of economic growth, investors are concerned and confused about how much the economy is actually slowing.
Meanwhile, some market watchers are wondering whether yesterday's reversal of fortunes will help this market go higher. After descending about 130 points, the
Nasdaq Composite Index bounced heartily upward as the trading day neared its end to close the day only 5 points off. Then again, holiday volume was awfully light (it was both Columbus Day and the Jewish holiday of Yom Kippur). And the kind of trading action that typically signals a turnaround is usually marked by a ton of furious nerve-racking selling in very active volume.
Things are certainly looking pretty cheap compared to a few months ago.
"The good news is, a lot of these stocks have reached levels that are attractive -- arguably cheap -- and a lot of investors are inching to pull the trigger," Johnson said.
Other areas to watch today are the Middle East and oil prices. Cold weather and escalating tensions pushed oil prices about 65 cents higher overnight. The market is sensitive to oil because of its impact on inflation (as oil prices rise, they can easily pull the prices of other goods and services higher too), consumer spending (that's right, if you're paying more at the pump, you won't have as much money left over to buy other things) and, most of all, earnings.
Israeli Prime Minister Ehud Barak's decision over night to lift his suspension of peace talks should give oil fears some respite. Barak is giving Palestinian leader Yasser Arafat another chance to quash rioting in the West Bank and Gaza Strip before imposing sanctions.
In company news to watch today, there were a few more earnings warnings expected, including ones from
Central Parking
(CPC)
and
Silicon Graphics
(SGI)
. Central Parking was lately 8.7% lower. Silicon Graphics was 4.8% lower.
And
Royal Dutch/Shell Group
said it agreed to buy 1.64 million shares, or $100 million worth, of oil exploration and production company
Apache
(APA)
as part of a deal in which both companies will acquire
Fletcher Challenge Energy
. Fletcher has operations in New Zealand and Brunei.
Back to top
Bonds/Economy
Bond prices are under pressure as oil is trading at a two-week high in response to strife in the Middle East and falling temperatures. Rising oil prices alarm bond investors by threatening to lift the overall inflation rate. There are no major economic releases today.
Investors in
Treasury Securities are also concerned about a possible onslaught of new corporate bonds, which compete with Treasuries for investor dollars.
Unilever
(UN)
,
Telecom Italia
undefined
,
France Telecom
(FTE)
and
British Telecom
undefined
are all expected to float multi-billion dollar bonds before the end of the year. The Unilever deal is expected by the end of next week. The timing of the rest is uncertain, but they are considered likely to come this month.
The benchmark 10-year
Treasury note lately was down 6/32 at 99 8/32, lifting its yield to 5.848%.
Back to top
International
European stocks were mixed around midsession, as London had slipped into the red. Its neighbors across the channel had also pared back gains.
London's
FTSE 100
was down 18.50 to 6246.30.
The
CAC 40
in Paris was up 36.35 to 6146.41, while the
Xetra Dax
in Frankfurt was barely over the flatline, up 3.98 to 6684.76.
The euro was lately trading barely higher at 0.8703.
The major
Asian equity markets tripped lower overnight.
Returning from a long holiday weekend, Japan's equity markets finished lower Tuesday after one of the country's biggest insurers filed for bankruptcy. The
Nikkei 225
closed down 166.5, or 1%, to 15,827.7.
In Tokyo trading, the dollar fell to 108.51 yen. The greenback was lately trading at 108.06.
Elsewhere, South Korea's
Kospi
index closed down 0.8 points, or 0.1%, to 588.3 and Hong Kong's
Hang Seng
index fell 157.6, or 1%, to 15,535.9, as heavyweight
China Mobile
(CHL)
continued its 5.5% slide from Monday. The shares fell HK $0.25, or 0.5%, to 55.50 ($7.12).
Taiwan's stock market was closed for a holiday.
Back to top