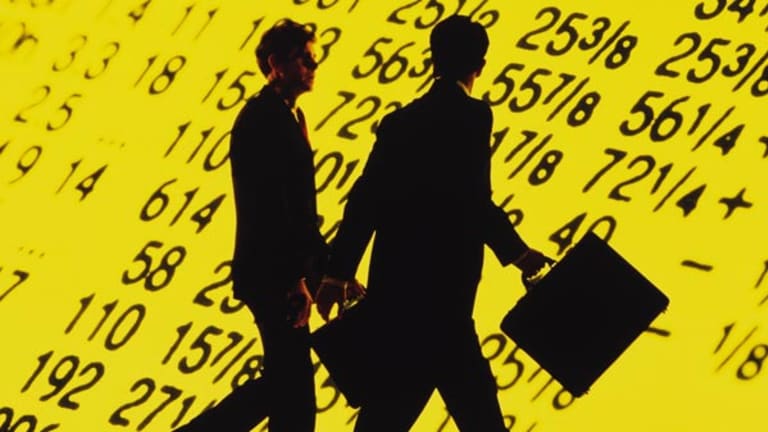 Today's Market: Amazon, Nokia Wound Nasdaq; Defensive Dow Ends Higher
<LI>Tech got smacked today.</LI> <LI>Blodget weighs on Amazon.</LI> <LI>Financials, drugs help Dow.</LI>
(
Updated from 4:07 p.m.
)
The sellers came out and trained their sights on the technology stocks today, moved to do so after the lousy earnings call from
Amazon.com
(AMZN) - Get Amazon.com, Inc. Report
last night and an earnings warning by
Nokia
. The cell phone maker had a demoralizing affect on the semiconductor and telecommunications stocks, helping to send the
Nasdaq Composite Index below its 200-day moving average of 3872, as it closed down 145.47, down 3.65%, to 3842.25.
Portfolio managers took their cash and put it into oil, drugs and some financial stocks, helping the
Dow Jones Industrial Average finish up 69.65, or 0.66%, to 10,586.13. But positive days on the Dow ring kind of hollow these days -- the 30-stock average is resting at approximately the same level it was in April of 1999. In 15 months, it's gone precisely nowhere. The
S&P 500 dropped 2.8, or 0.19%, to 1449.62. The
Russell 2000 lost 12.19, or 2.4%, to 501.62.
After attempting a late rally, the Comp faded late in the session. Despite breaking out of a narrow trading range in June, it still doesn't feel like there's been much of a rally during these warm months, as optimists would like to proclaim. Strength that existed during some weeks has been undermined by economic data that's beginning to hint of a slowdown, as well as by earnings warnings.
It's clear by now, as the earnings season comes to a close, that the first quarter marked the peak of this cycle's earnings season. A number of prominent companies have warned about their growth prospects for coming quarters during these last few weeks, and the meandering pattern of the major indices reflects uncertainty about future conditions.
"We haven't really had a summer rally in years. There's nothing to really shake us out of this trading range we've been in," said Ned Collins, executive vice president of U.S. stocks at
Daiwa Securities
. "We need more time and more work to find out which direction we're actually going."
A Dangerous Flirtation
The Nasdaq Composite Index vs. its 200-day moving average, through July 26
The growing pessimism has put a significant hurt into Amazon.com -- a company once hailed as the future of, well, society, but now just appears most interested in delaying its passage into profitability. Several analysts finally let the fat lady sing today, downgrading the e-tailer after the company's earnings call yesterday.
The online retailer said yesterday that revenues had barely grown from the previous quarter and the company had lost 33 cents a share. Although the company beat second-quarter estimates -- analysts surveyed by
First Call/Thomson Financial
had expected a loss of 35 cents a share -- it did not meet its revenue-growth targets. Amazon's sales during the quarter were $578 million, 84% higher than the same quarter a year ago; the company had targeted 90% growth. The stock closed down 13% to 31 3/8 today, a 52-week low, helping
TheStreet.com Internet Sector
index lose 5.7% today.
The negative action in Amazon and the semiconductors helped kill the Comp today, which has lost 340 points in the last five sessions, eroding a lot of the optimism that existed in the market over the possibility of a summer rally.
Charles Pradilla, chief investment strategist at
SG Cowen
said that, "the market was over-discounting the best news. There were company-specific things in Nokia and Amazon. What happens to
Cisco
(CSCO) - Get Cisco Systems, Inc. Report
if they stub their toe? If you get one quarter of economic growth at 2.5%,
people are going to be buying fewer routers."
Nokia's Rough Day
That kind of caution hurt big-cap technology (and small-cap) trading today. For Nokia's part, the company said that third-quarter earnings would probably fall from the second quarter's because of the turnover in new products. The telecom giant also suffered a loss in its handset division due to component shortages, and the stock was killed today, losing 25.8%.
Semiconductors continued to get bludgeoned, with the
Philadelphia Stock Exchange Semiconductor Index
skidding 8.2%. "Communication-related semiconductor stocks are selling off because Nokia is a major customer to many semis," said Peter Boockvar, equity strategist at
Miller Tabak
. "And even if they're not customers, they're selling off in sympathy."
Lately,
LSI Logic
(LSI) - Get Life Storage, Inc. Report
, after hitting a new low yesterday, bounced back today and gained 4.6%, while
Advanced Micro Devices
(AMD) - Get Advanced Micro Devices, Inc. Report
lost 9.1%.
Other active big-cap tech stocks also fell off. The Nasdaq's most active,
WorldCom
(WCOM)
, reported strong earnings but warned of some revenue weakness. The stock was hit, ending down 12.2% on 62 million shares traded.
Yahoo!
(YHOO)
fell 1.4%, and Dow component
Hewlett-Packard
(HWP)
was socked, off 3.8%.
The
Nasdaq Telecommunications Index
dropped 6.9% today, which includes a 8.4% decline by
Sprint
undefined
.
Tech is From Mars, Drugs are From Venus
Meanwhile, away from technology, many sectors looked stronger, especially the drugs and oil sectors, areas that have been subject to beatings when the market falls in and out of love in its dyslexic relationship with the technology arena.
The oil sector rebounded today, with the
American Stock Exchange Oil & Gas Index
climbing 3.7%. The high price of crude oil during the second quarter bolstered earnings for the group, bringing some money back into the sector, which had been trading lower in recent weeks.
Texaco
ended up 3.5%, while
Chevron
(CHV)
rose 4.7%.
Drugs have been a popular sector during this quarter, because they're a liquidity-rich area for investment, and stock managers tend to play these stocks against technology often. The
American Stock Exchange Pharmaceutical Index
climbed 2.7% today, one of the strongest sectors in today's action, led by a 3.4% rise in
Merck
(MRK) - Get Merck & Co., Inc. Report
.
On the IPO front,
Tycom
(TCM)
,
Tyco's
(TYC)
undersea fiber-optics services division, ended up 12.7% to 36 1/16, on the day of its trading debut. A total of 37.5 million shares traded, making it the NYSE's second-most active today.
Where Are the Data?
The
Employment Cost Index
, meanwhile, came out just below expectations at a 1.0% rise.
One of
Fed Chairman
Alan Greenspan's favorite pieces of economic data, the ECI measures wage inflation. This month, for the first time, the
Labor Department
included bonuses and benefits (those big fat contract signing bonuses you've been hearing about or perhaps receiving) in its calculation.
According to
Reuters'
consensus forecasts, the ECI was expected to come in at a 1.2% rise vs. a previous 1.4% rise.
Though a volatile indicator, today's
durable goods orders
for June came in at very hot 10% rise. A less important figure than the ECI, this volatile number was expected to come in at a 0.1% rise vs. a 6.1% rise in May.
Back to top
Market Internals
Breadth was downright lousy -- especially on the Comp -- on moderate volume.
New York Stock Exchange: 1,389 advancers, 1,446 decliners, 1.15 billion shares. 97 new 52-week highs, 77 new lows.
Nasdaq Stock Market: 1,108 advancers, 2,876 decliners, 1.75 billion shares. 39 new highs, 160 new lows.
Back to top
Most Active Stocks
NYSE Most Actives
Nokia: 120.8 million shares. Tycom: 37.5 million shares. LSI Logic: 24.2 million shares.
Nasdaq Most Actives
WorldCom: 62.2 million shares. JDS Uniphase: 44.5 million shares. Ericsson (ERICY) : 37.5 million shares.
Back to top
Sector Watch
Oil services stocks were also benefiting from the oil sector revival. The
Philadelphia Stock Exchange Oil Service Index
rose 3.7%, with gains from
Transocean Sedco Forex
(RIG) - Get Transocean Ltd. Report
and
Halliburton
(HAL) - Get Halliburton Company Report
.
Brokers were still coming down, after hitting a new high earlier this week. The
American Stock Exchange Broker/Dealer
index slipped 0.6%. But despite the downticks,
A.G. Edwards
(AGE) - Get AgeX Therapeutics, Inc. Report
rose 4%. The
Philadelphia Stock Exchange/KBW Bank Index
ended up 0.6%.
Back to top
Bonds/Economy
The Treasury market rallied, and for a while the benchmark 10-year note's yield sustained a move below 6% for the first time since last Friday. Lately the note has slipped, the yield returning to that nice round number.
Bond prices initially fell on the news that durable goods orders rose a whopping 10% in June, but subsequently recovered after it became clear that the gain was almost entirely due to a massive 43% gain in orders for transportation equipment. Excluding transportation equipment, durables orders rose just 0.8%.
Meanwhile, the more-important employment cost index pretty much met expectations, rising 1% in the second quarter. A larger-than-expected increase like the one that occurred in the first quarter would have signified accelerating wage inflation, which might have prompted additional interest-rate hikes by the Fed. As it is,
fed funds futures are pricing in the same odds of an August rate hike today as yesterday -- 30%.
The benchmark 10-year Treasury note was lately up 5/32 at 103 18/32, making its yield 6.004%.
Back to top
International
European markets closed out their sessions mixed today.
By midmorning, the
FTSE 100
closed down 35 to 6352.10.
Across the channel, Frankfurt's
Xetra Dax
ended 122.60 lower to 7179.52, and the Paris
CAC
finished up 18.53 to 6511.53.
The euro was lately trading at $0.9317.
Asian markets were all lower yesterday, taking some cues from the Nasdaq's slide.
Japanese shares edged lower overnight as technology stocks continued to take a beating when margin investors sold key large-cap shares to stem losses. That said, the tech sector is not the only one under the weather. Many blue-chips were also lower as the unwinding of cross shareholdings hurt the market, traders said. The
Nikkei 225
index fell 320, or 1.9%, to 16,182.01.
The greenback edged slightly lower against the yen to 108.91 in Tokyo trading. The dollar was recently trading at 109.23 yen.
With excitement over Hong Kong's bank shares disappearing in just one day, the key
Hang Seng
index shed 170.14, or 1%, to 17,450.09.
Back to top