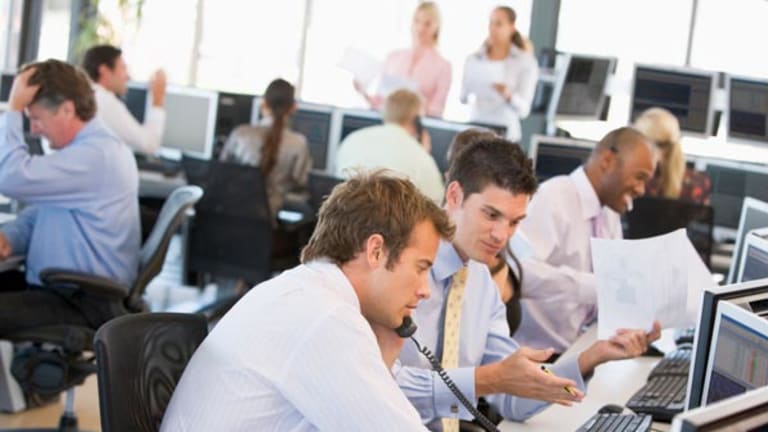 Today's Market: All Dressed in Red, Dow's Feeling That Holiday Spirit
No candy, no flowers for the Dow today -- just dipping prices and the bitter bile of a Valentine's Day selloff.
Perhaps it is a good thing that the tape has run red on Valentine's Day, since the sheer number of cliches and metaphors increases exponentially. That said, everyone except television anchors and the bears was miserable at midday.
Incredibly low volume, an utter lack of market-moving news and a general apathy have weighed on both the
Dow Jones Industrial Average and
Nasdaq Composite Index.
The Dow fell 92 to 10,811, while the Comp burned off early weakness and gained 6 to 2434. But few market areas outside of selected tech sectors were safe just one day after
Alan Greenspan, the
Federal Reserve chairman, talked with the
Senate Banking Committee
. When the chair wasn't fending off a billion questions about taxes, he pretty much said what markets expected -- that the Fed was concerned about the state of the economy and is willing to intervene to make things right.
The current dearth of news has taken the wind right out of the market's sail. There are few catalysts left, since most earnings look the same -- a weak first quarter followed by improvement in the second half of 2001. And that goes for both tech companies and non-tech companies. Meanwhile, the Fed really hasn't offered very much in the way of new guidance. And with no established leadership, there really was no reason to buy anything, especially with yesterday's rally attempt blowing up in the final few hours of trading. Weakness was all around.
3M
(MMM)
was the biggest drag on the Dow one day after being its biggest supporter. It fell 3% in something of a "two steps forward, two steps back" sort of move. Since early January, 3M has been trading within five bucks on each side of $110, locked into a fairly tight range. Today's move kills off rallies on Monday and Tuesday.
A grand total of 21 blue-chips were on the red side of the tape at midday -- a solid sign that people were really not in the mood to buy. Most of the issues that were mired in losses were off by a fairly small amount. Today's weakness was broad-based, not solely the result of a big 3M drop.
Within the Comp, traders were coping with more bad news from a pretty large semiconductor equipment maker, plus dealing with a rash of analyst actions on tech companies.
Applied Materials
(AMAT)
and
Sycamore Networks
(SCMR)
, both released earnings last night and have been fodder for analyst downgrades, readjustments and commentary this morning.
Applied Materials announced first-quarter earnings
topping estimates by a healthy margin -- 4 cents a share. The chip equipment maker said that next quarter's earnings would come in between 32 cents and 37 cents a share, much lower than the 49-cent estimate. The company guided revenue estimates lower as well.
"AMAT's industry view is the weakest we have seen," wrote
Merrill Lynch
analyst Brett Hodess. "The company believes semiconductor capital spending could drop 20% in 2001."
Hodess lowered his estimates, as did
Lehman Brothers
analyst Edward White who cut his price target to $65 from $90.
Prudential
cut its second-quarter earnings per share estimate to 36 cents from 52 cents a share.
And Sycamore reported
second-quarter earnings that beat analysts' expectations by a penny, helped by its top-line growth. But, the company also warned that 2001 growth would show some slowing, not a good sign. Lehman Brothers cut its price target to $75 from $150, while maintaining a strong buy rating on the stock. "Customer concentration remains perhaps the greatest risk Sycamore faces," wrote the analyst.
Nobody cared. Nobody listened. Applied Materials rocketed up 10.8% after beating the quarter. Sycamore rose 10.8%.
But the news in tech wasn't all bad.
J.P. Morgan
lifted the battered semiconductor equipment sector, raising its ratings on five semiconductor companies. There were no details immediately available, but the following companies were all upgraded to long-term buy from long-term market performer, sidestepping the apparent near-term weakness by focusing on the long-term investment picture:
Varian Semiconductor
(VSEA)
,
ASM Lithography
(ASML)
,
Novellus
undefined
,
KLA-Tencor
(KLAC)
and the oft-battered, much-maligned Applied Materials.
The semiconductor equipment end of the semiconductor business was the strongest market area. The
Philadelphia Stock Exchange Semiconductor Index
rose 4.5%, helped out by not only Applied Materials, but huge ramp ups in Novellus and KLA-Tencor. The former rose 10.5%, while the latter rose 13.1%. Regular chipmakers, like
Intel
(INTC)
and
Advanced Micro Devices
(AMD)
were posting minor gains.
Other than the semis, the rest of tech was bruised, with the
Philadelphia Stock Exchange Wireless Telecom Sector
,
TheStreet.com Internet Sector Index
and
Nasdaq Telecommunications Index
all in the red.
Old economy names were hurt, too. The
Morgan Stanley Consumer Index
dropped 1.8%, while the
Morgan Stanley Commodity Related Equity Index
dropped 1.3%, thanks to a stumble in paper companies.
Market Internals and Most Active Stocks
Losers were the hands down winner, while volume stayed light.
Lucent
(LU)
continued to get dumped like fresh English tea in a calm Boston harbor. It led all issues on the Big Board. Uptown at the Nasdaq,
JDS Uniphase
(JDSU)
was the most active.
Back to top
Sector Watch
Credit Suisse First Boston
analyst Meirav Chovav initiated coverage on the bustling biotechnology industry, starting 20 of the biggest names. She covered both therapeutics companies that produce treatments, therapies and drugs and genomics companies that scour the genetic code for trouble-making genes.
This is especially interesting because of recent news from
Celera Genomics
(CRA)
, a genomics company, that recently announced it mapped the entire human genome. Upon completing its research, Celera discovered that the human genome was made up of a mere 30,000 to 40,000 genes. Rival
Human Genome Sequencing Consortium
, an academic endeavor funded largely by the
National Institute of Health
and the
Wellcome Trust of London
, agreed and announced very similar results in a paper of its own.
These breakthroughs have roiled not only the scientific community, which estimated that the human genome could have as many as 140,000 -- but the business community as well. Now, the number of genes available to produce drugs is smaller and many companies that one claimed access to more than 100,000 genes will have to make some changes. This means Celera competitors
Incyte Pharmaceuticals
(INCY)
and
Human Genome Sciences
(HGSI)
.
For the second day in a row, biotechs stumbled pretty badly. The
American Stock Exchange Biotechnology Index
dropped 2%, with genomics companies taking the brunt of the blow. Chovav was not available to comment on the selloff.
Back to top
Bonds/Economy
Treasury prices are mixed. The market has little to respond to until more-relevant economic data is released at the end of the week. Federal Reserve Chairman Greenspan's Senate testimony yesterday was less aggressive in the context of interest rates than traders had wanted. Although Greenspan discussed the fragile economy and even suggested that a recovery might not gather pace until much later this year, he also hinted that the fundamentals were properly configured for now to help the revival.
A
Reuters
poll of 25 Wall Street bond dealers shows that the majority expect a half-point cut in the
fed funds rate at the next
Federal Open Market Committee meeting on March 20.
The benchmark 10-year
Treasury note lately was down 7/32 to 99 8/32, raising its yield to 5.095%.
In economic news,
business inventories
(
definition |
chart |
) rose by 0.1% for the month of December, down from 0.3% in the previous month. The growth was .1% less than economists had predicted and the smallest rise seen since January 1999. The trend confirms Greenspan's observations yesterday that information technology is enabling companies to better balance their stock of goods when faced with fluctuating demand. The year-to-year rise in the number also dropped to 6.1% from 6.6%; it's now at its lowest level since May.
Back to top
International
Over in Europe, the major market bourses were deep in the red. London's
FTSE
slid 52.3 to 6176.2, as telecommunications stocks took a nosedive and oil stocks got crushed. The late-day selloff here in the States yesterday also did nothing to give the indices any strength headed into the session. Germany's still trading
Xetra Dax
dropped 60.9 to 6497.1, while the Paris
CAC
fell 94.8 to 5644.2.
The euro has slipped from yesterday's low of 92 cents. It was last at $0.9187. The yen traded at 116.7.
Asian markets were higher, but nothing notable. Japan's
Nikkei
finally pulled out a winning session, inching up 9.4 to 13,284.1. Now that's not very much of a gain, but you don't look a gift horse in the mouth. The index trended higher on news that someone high up in government had asked for the resignation of prime minister
Yoshiro Mori
, who has been blamed for a lack of decisive action about the precarious state of the Japanese economy. Hong Kong's
Hang Seng
gained 17.7 to 15,860.4
Back to top