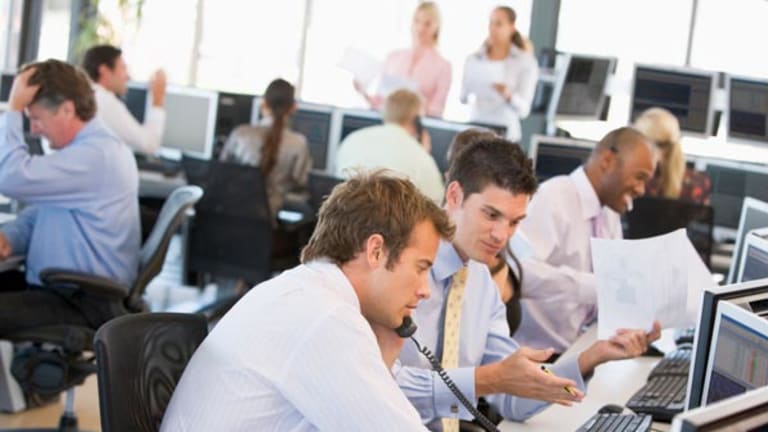 Today's Market: After the Rate Cut, Stocks Open Negative
Consumer prices rose less than expected in April. CSFB cuts Dell's estimates; Goldman downgrades communication-chip makers.
Consumer prices rose less than expected in April. CSFB cuts Dell's estimates; Goldman downgrades communication-chip makers.
(Updated from 7:46 a.m. EDT)
The morning after the
Federal Reserve's highly expected interest rate cut, worries about corporate earnings took center stage again on Wall Street. Without any positive catalysts on the horizon following yesterday's move, investors had turned sour on tech stocks. Futures that track the tech heavy
Nasdaq 100
were well into the red this morning, indicating a drop at the open. The broad market was also set to open slightly lower.
The latest round of profit reports and forecasts out last night and this morning was mixed.The market heard from global communications firm
Sprint
(FON)
, chipmaker
Applied Materials
(AMAT) - Get Report
, applications server outfit
BEA Systems
(BEAS)
and storage concern
Brocade
(BRCD)
.
Analysts were busy downgrading this morning, hitting Sprint, PC giant
Dell
(DELL) - Get Report
and the communications-chip makers.
Yesterday, the
Federal Reserve cut interest rates by an expected half-percentage point, but reactions to the highly anticipated cut were muted and stocks drifted near the flatline on light volume. Data on inflation released this morning was slightly lower than expected, but shouldn't have much influence on today's trading since the Fed yesterday said it is more concerned about the risk of recession rather than the threat of inflation. The April
Consumer Price Index, which measures changes in consumer prices, rose 0.3% in April, just below the 0.4% economists were expecting, according to a
Reuters
poll of economists. Excluding food and energy prices, the CPI increased 0.2%, even with expectations and with March levels.
At 8:50 a.m. EDT, Nasdaq 100 futures, which track big-cap tech stocks, were down 44.5 points, about 29 points below
fair value as calculated by
TheStreet.com
, indicating an very weak open for tech.
S&P 500 futures, which track the broad market, were down 10.8 points, five points below fair value, as calculated by
TheStreet.com
, pointing to a lower open for the broader market. Fair value is usually a good gauge of how stocks will trade in early action.
Asian markets closed mixed overnight, with steep losses in Tokyo and moderate gains in Hong Kong, extending a recent pattern. European stocks were recently weaker across the board.
Sprint last night cut its second quarter and full-year 2001 earnings guidance, laying blame on a weak global economy.
France Telecom
and
Deutsche Telekom
are reportedly interested in selling their stakes in the company. Sprint was off 5% to $20.50 in preopen trading on electronic brokerage
Instinet
.
Credit Suisse First Boston
this morning dropped its earnings estimates on the company for 2001. The brokerage and research firm also slashed estimates for PC-maker Dell, just a day before the computer maker's earnings release.
And the communications-chip makers took blows from
Goldman Sachs
analyst Nathaniel Cohn, who downgraded
Applied Micro Circuits
(AMCC)
,
PMC-Sierra
(PMCS)
and
Vitesse Semiconductor
(VTSS)
to market outperform from buy, saying the near-term environment looked challenging. PMC-Sierra was recently off 6.5% to $33.25 in preopen trading. AMCC was off 5.8% to $20.80.
Chip equipment maker Applied Materials yesterday after the close said it
missed fiscal second-quarter earnings estimate by a penny. It offered a gloomy outlook for the fiscal third quarter, saying earnings could slip to break even.
BEA Systems, which touted its prospects repeatedly during its fiscal first quarter,
slightly topped analysts' expectations Tuesday and bumped up its earnings guidance for the remainder of its fiscal year. It was rising 4% to $35.40 in preopen trading.
And former highflyer Brocade met fiscal second quarter expectations. The company was cautiously optimistic about the current spending environment, but kept its already lowered sales growth target of 58% in place. The company reiterated that it expects earnings growth to resume this fall. Brocade makes fiber-channel switches that connect storage-area networks, one of the fastest growing areas of the enterprise hardware business.
Stocks soared in April on expectations that a corporate profits recession had bottomed and the economy would get better in the second half of this year. But some market pros worry the month-long rally was overdone. The markets inability to close higher after the rate cut was announced suggests that cut was already fully priced into stocks.
As companies begin issuing forecasts for coming quarters, any sign that a turnaround in the second half of the year is not in the cards could spark a downturn. The
Nasdaq is up 27% since hitting a recent low of 1638.80 on April 4; it remains down 16% for the year. The
Dow Jones Industrial Average, meanwhile, is up 15.8% since its recent low on March 22, and is up 1% for the year. The
S&P 500, which tracks the broad market, is off 5% for the year, but up 13.3% from its low on April 4.
Bond prices have fell for several days leading up to yesterday's rate decision. Treasury analysts suggest recent weakness in the long end of the
bond market could reflect some concern among bond investors about inflation. Weakness in the long end of treasuries also signals faith in an economic recovery.
Other data released this morning, showed that housing starts in April were up 1.5% to 1,609 million units, higher than the expected 1.522 million units. Despite the economic slowdown, the housing market has remained strong.
Back to top