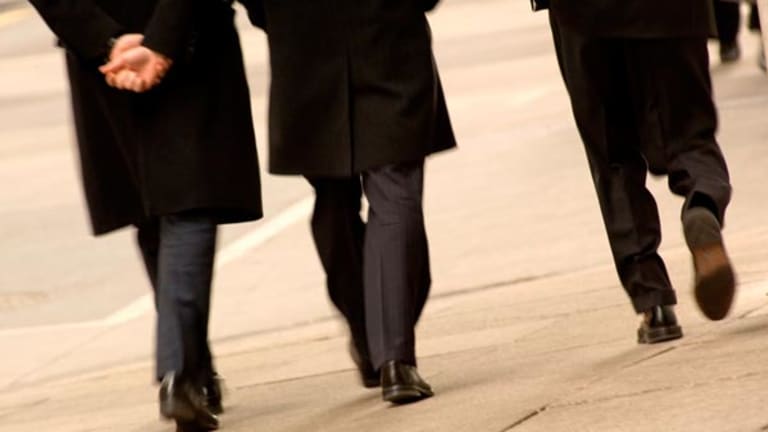 Today's Market: After Day of Treading Water, Stocks Close Lower
Chip, financial and retail stocks slip as investors give back some recent gains.
Chip, financial and retail stocks slip as investors give back some recent gains.
(Updated from 4:19 p.m. EDT)
After a day flipping between positive and negative, the major market indices closed lower.
Motivation today was limited to profit-taking, navel-gazing and anticipating
Cisco's
(CSCO) - Get Report
earnings tomorrow. Leadership is hard to see. Financial stocks were losers today, along with retail and chip stocks. But other stocks on the move were a hodgepodge of drugmakers, industrial stocks, telecommunications companies and energy stocks.
"We've got an upwardly biased market that's still vulnerable to choppy action," said Steve Goldman, market strategist at
Weeden
. "We still haven't broken this 11,000 level yet, though."
The
Dow Jones Industrial Average earlier flirted with 11,000, coming within five points of that
selling level before bouncing off and heading lower. It ended off 16 to 10,935. The
S&P 500 lost 3 to 1263 and the
Nasdaq Composite Index dipped 18 to 2173.
Ricky Harrington, chief technical analyst with
Wachovia Securities
, says that today's action was simply more consolidation and profit-taking in the wake of recent rallies and ahead of the next Fed meeting. "I believe we will break through 11,000 this week," he says. "Sometimes those round number levels do have some psychological meaning, at least for the short term anyway, and that may be in play today."
It's hard to keep a good optimist down in this stock market. There's been a general shift in sentiment towards positive that couldn't be deterred even by Friday's jobs release. The data showed that nonfarm payrolls dropped 223,000 in April, the
worst one-month loss in more than 10 years. Investors, using the power of positive thinking, generally haven't had their faith shaken, believing the economy will recover in the latter part of the year.
Any weak economic data is merely a blip, recent market activity seems to be saying, and something that doesn't matter because the economy will recover in coming months. Besides, with the
Federal Reserve, why worry? The Fed next meets May 15.
Equities have generally performed well since the beginning of April as investors have become more confident the economic landscape will improve over the course of the year. Sentiment is strong in this market. A poll by
Barron's
that ran over the weekend showed a record 64% of them were bullish.
Cisco lost 2% to $19.25 the day before the networking giant is scheduled to report earnings. The company last month warned of a sharp fiscal third-quarter earnings shortfall and set more than $3 billion in charges to restructure its business and write off unsold inventory. The company is expected to earn 2 cents a share, according to analysts polled by earnings tracker
Thomson Financial/First Call
.
Other big-cap technology names gained a bit, including
Microsoft
(MSFT) - Get Report
, which ended up 0.9% to $71.35.
Financial stocks felt some pain today.
J.P. Morgan
(JPM) - Get Report
was off 2.8% to $49.20 after
Prudential Securities
analyst
Michael Mayo
downgraded the bank to sell. The
Amex Broker/Dealer Index
was off 0.9%. The
Philadelphia Stock Exchange/KBW Bank Index
was also down 0.9%.
One of the day's biggest losers is
Transmeta
(TMTA)
. The hardware technology maker released more than 100 million locked-up shares to the market today, representing a whopping 85% of the shares now outstanding, according to
IPOLockup.com
, which tracks lock-up expirations. Locked-up shares are distributed at the time of the initial public offering but are restricted from sales for a certain period. The stock was smacked down 23.3% to $11.17, after touching a 52-week low of $10.67 earlier in the session.
Oddly,
Computer Associates
(CA) - Get Report
is revising its preliminary financial results because of a "typographical error." The company has been feeling the heat after an article in
The New York Times
last month questioned the company's accounting practices. Either way, the company said its entry for "reported diluted operating earnings per share" should have been 16 cents for the 12 months ended March 31, rather than 40 cents. The stock was down 8.1% to $28.20.
One of the day's most active was
Williams Cos.
(WMB) - Get Report
. The energy exploration/production company said it planned to purchase
Barrett Resources
(BRR)
for $2.5 billion in cash and stock. Williams lost 5.7% to $39.28, while Barrett gained 4.2% to $70.15. Energy stocks were mixed today. The
Philadelphia Stock Exchange Oil Service Sector Index
fell 1.9%.
As earnings season winds down and more important economic reports sink in, market-watchers are searching for catalysts to drive trading action. For the next few days, analysts expect more profit-taking from the recent rally and are waiting for any economic news to clarify the muddled picture. The expectation is for recovery, but that's largely a feeling more than anything else.
With last Friday's poor jobs report, there's greater expectation the Fed will lower the
fed funds rate, currently 4.5%, by 50 basis points on May 15, rather than 25 basis points, as originally expected. Some economists, however, believe the aggressive action the Fed has taken should not be discounted -- rate cuts take their time to work their way into the economy. The Fed has cut rates by two percentage points since the beginning of the year.
In the end, it might all be about the Fed again. Investors got through this earnings period and came out of it with a rather positive attitude. But more weakness in economic data will probably incite investors to start playing the rate-cut game again -- that is, money managers become obsessed with the Fed and just how much it's going to do to save the market.
That happened once before this year, in late January, and investors spent the two ensuing months showing that while the Fed's efforts are ultimately positive for borrowing and spending, they aren't much good for short-term sentiment boosts.
"All this stuff we hear on TV about how it's supposed to be 25 basis points or 50 -- that's what happened in February and March, when we were all worried about what the Fed should do," said Brian Belski, fundamental market strategist at
U.S. Bancorp Piper Jaffray
. "Let's let the Fed do their job.
This worrying only opens up the opportunity for a pullback."
Back to top
As originally published, this story contained an error. Please see
Corrections and Clarifications.
Staff Reporter Eric Gillin contributed to this article.