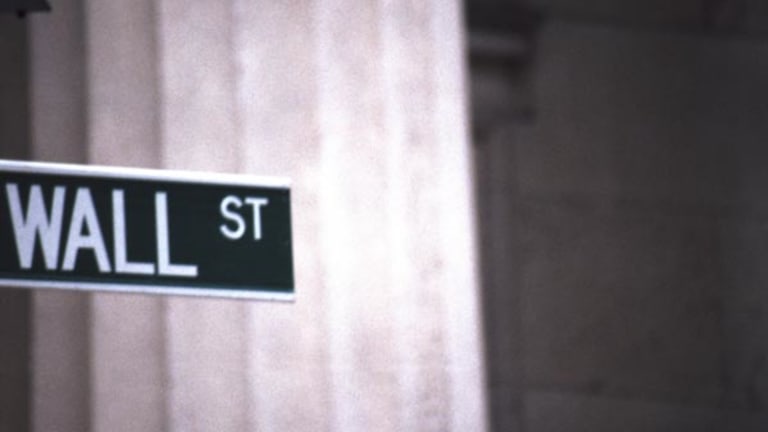 Today's Market: After Day of Rest, Tech Stocks Off and Running
<LI>Q3 productivity and unit labor costs higher than expected.</LI> <LI>Here it is again -- Gap warns.</LI> <LI>Fund managers have a lot of cash on their hands.</LI>
(Updated from 9:31 a.m.)
After taking a rest Wednesday, the market was moving up at the open.
The
Dow Jones Industrial Average was gaining 13 to 10,911. The
Nasdaq Composite Index jumped 62 to 3395. And the
S&P 500 moved 6 higher to 1427.
A little pullback after a thundering rally (remember Tuesday?) can actually be a good thing. It can indicate that investors are exercising caution and are not likely to get carried away by the momentum of the market, which can leave stocks sharply overpriced. The Nasdaq finished yesterday's session lower, after a 5.6% gain Tuesday. And the Dow fell 71.7 to 10899.5 after racking up a 996-point rise over a 13-day period.
But it's hard to detect or follow a single investing trend for very long these days. As investors attempt to decipher which stocks are good values at current levels, they have been rotating in and out of beaten-down tech sectors -- computer-makers, semiconductors, opticals and networking stocks -- and defensive areas such as paper, health care and food stocks.
There was a positive but muted reaction to this morning's third-quarter productivity numbers. Out before the bell rang, the government's
productivity and unit labor costs report showed that the efficiency of U.S. workers rose 3.8% during the third quarter, more than the 3.1% expected, but less than in the second quarter. Unit labor costs, however, also grew faster than expected, showing a 2.5% gain. That's well above market expectations of a 1.5% increase and the previous quarter's 0.2% decline.
High productivity can allow stronger growth to coincide with sustainable levels of inflation -- a good thing. But high unit labor costs, which measure worker compensation as adjusted for changes in productivity, can accelerate inflation -- that's a bad thing.
Meanwhile, money managers at least have a
lot of cash on their hands. Whether or not they decide to use it is another question. According to liquidity tracker
TrimTabs.com
, U.S. stock fund managers' cash stakes jumped 9.4% from the end of August to the end of September. Over the past two years, that's been a clear sign that the stock market was about to climb.
Specialty chipmaker
Xilinx
(XLNX) - Get Xilinx Inc. Report
was rising after saying last night that it's on track for 12% revenue growth for its fiscal third quarter. The company got hit yesterday after chief rival
Altera
(ALTR) - Get Altair Engineering Inc. Report
said its October resales were lower than expected and that its fourth-quarter sales would grow at the low end of expectations. It was gaining 4.7%.
U.S. retailer
Gap
(GPS) - Get Gap Inc. (The) Report
was also higher, despite a second
earnings warning last night. Hey, those new leather jackets in stores aren't bad. Gap was gaining 2.3%.
Other gainers this morning included computer-maker
Apple
(AAPL) - Get Apple Inc. Report
. Telecom
WorldCom
(WCOM)
, which was one of yesterday's biggest losers, was slipping a fraction this morning. Let's call a spade a spade: WorldCom helped knock the wind out of the market yesterday.
And chipmaker
Intel
(INTC) - Get Intel Corporation Report
-- whose conference call with analysts last night went relatively well -- was also gaining. It was up 4.7%.
A strong report from the
Semiconductor Industry Association
was helping, too. The trade group said that
semiconductor sales worldwide are expected to grow a strong 37% this year, to $205 billion, although growth is expected to slow somewhat next year to 22%, reaching $249 billion in sales.
Meanwhile, investors today will want to watch wireless communications giant
Qualcomm
(QCOM) - Get QUALCOMM Incorporated Report
, which dials in its fourth-quarter results today. It was rising 1.4%.
Back to top
Bonds/Economy
Bond prices were rising moderately this morning. The benchmark 10-year
Treasury note was up 3/32 to 100 4/32, yielding 5.732%.
Back to top
International
The major
European indices were moderately stronger by midsession.
The
FTSE 100
in London was up 18.70 to 6476.30.
The
CAC 40
in Paris was 16.31 higher to 6425.36, while the
Xetra Dax
in Frankfurt was gaining 58.02 to 7117.09.
After economic data on Friday showed a slowing U.S. economy, the
battered euro continued to rise. It was lately at 0.8628.
Most Asian
equity markets ended Thursday mixed, as Taipei and Seoul booked gains and Tokyo finished in negative territory ahead of a three-day weekend.
Japanese investors remained on the sidelines, not wanting to stir things up too much before markets close Friday for a holiday. The
Nikkei 225
closed down 34.6 points, or 0.2%, at 14,837.8,
In Tokyo trading, the dollar traded down to 108.23 yen from the previous close of 109.16 yen. The greenback was lately at 108.34.
Elsewhere, Hong Kong's
Hang Seng
index fell 57.5, or 0.4%, to close at 15,291.5,
Back to top