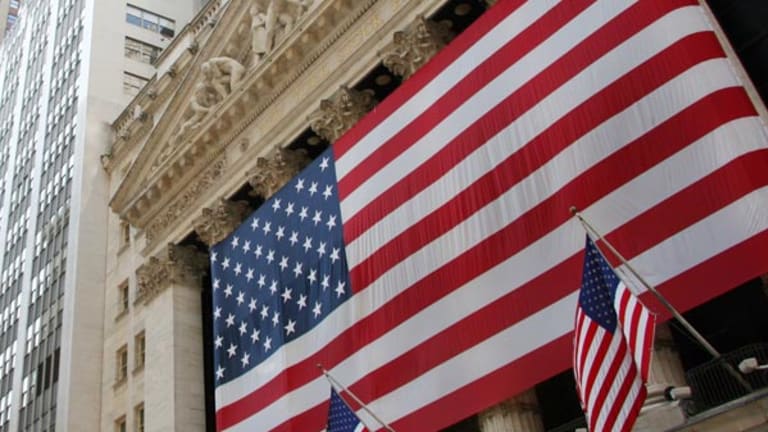 Today's Market: A Middling Monday Follows Friday's Massive Advances
After last week's grand finale, no one was surprised by today's lackluster session and mixed results.
Today's equity market in some ways mirrored the performance of
Tim Meadows'
The Ladies Man
-- expectations were low to begin with, so negative breadth and a fractional gain in the
S&P 500 didn't come across all that badly.
After Friday's massive advances, analysts weren't surprised to see a lackluster session follow. Given the market's penchant to accentuate the negative and not even bother thinking about the positive, they didn't consider the middling session all that bad. Breadth was negative, but only barely -- and that's despite significant losses in big-cap technology and semiconductors.
Chip stocks and PC-related stocks sank today, after
Salomon Smith Barney
analyst Jon Joseph cut estimates and his price target on
Intel
(INTC)
one day ahead of Intel's earnings report.
Despite the woes of significant big-cap bellwethers, including Intel and
Microsoft
(MSFT)
, both of which hit 52-week lows, the Nasdaq Composite Index was resilient today. Intel, Microsoft,
Cisco
(CSCO)
and
Oracle
(ORCL)
all finished in the red, and yet the Comp lost just 26.42.
After several days of earnings-driven selling and increasing pessimism over prospects for future profit growth, analysts saw this day as a bit of good fortune. The indices generally ran in place, but they didn't lose any ground, which is what the market had gotten used to for the last month-and-a-half.
"In light of the fact that the core group is down pretty strong, it's a very good performance on Nasdaq today," said Tony Cecin, manager of Nasdaq trading at
U.S. Bancorp Piper Jaffray
.
That core group begins with Intel. The chip maker was hit with an earnings revision from Joseph, who first expressed worries about Intel and semiconductors in general in
July, when the market was starting to convince itself that the economic soft landing had occurred and the market was returning to paradise, especially in technology. Today, Joseph struck again, dropping earnings estimates and cutting his price target on Intel.
Intel lost $5.06, or 12.5%, to $35.69 today leading the
Philadelphia Stock Exchange Semiconductor Index
to a 5.8% loss today. Meanwhile, Microsoft dropped $2.63 to $50.38 today, a 4.9% loss, sending it to its lowest price since October 1998.
Analysts disagreed about the meaning of these losses in the bellwether technology stocks. Despite losing ground as investors aggressively revalue their expectations for earnings growth, these stocks are still overvalued significantly, some believe. Moreover, with continued concerns arising from the PC arena, those stocks have been stuck in a rut. The same goes for Cisco, which for many months was thought of as indestructible.
"The sentiment in the market had reached an extreme reading in numerous indicators and subsequently, the market had a pretty big bounce
Friday," said Steven Goldman, market strategist at
Weeden
. The rally's future will "depend on the earnings releases this week."
Investors attribute the mixed action, despite the lack of leadership, to a bit of value investing. The
Russell 2000 gained fractionally today; the
S&P Midcap 400 Index
rose 0.4%, and the
S&P Smallcap 600 Index
was up slightly as well. Those stocks have been among the best performers among equity indices this year; the Midcap Index has gained 13% this year.
The lackluster performance in the "horsemen" of the Nasdaq is pointed to as evidence that investors are moving away from these large-cap names and further into stocks representing the cutting edge of technology, such as fiber-optics and software storage. Because of the technological advantage these companies enjoy, investors are using them almost as defensive plays -- retreating to these stocks, knowing their earnings growth hasn't declined sufficiently to disappoint the market.
"It's a changing of the guard," said Paul Cherney, analyst at
S&P MarketScope
. "The former large-cap techs are on the way out. The initial selloff we had in the spring was Microsoft-led, and this one was really Intel-led."
Stocks that were up strong today included
Ciena
(CIEN)
, gaining 6.3% to $135.19;
Corning
(GLW)
rose 5.9% to $98.31, and
Veritas Software
(VRTS)
gained 6.5% to $150.28.
Meanwhile, there were significant gains in the retail stocks today. The
S&P Retail Index
gained 3%. Investors returned to a couple of beaten-down names like Dow component
Home Depot
(HD)
, gaining 3.8%, and
Wal-Mart
(WMT)
, which rose 5%.
Oil stocks were weaker today after crude oil futures dropped sharply. The November crude futures slipped to $32.92 from $34.99, and the
Philadelphia Stock Exchange Oil Service Index
lost 3% today. One notable exception was Texaco, rising $3.88 to $59 after the announcement that
Chevron
(CHV)
would purchase the company, which, when
combined, would become the world's fourth-largest oil concern.
The folks at
Novellus
undefined
, meanwhile, apparently like
subterfuge. They posted their earnings on their Web site prior to the close and later saying that the information was "false" (instead of posted mistakenly). Regardless, they were given the hammer, dropping $5.63 to $34.88.
Lastly, in what seems like it should be a regular feature,
Xerox
(XRX)
was clobbered again, after continued worries that the company had tapped into a $7 billion line of bank credit, all the while asserting that "all is well" and "there's nothing to see here." The stock lost $2.69 to $7.75, or 26% of its value.
Back to top
Market Internals
Breadth was negative on moderate volume.
New York Stock Exchange: 1,375 advancers, 1,484 decliners, 1 billion shares. 35 new 52-week highs, 102 new lows.
Nasdaq Stock Market: 1,933 advancers, 2,068 decliners, 1.75 billion shares. 41 new highs, 192 new lows.
Back to top
Most Active Stocks
NYSE Most Actives
Xerox: 31.6 million shares. Lucent Technologies (LU) : 20.6 million shares. Motorola (MOT) : 17.8 million shares.
Nasdaq Most Actives
Intel: 90 million shares. Microsoft: 57.7 million shares. Cisco: 50.8 million shares.
Back to top
Sector Watch
The
S&P Biotechnology Index
gained 3.4%, while the
S&P Chemical Index
rose 1.8%. Elsewhere in the cubicle end of the tech sector, things were marginally higher.
TheStreet.com Internet Sector
gained 1.4%, despite significant losses in
Yahoo!
(YHOO)
, which lost 7.9% today. The
TheStreet.com E-Commerce Index
rose 4.7%.
Back to top
Bonds/Economy
Treasuries benefited at the end of last week as a result of the renewed Middle East violence, which gave the bond market enhanced appeal as a safe haven.
Not so today. Although the overseas currency and equity markets showed greater stability, the bond market was flat. The benchmark 10-year note ended the day at 100 3/32, up 2/32, yielding 5.736%.
Further indications that oil price pressures may be falling came in a statement by the Saudi oil minister, who suggested that if oil prices remain above $28 per barrel,
OPEC
may increase output quotas. Today oil prices dropped to $32.92, a $2 decline.
Back to top
International
Tech and telecom stocks were mixed in Europe.
London's
FTSE 100
rose 76 to 6285.00, closing amid strength. The
CAC 40
in Paris rose 24 to 6088, while the
Xetra Dax
in Frankfurt had plunged into the red, off 62 to 6599.
The major Asian equity markets ended solidly higher Monday, as technology shares were buoyed by the Nasdaq's strong action on Friday.
Tokyo's
Nikkei 225
closed up 182.0, or 1.2%, at 15,512.3.
In Tokyo trading, the dollar traded fractionally down to 107.85 yen. The greenback was lately trading at 108.27 yen.
Elsewhere, South Korea's stock market surged more than 7% early on, before trimming those gains by the close. The
Kospi
index ended up 25.5, or 4.9%, at 550.1. Hong Kong's
Hang Seng
index rose 292.9, or 2%, to finish the day at 14,973.4, reversing a similar percentage drop from Friday.
Back to top