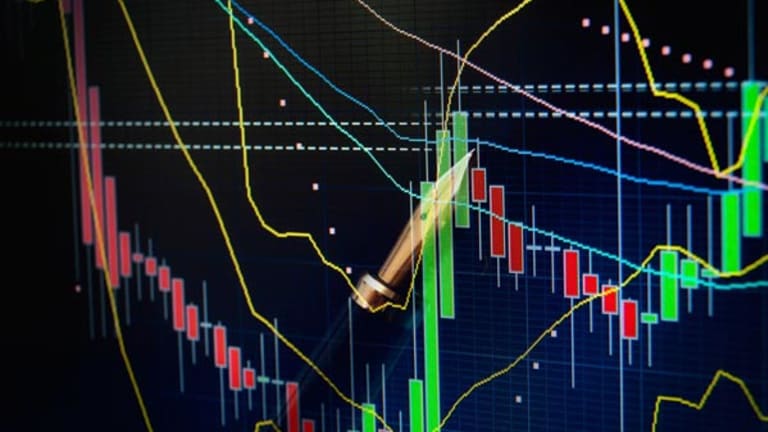 Time to Get More Aggressive
The extreme readings on the summation index suggest a sustainable advance is at hand.
This column was originally published on RealMoney on June 30 at 1:31 p.m. EDT. It's being republished as a bonus for TheStreet.com readers.
Was Thursday's
post-FOMC
advance a sucker's rally, or something more? Our answer to this question governs the degree of aggressiveness and commitment that we bring to the playing field. And if we are correct in our market assessment, we must still match that assessment with actions.
Therein lies the problem. In the world of trading, opinions are like eyeballs -- everyone has two of them. The first is the opinion we profess to others. The second opinion is the unspoken one that governs our actions. Few traders see 20/20. Instead, their stated opinion is often different from the opinion that drives their actions.
Does this dichotomy describe you right now? Are you saying one thing, yet doing another? If so, don't change it -- just be aware of it. The instinct that pulls you back from the extreme, from going "all in," can save your skin.
Nothing is certain in the financial markets. Everything is a matter of speculation -- at best, educated speculation. If it was possible to truly figure out the market, the game would not be called trading, it would be called winning.
But with that said, there are times when the risk posed by standing on the sidelines is greater than being on the field. With sound principles of loss containment on your side, you can step into the fray with confidence. I think this is one of those times. As I mentioned
last week, the market is set up for a sustained move higher.
Let's look at the McClellan Summation Index for the
NYSE
.
In simple terms, the summation index is a smoothed, longer-range version of the McClellan Oscillator. It is used to spot major market-turning points. The formula is beyond the scope of this article, but the underlying oscillator measures the acceleration of the advance/decline (A/D) statistics by smoothing the data with two different exponential moving averages and then finding the difference between them. Essentially, it is a
moving average convergence divergence
(MACD) of the A/D line.
We can see here that the summation index last bottomed in October, just slightly behind the market low. We now see the same setup. The summation index just fell to an extreme low of negative 500 and is starting to turn up. The extreme readings on the summation index are confirmation that my thesis of a sustainable advance is correct. It would seem to be an opportune time to get a bit more aggressive with long positions than normal. Nevertheless, don't throw away sound money-management practices. Keep the stops in place and protect your profits.
OK, let's look at some charts.
Sears
(SHLD)
has long been a favorite of
Jim Cramer
. By the looks of this chart, his perseverance is about to pay off. There is a picture-perfect cup-and-handle formation: Both sides of the cup are at around $160 and the current "handle" is pulling back slightly on declining volume.
Resolution of these patterns can be powerful, but I'd wait for the signal before buying. If the stock pushes above resistance on heavier-than-average volume, I'd buy.
It takes three points to draw a valid trend line. In the
Google
(GOOG) - Get Alphabet Inc. Report
chart above, we see a valid support line connecting four points. But the current resistance line only connects two, so the validity of the resistance line is suspect.
For confirmation, we'll need to see Google roll over before crossing above the tentative resistance line. But notice how trading volume has been on the decline over the past few months. It takes volume to push a stock higher, so pay attention to the volume bars. Bulls want to see more volume on advancing weeks.
Garmin
(GRMN) - Get Garmin Ltd. (Switzerland) Report
has been making a series of higher highs and higher lows. But after bumping against $100 for the past two months, the bulls drove right through $100 Thursday.
I've drawn a red box just below the middle Bollinger band, which marks the bottom end of the trading range within an uptrend. If the stock falls beneath the middle band, I'd consider the uptrend to be in trouble. As for setting a stop on any new long positions, I'd put it in the high $90s.
Traffic.com
(TRFC)
inked a deal with Garmin this week to supply traffic data for its smartphone navigation service. After a multimonth decline down the
Slope of Hope, this high-volume breakaway gap effectively confirms the end of the downtrend. Stop placement is tricky because of the wide price range. I'd focus on scaling in as a risk-control method.
I suggested shorting
Ultra Petroleum
undefined
a few weeks ago if it fell below $50. As we can see on the chart, the stock declined about 10% before rocketing higher to around $60. The long "tails" that we see on the price bars from the last two weeks are solid evidence of the strength of the bears. Selling pressure is increasing. If it fails to hit $70 on this current advance, a lower high will be established. That would be my signal to sell.
I'd also like to cop to a booboo I made in my earlier analysis of the stock. In that article, I gave a downside "target" of $30. That was just sloppy writing on my part because I don't set price targets. I try to determine the price level at which a high level of financial and emotional commitment exists. That will be my estimate on the maximum extent of the move for the purpose of constructing a risk/reward profile for the trade. But there is no assurance that the stock will actually cover that distance. Sorry for the confusion.
Be careful out there.
Please note that due to factors including low market capitalization and/or insufficient public float, we consider TRFC to be a small-cap stock. You should be aware that such stocks are subject to more risk than stocks of larger companies, including greater volatility, lower liquidity and less publicly available information, and that postings such as this one can have an effect on their stock prices.
P.S. from TheStreet.com Editor-in-Chief, Dave Morrow:
It's always been my opinion that it pays to have more -- not fewer -- expert market views and analyses when you're making investing or trading decisions. That's why I recommend you take advantage of our
to TheStreet.com's
RealMoney
premium Web site, where you'll get in-depth commentary
and
money-making strategies from over 50 Wall Street pros, including Jim Cramer. Take my advice --
At the time of publication, Fitzpatrick was long Google, Traffic.com and Garmin, though positions may change at any time.
Fitzpatrick is a freelance writer and trading consultant who trades for his own account in Encinitas, Calif. He is a former co-manager of a hedge fund and teaches seminars on technical analysis, options trading and asset-protection strategies for traders and business owners. Fitzpatrick graduated from the McGeorge School of Law and was a fellow at the Pacific Legal Foundation, a nonprofit public interest firm specializing in constitutional law. He also practiced law in the private sector before pursuing trading as a full-time career. Under no circumstances does the information in this column represent a recommendation to buy or sell stocks. While Fitzpatrick cannot provide investment advice or recommendations, he appreciates your feedback;
to send him an email.