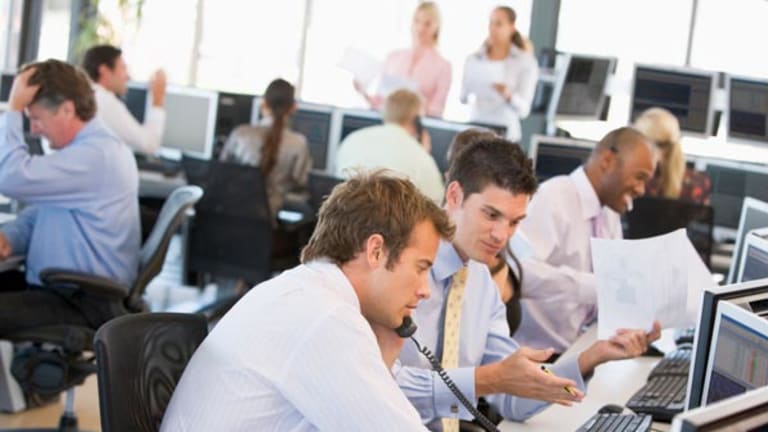 Thursday's Market: Tense Battle Between Bulls and Bears Ends With Dow Flat, Nasdaq at New Closing Low
After several attempts to rally in the afternoon, the Dow ended up less than a point, while the Nasdaq fell to its lowest close in two years.
Steely Dan's so-called "comeback" left a Grammy audience stunned in anticlimactic silence, with all eyes searching for the exit doors. Today's Wall Street comeback was exactly like that. It had traders and investors booing as the
Nasdaq Composite Index hit a 28-month low, just one day after it hit its lowest close since March 1999. Today's stumble of 24 to 2244.9 makes this the lowest Comp close since January 1999. The
Dow Jones Industrial Average narrowly avoided its fourth-straight losing session after dropping 200 points yesterday. It closed with a listless gain of 0.23 to 10,526.81.
Bears gnashed their claws into the hardened flesh of the bulls, who've had enough of slumping stock prices and misery. The fight was a heated one, with the Comp and Dow forced to rally back time and time again during a wild seesaw session -- and ultimately failing.
Simply put, the bears are winning. If you take today's low point on some of the major market indices and compare it to the 52-week-highs, we're in a bear market. Any drop over 20% is considered bearish. The Comp was the worst, slumping 58% since hitting a high of 5132.5 in March of last year. The
S&P 500
is off 21% from its high, while smaller stocks in the
Russell 2000
have dropped 23%. The Dow was the only index with any sort of traction, falling 9.2% since hitting a high of 11,425 in April 2000.
Today's failed rally attempt is a heartbreaker for worried investors who just want a little bit of direction, or leadership, or something to believe in. Now that tech doesn't seem like the next big thing anymore, there are no really compelling reasons to buy much. And so far this year -- an already erased January rally notwithstanding -- there hasn't been much to cheer for. The Comp has turned the clock all the way back to late 1998, completely eradicating the halcyon days of Nasdaq 5,000.
None of the economic signs are pointing in the same direction. Weak fourth-quarter earnings and 2001 forecasts show a slowing economy.
Higher-than-expected
Producer Price Index and
Consumer Price Index data point to an
inflation risk. And today's release of lower-than-expected
initial jobless claims
for the week ended Feb. 17 suggests a stronger economy.
Against this backdrop of great uncertainty,
Brocade
(BRCD)
and
EMC
(EMC)
added to the pain already inflicted upon the data storage industry. Brocade said it expected
modest sales growth for its second quarter, while
beating estimates for the first. Meanwhile, EMC, the No. 1 data-storage firm, said that 2001's growth would come in lower-than-expectations.
Brocade fell 7.4%, while EMC dropped 6.1%, as panicky traders dumped technology in the early morning.
The news hurts, especially since last week, when
Emulex
undefined
warned of a softening third-quarter because of order delays. In addition to Brocade and EMC, the news has killed such data storage-related companies as
McData
undefined
and
Veritas
(VRTS)
. McData was off 12.4% and Veritas dropped 12.1%.
Cisco
(CSCO)
and
Sun Microsystems
(SUNW)
came back after hitting 52-week lows in the last two sessions. Sun has a post-close conference call today after the bell and had fallen earlier on concerns that it would be trimming back earnings estimates. At one point, Sun was as low as $19.19. Not any more. Sun rallied to $20.81, while Cisco jumped 4.7% to $26.44.
Too bad these guys didn't. What's that line from
The Hurricane,
starring Denzel Washington? "I'm dead -- just bury me!"
The Dow had the most drag coming from consumer staples
Johnson & Johnson
(JNJ)
,
Coca-Cola
(KO)
and
Procter & Gamble
(PG)
. Those last two announced that they were
partnering to form a stand-alone company to sell juice, juice-based drinks and snacks, expecting sales of up to $5 billion in two years.
And when tech and risky stocks get that bad, people turn to the most defensive areas -- like gold. The
Philadelphia Stock Exchange Gold & Silver Index
gained 3.3%.
Market Internals and Most Actives
Losers killed winners while volume was quite brisk.
Back to top
Sector Watch
After rallying earlier in the week thanks to a pair of earnings releases from heavyweights Wal-Mart and Home Depot, the retailers have come down a bit. Profit taking was the major reason, really. Many of the sector's names have reached 52-week-highs in 2001 and with the lackluster holiday season in the rearview, many have a soft spot for the retailers -- especially with everything else performing so shabbily.
The
S&P Retail Index
dropped 0.7%. Wal-Mart eased 1%, while Home Depot slid 2.3%.
Back to top
Bonds/Economy
Treasury prices fell in the afternoon, after rising in the morning.
The benchmark 10-year
Treasury notelately was down 4/32 to 98 22/32, raising its yield to 5.170%.
In economic news,
initial jobless claims
(
definition |
chart |
source
), which track the number of people applying for unemployment benefits for the first time, rose to 348,000 in the week ended Feb.17. Although this is 4,000 more than the prior week's revised number, the figure is substantially lower than the 355,000 that economists had predicted in a
Reuters
poll. The four-week moving average, however, climbed for the third consecutive week, to 350,750. Still, recent figures suggest that the string of layoffs may be drawing to a close.
The index of
leading economic indicators
(
definition |
chart |
), which forecasts economic activity more than half a year in advance, rose by 0.8% in January after having fallen for two consecutive months. The anticipated rise had been for 0.3%.
The
Help-Wanted Index
(
definition |
chart |
) fell by 3 points, to 76, last month. The gauge, which had a base value of 100 in 1987, tracks jobs openings in newspapers nationwide.
The
Consumer Comfort Index
(
definition |
chart ), which measures how consumers view the economy's direction and their participation in it, fell by a point, to 19, for the week ended Feb. 18.
Finally, the surplus in the
federal budget
(
definition |
chart |
source
) rose to $76.38 billion in January from $32.67 billion in December. It is also $14.2 billion higher than the number from a year ago.
Back to top
International
Europe's major indices were down at the close, with much of the drag coming from mobile-phone makers
Nokia
(NOK)
and
Ericsson
undefined
.
France's
CAC-40
dropped 21.9 to 5452.5, while Germany's
Xetra Dax
dropped 70 to 6277.99. Things were a little better in the U.K., where the
FTSE 100
gained 30.7 to 6003.1.
The euro was lately trading at $0.9057.
Asian markets fared no better. Japan's
Nikkei 225
closed off 26.72, or 0.2%, to 13,073.36 overnight. Hong Kong's
Hang Seng
got slammed, losing 252.87, or 1.65%, to 15,098.64.
The dollar was trading at 116.97 yen.
Back to top