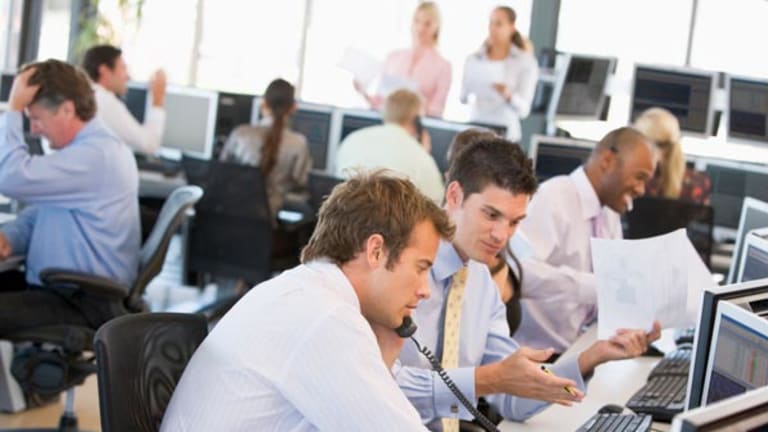 Thursday's Market: Strong Earnings Boost Nasdaq to Highest Close Since April
<LI>Dow ends little changed.</LI><LI>Chipmakers soar; financials mixed.</LI>
(
Updated from 4:04 p.m. EDT
)
Good or bad, this session felt like one of those cool February days. Investors, feeling cocky, puffed their chests out and let it all ride on technology, boosting the
Nasdaq Composite Index to its best close since April 10. And, wouldn't you know it -- volume was strong, but breadth was mediocre. Let it snow, let it snow, let it snow.
The Nasdaq Composite, buoyed by strong earnings figures and renewed enthusiasm, rose 75.23, or 1.84%, to 4174.82. The
Dow Jones Industrial Average rose 5.3 to 10,788.71, while the
S&P 500 rose 2.92 to 1495.84. The
Russell 2000 gained 1.95 to 542.20.
It was another day of strength for chip stocks, led by
Motorola
(MOT)
, which
reported earnings of 23 cents a share last night, in line with estimates. It closed up 7.9%, on 57.3 million shares, the
New York Stock Exchange's most active. The
Philadelphia Stock Exchange Semiconductor Index
gained 2.6%.
After a month of wary advances, where most gains were built on the back of big-cap, safe technology stocks and defensive arenas such as drugs and insurance stocks, investors' appetites have been whetted by the beef tenderloin -- technology, especially semiconductors.
It's the continuation of a rally that began this week after the soft June
employment report
, the report that first got stock investors thinking that the
Federal Reserve might not raise interest rates again this year.
The action of the last few days bolsters that sentiment, said Hugh Johnson, chief investment officer at
First Albany
, who does not believe the Fed will raise rates in August.
Another prominent leader -- financials -- were mixed today, but that had to be expected after yesterday's staggering
UBS
(UBS) - Get UBS Group AG Report
offer to buy
PaineWebber
(PWJ)
. PaineWebber finished up 2.5%, and the
American Stock Exchange Broker/Dealer Index
gained 0.7%. That's largely due to strength in
J.P. Morgan
(JPM) - Get JPMorgan Chase & Co. Report
(up 1.7%), which reported earnings of $2.90 a share vs.
First Call/Thomson Financial
estimates of $2.45.
"The financials have acted like real heroes, and it's an indication of people's confidence in the overall market," said Randy Billhardt, head of block trading at PaineWebber. "Between techs and financials you've got great leadership."
But today, it was really about tech, and tech stalwarts. Investors put their coin into names like
Intel
(INTC) - Get Intel Corporation Report
,
Cisco
(CSCO) - Get Cisco Systems, Inc. Report
and
Hewlett-Packard
(HWP)
, riding them to impressive gains, especially H-P. The computer boxmaker rose 5%, reportedly due to positive comments from the company's CEO, Carly Fiorina, at Herb Allen's West Coast conference.
"It's a very clear indication that there's more confidence in stocks now than there was a week ago," said Albany's Johnson. "Really, the big plus is, we're not rising or taking on gains in big chunks that might be called speculative."
Or are we?
Ariba
(ARBA)
bounded 27% today, after the company's strong earnings report and several analyst upgrades.
Now that the landscape seems safer, volume and wild swings seem to have returned. A jump like Ariba's illustrates the confident resurgence of that go-go style of trading that had gone underground for a brief time when the Nasdaq swooned.
"We're still seeing a lot of disparities between individual names," said Rob Cummisford, portfolio manager of the
Kent Small Company Growth Fund
. "There've definitely been some investors return to the markets as things have seemingly stabilized overall, but there's still tremendous volatility on a daily basis."
Other examples of this volatility were today's gains in names such as
BroadVision
(BVSN) - Get BroadVision Inc. Report
, finishing up 4.7%, and former 1000-price-target darling
Commerce One
(CMRC)
, which bounced 15.5% as a result of a strong report from its B2B pal, Ariba.
TheStreet.com Internet Sector
index gained 1.3% today, in part due to BroadVision.
On the downside, old momentum favorites like
Human Genome Sciences
(HGSI)
dropped 8.7% and
Protein Design Labs
(PDLI) - Get PDL BioPharma, Inc. Report
lost 8.1%. These names frequently see few large block trades, and the heavy number of sellers and buyers increases volatility in these stocks.
The Best Defense -- A Good Offense
The momentum in big-cap technology today took the shine out of other sectors that had performed well of late -- such as health care, drugs and tobacco. Drug stocks particularly struggled today.
Bristol-Myers Squibb
(BMY) - Get Bristol-Myers Squibb Company Report
ended down 5.5% and
Schering-Plough
(SGP)
fell 9.2%, despite meeting Wall Street's estimates for 43-cent earnings in the second quarter.
Investors and traders remain wary of the Fed and what its intentions may be. Many economists would say that the Fed's efforts to slow the economy may not be finished yet, and that a rate hike on Aug. 22 remains a good possibility. But the action in the last week indicates the market's quite upbeat about that, and about the earnings period.
What could derail that is nasty inflation data. Two consecutive soft employment reports suggest the labor market may be loosening slightly, and it's up to consumer and wholesale inflation indicators to affirm the market's renewed view that the slowing will be soft, rather than hard.
Prior to tomorrow's open, June's
Producer Price Index
,
retail sales
and
industrial production
figures all will be released.
The core PPI, which excludes food and energy prices, is expected to rise 0.1% tomorrow.
Bang! Zoom! To the Moon, Alice!
On Day 3 of earnings season,
General Electric
(GE) - Get General Electric Company Report
said its second-quarter earnings rose 20% and beat estimates by a penny. Despite the good news, the stock closed lower by about 2.3%.
Applied Micro
(AMCC)
soared on the Nasdaq, ending up about 22% after it reported better than expected earnings last night and received positive comments from PaineWebber and
Goldman Sachs
.
Market Internals
Breadth was mildly positive on above-average volume.
New York Stock Exchange: 1,459 advancers, 1,415 decliners, 1.02 billion shares. 81 new 52-week highs, 24 new lows.
Nasdaq Stock Market: 2,124 advancers, 1.910 decliners, 1.84 billion shares. 125 new highs, 63 new lows.
Back to top
Most Active Stocks
NYSE Most Actives
Motorola: 57.3 million shares. AT&T (T) - Get AT&T Inc. Report: 28.9 million shares. Compaq (CPQ) : 20.6 million shares.
Nasdaq Most Actives
Back to top
Sector Watch
After strengthening through June, biotechnology stocks continued a recent spate of weakness, dropping today.
Amgen
(AMGN) - Get Amgen Inc. Report
fell off 5.3% and the
Nasdaq Biotechnology Index
ended down 5.7%.
Chemical stocks rose today, led by a 2.4% rise in
Dow Chemical
and a 3.3% jump in
DuPont
(DD) - Get DuPont de Nemours, Inc. Report
, helping the
S&P Chemical Index
to a 1.2% gain.
Paper stocks are continuing recent strength, led by a 2.2% bounce in
Georgia-Pacific
(GP)
. The
Philadelphia Stock Exchange Forest & Paper Products Index
tacked on 2%.
Back to top
Bonds/Economy
Treasuries ended higher thanks to a late-morning
coupon pass by the
Fed and a bit of friendly economic news.
The coupon pass targeted bonds maturing in 2002 and from 2016 to 2028.
In economic news,
initial jobless claims
(
definition |
chart |
source
) hit 319,000, the highest since June 1999, from 292,000 the previous week.
The benchmark 10-year Treasury note was up 18/32 to 103 18/32, its yield at 6.004%.
Back to top
International
The European bourses finished the session mixed.
London's
FTSE
was under pressure from losses on larger London-listed stocks, including telecom giant
Vodafone AirTouch
(VOD) - Get Vodafone Group Plc Report
, banking group
HSBC
(HBC)
and oil giants
BP Amoco
(BPA)
and
Royal Dutch
(RD)
. The FTSE lost 42.8, or 0.7%, 6475.7.
Germany and France ended higher, with Frankfurt's
Xetra Dax
rising 130.02, or 1.8%, to 7195.99 and the Paris
CAC
up 33.85, or 0.5%, to 6570.36.
The euro was lately trading at $0.9370.
Tokyo and Hong Kong shrugged off Wall Street's Wednesday performance and closed lower on weakness in some of their own stocks, though Korea and Taiwan posted modest gains for the day.
Japanese shares sagged in the wake of a large bankruptcy, and a milk scandal.
Sogo
, one of Japan's largest department store operators, filed for bankruptcy under court protection yesterday, while
Morinaga Milk Industry
slipped 11.9% on news that as many as 20 children fell ill after drinking the firm's milk. The
Nikkei 225
index shed 305.23, or 1.8%, to 17,036.90.
Rumors that
Standard & Poor's
may be ready to cut Japan's sovereign debt rating continue to fly, meanwhile, and the greenback edged slightly higher to 108.71 yen in Tokyo trading, but the dollar had come off those levels, recently at 108.18 yen.
And property shares pressured Hong Kong's
Hang Seng
index, which dipped 102.76 to 17,449.50.
Elsewhere in Asia, Korea's
Kospi
index rose 5.99 to 845.75, while Taiwan's
TWSE
index jumped 207.91, or 2.6%, to 8267.66.
Back to top
As originally published, this story contained an error. Please see
Corrections and Clarifications.