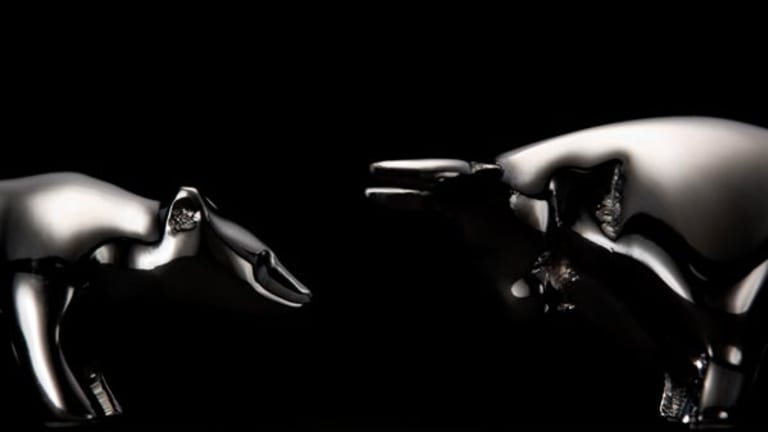 Thursday's Market: Stocks Finish Sharply Lower
The Dow drops below 8000. An EDS warning, Mideast terrorism and Morgan Stanley's bad quarter hit the averages.
Updated from 4:07 p.m. EDT
A steady decline turned into a selloff in Thursday's final hour, as investors were bombarded with bad news including an earnings warning from
EDS
(EDS)
, weaker-than-expected economic data and a terrorist bombing in Israel.
The
Dow Jones Industrial Average
closed down 230 points, or 2.8%, at 7942. The
Nasdaq
lost 36 points, or 2.9%, to 1216, while the
fell 26 points, 3%, to 843.
Most sectors were under pressure, with selling heaviest in computer hardware, financials, information technology and homebuilders. Gold, restaurants and shipping stocks were pockets of strength, with shipping boosted by a solid earnings report from
FedEx
(FDX) - Get Free Report
. The restaurant group was benefiting from
Darden Restaurants'
(DRI) - Get Free Report
earnings, which beat estimates by a penny. The Philadelphia Semiconductor Index shed 3.9%, and the Amex Biotechnology Index lost 5.4%.
OPEC agreed Thursday to maintain restraints on oil production for the fourth quarter in an attempt to keep crude prices high. Light crude oil fell 4 cents to $29.70 a barrel.
Decliners outpaced advancers 3 to 1 the
New York Stock Exchange and 5 to 2 on the Nasdaq.
U.S. Treasury issues were higher, with the 10-year note up 19/32 at 104 30/32, yielding 3.77%.
Violence in the Middle East resumed after six weeks of relative calm. A suicide bomber detonated an explosive on a crowded city bus in downtown Tel Aviv on Thursday, killing at least five civilians and wounding 40 others, according to Israeli police. The blast came one day after an Israeli policeman was killed and two other Israelis were wounded when a suicide bomber blew himself up at a bus stop near the town of Umm el-Fahm in northern Israel.
In economic news, the Commerce Department said
housing starts for August fell 2.2% to a seasonally adjusted annualized rate of 1.609 million, compared with 1.645 million in July. Economists were expecting the number of privately owned housing units to rise to 1.670 million. Building permits dropped 2.5%, also below the consensus estimate, reversing a 0.4% increase the previous month.
Separately, the Philly Fed Index came in at 2.3 in September, slightly ahead of the consensus, reversing a reading of -3.1 in August. This comes as a positive sign for the manufacturing sector, which showed signs of weakness in recent months.
Meanwhile, the Labor Department said
initial jobless claims for the week ended Sept. 14 fell to 424,000 from a revised 433,000 the previous week. Economists were expecting the number to come in at 415,000. The four-week average climbed to 418,500 from 411,250.
EDS said it expects third-quarter earnings to come in well below analysts' expectations amid declining revenue and the information-technology spending slump. In light of the profit warning, a number of brokerages lowered their investment ratings on the stock, including Deutsche Banc, which downgraded the stock to sell from buy. As a result, the shares were more than 50% to $17.20.
IBM's
(IBM) - Get Free Report
shares were down as well, losing 6.8% to $64.80. Two brokerages, J.P. Morgan and Merrill Lynch, trimmed their third-quarter sales and earnings estimates on the computer maker. "The current outlook for the fourth-quarter and full-year 2003 could be too optimistic," J.P. Morgan said in research note.
Network computer maker
Sun Microsystems
(SUNW) - Get Free Report
saw its shares drop 10% to $2.70 after Banc of America lowered its investment rating on the stock to market perform from buy. "Given the enduring weakness in end demand, we do not expect to see tangible results in the near to immediate term, " Banc of America said in a research note.
Meanwhile, investment bank
Morgan Stanley
undefined
reported third-quarter results that missed analysts' targets. The company cited scant underwriting opportunities and the overall weakness in the economy. The firm posted net income of $611 million, or 55 cents a share, compared with $735 million, or 65 cents a share, last year. Analysts, on average, were expecting the company to earn 67 cents a share. The shares fell 11% to $33.90
Merrill Lynch
(MER)
said after the close Wednesday that it has fired two of its senior executives for refusing to cooperate with the Justice Department and
Securities and Exchange Commission's
investigations of the Enron scandal. The two executives were Thomas W. Davis, a Merrill vice chairman and an employee of the firm since 1977, and Schuyler Tilney, a Merrill investment banker.
Davis was once among four finalists for the top job at Merrill, one that ultimately went to Stanley O'Neal. Tilney had been on administrative leave since refusing to testify before a Senate panel looking into some of Merrill's business dealings with Enron. Merrill's shares finished the session down 4.5% at $33.90.
Also in company news Thursday, bankrupt telecom
WorldCom
may be forced to issue more accounting restatements,
The Wall Street Journal
reported. The stock currently trades on the over-the-counter exchange at 11 cents a share
Networking equipment maker
Riverstone Networks
(RSTN)
reported a steep second-quarter loss, citing project delays and continued weakness in the telecom sector. The company posted a net loss of $58 million, or 47 cents a share, compared with flat results a year earlier. On a pro forma basis, Riverstone said it lost $38.5 million, or 31 cents a share. Riverstone slipped 15.9% to 60 cents
Overseas markets were lower, with London's FTSE 100 down 1.3% at 3813 and Germany's Xetra DAX down 3.1% at 3029. Japan's Nikkei 225 rose 2.1% to close at 9669, while the Hang Seng closed down 0.5% at 9427.
Looking forward, Friday marks the monthly "triple-witching" for the market, which is the simultaneous expiration of futures options, index options and equity options contracts. Trading volume and volatility tends to pick up during this period.