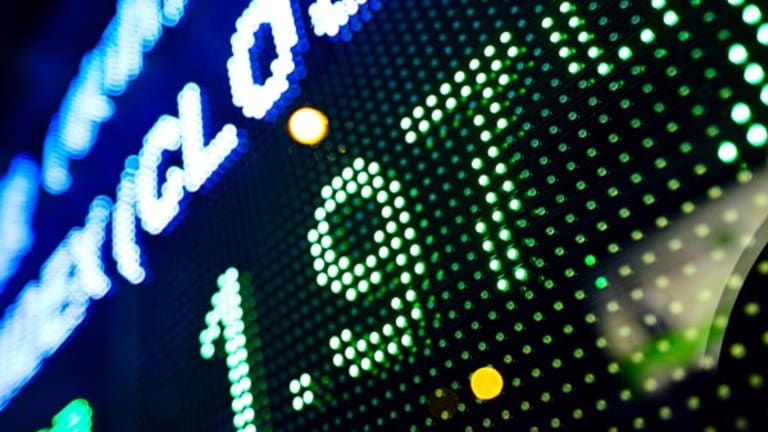 Publish date:
Thursday's Market: Stocks End Week With a Bang
The Dow rises 80 points, following the Nasdaq's lead.
The Dow rises 80 points, following the Nasdaq's lead.
Updated from 4:05 p.m. EST
Investors were in buying mode Thursday, encouraged by some favorable earnings news.
The
Dow Jones Industrial Average
finished the session with a gain of 80.04 points, or 0.97%, at 8337.65, while the
Nasdaq
gained 30.78 points, or 2.21%, to 1425.50. The
S&P 500
climbed 13.67 points, or 1.55%, to 893.58. Bond prices were lower, with the yield on the 10-year note up 2 basis points to 3.96%.
"With exchanges closed tomorrow, there is an effort to cover shorts," said Bernadette Murphy, chief market analyst at Kimelman & Baird, who sees resistance for the Dow at 8500, at 900 for the S&P 500 and at 1500 for the Nasdaq. Markets will be closed Friday for the Good Friday holiday.
On the NYSE, 1.4 billion shares traded hands, with winners outpacing losers by almost three to one. Some 1.6 billion shares changed hands on the Nasdaq, with advancers ahead of decliners by a two-to-one margin.
Frank Curzio, market strategist and money manager at FXC Investors, said, "Future guidance has been generally positive and the earnings picture looks good, so the market could start turning bullish."
But investors received disappointing news on the economic front. The government said first-time claims for jobless benefits jumped unexpectedly to 442,000 last week from 412,000 the previous week.
John Hughes, market analyst at Shields & Co., noted, "There was nothing new in the number. It's not good to see such acceleration, but the real surprise will come when there are fewer claims, instead of more."
In earnings news,
Nokia
(NOK) - Get Report
said first-quarter earnings were slightly above expectations, and that second-quarter earnings also will be slightly better than forecast. The shares were up 7% at $16.18.
Broadcom
, the world's largest maker of chips for cable-TV boxes, said its first-quarter loss narrowed on rising sales, beating Wall Street forecasts. Broadcom shares were up 18% at $16.55.
United Technologies
, maker of elevators and airplane engines, posted a rise in first-quarter earnings that beat analysts' expectations. Shares of the company were down 3.6% at $60.01.
Meanwhile, German software maker
SAP
(SAP) - Get Report
said it was able to cut costs fast enough that a slight decrease in first-quarter revenue translated into a 28% increase in operating profit. The shares were up 7% at $25.63.
Aerospace components maker
Honeywell
(HON) - Get Report
reported lower net earnings in the first quarter as a result of the downturn in the airline industry. Honeywell shares were down 1% at $22.59.
American Airlines flight attendants accepted a deal to implement pay, benefits and job cuts to avoid bankruptcy at the world's largest carrier. Shares of the airline's parent company,
AMR
(AMR)
, were up 15% at $4.86.
Pepsico
(PEP) - Get Report
said its first-quarter profit rose about 12% to $777 million, or 45 cents a share -- about 3 cents better than expectations. Sales were $5.53 billion, up from $5.31 billion. Shares rose 7% to $42.51.
Colgate-Palmolive
(CL) - Get Report
posted quarterly earnings growth for the 28th consecutive quarter and said it is "confident in a strong 2003." Colgate shares were downgraded by a Smith Barney Citigroup analyst on valuation concerns and fell 1% to $55.86.
Confirming the airline industry's woes,
Delta
(DAL) - Get Report
posted a wider loss in the first quarter, despite a slight rise in revenue. Delta shares were 11% higher at $11.67.
Sun Microsystems
(SUNW) - Get Report
reported a small third-quarter profit in line with expectations, but sales fell short of analysts' estimates. Sun shares were down 3% at $3.23.
Apple Computer
(AAPL) - Get Report
said net income dropped 65% on a slight decline in revenue. Earnings topped analysts' estimates. Apple shares were down 1% at $13.10.
Advanced Micro Devices
(AMD) - Get Report
, the second-largest U.S. maker of microprocessors, said its first-quarter loss widened amid weak computer sales. AMD shares were 1% higher at $8.01.
Sears Roebuck
(S) - Get Report
said first-quarter earnings rose above Wall Street forecasts. But retail sales fell, provisions for bad credit card debt increased and the company expects to fall short of estimates in the second quarter. Sears shares were 0.3% lower at $26.57.
Sabre Holdings
(TSG) - Get Report
, the operator of Travelocity.com, said quarterly profit and revenue fell because of sagging travel due to war in Iraq. Sabre shares were up 5% at $18.12.
Brent crude was up 1.3% at $25.35 in London. Gold prices were lower, while the dollar was weaker against the euro and yen.
Overseas markets were mixed, with London's FTSE 100 up 1% at 3894 and Germany's Xetra DAX up 2% at 2885. In Asia, Japan's Nikkei lost 0.7% to end at 7821, while Hong Kong's Hang Seng shed 1.1% to 8579.
Blue-chips ended mixed Wednesday, with the Dow falling 144 points to 8257. The Nasdaq rose about 4 points to 1394. The S&P 500 fell 11 points to 880.