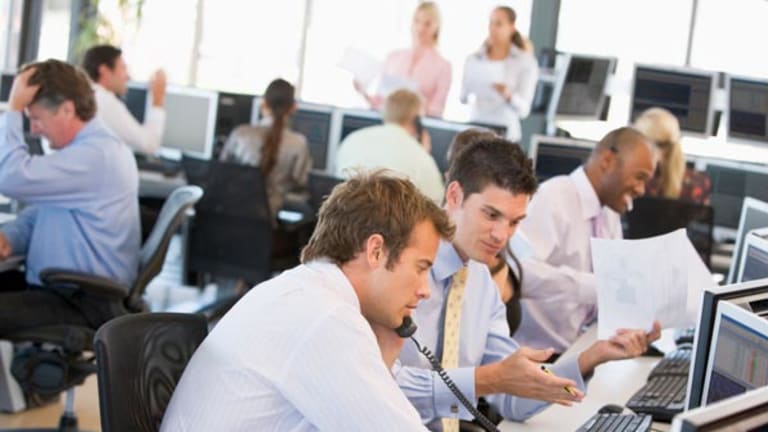 Thursday's Market: Nasdaq Feels More Pain; Dow Edges Higher
As warnings continue apace, the Comp hit a 28-month low, and several former highfliers touched yearly lows.
As warnings continue apace, the Comp hit a 28-month low, and several former highfliers touched yearly lows.
Amid an uncertain earnings and economic outlook, investors called recent stock market gains into question
again
today. After yesterday's selloff, the
Nasdaq Composite Index fell 33.6 points, or 1.8%, to 1820.5, a new 28-month low for the index. The
Dow Jones Industrial Average, up nearly 100 points at one point today, finished ahead only 13.71 points, or 0.1%, to 9799.06.
One day before the end of the first quarter, investors stripped technology stocks from their portfolios, reverting instead to safer names. A motley crew of one-time technology highfliers were sitting at new 52-week lows by the end of the session. (See chart below.) Earnings warnings from
Nortel
(NT)
and
Palm
(PALM)
on Tuesday night put the market in a funk yesterday, and it continued today.
According to Wall Street experts, the market will not be able to sustain gains until earnings turn around. "We live and die by earnings visibility," said a trader at a large Wall Street firm. "There's no leadership in today's market; we'll easily retest the lows."
Just last Thursday, a sharp selloff on the Dow brought the industrials into bear-market territory, or 20% off its peak. But the index reversed course that day and rallied for three days straight, leading some market pros to speculate that investor sentiment had finally improved. On Tuesday, the
Consumer Confidence Index for March came in better than expected, sparking a broad-based rally. But the euphoria didn't last long.
"We got too much, too quickly," said Jay Meagrow, vice president of trading at
McDonald
of recent gains. "Companies still have plenty to say about earnings." For his part, Meagrow wasn't surprised to see irresolute trading today. He thinks the market will be range bound through the middle of the summer, which he says is healthy, given the recent drop.
In a news conference that began at 10:30 a.m. EST this morning, President Bush spoke about the budget and urged Congress to cut taxes. "Building confidence means not only giving consumers a boost, but lowering tax rates for the long term," the President said. As his speech was in progress, the Dow rallied nearly 100 points for the session. But the gains quickly evaporated.
Dow components
Wal-Mart
(WMT) - Get Report
,
Johnson & Johnson
(JNJ) - Get Report
,
General Motors
(GM) - Get Report
and
IBM
(IBM) - Get Report
all closed higher.
Other industrials, however, finished down. After its distributor,
Coke Enterprises
(CCE)
, cut it first-quarter outlook, shares of
Coca-Cola
(KO) - Get Report
hit a 52-week low of $43.76 before rebounding some; the stock ended the day down only 3.1% to $44.52. Meanwhile,
International Paper
(IP) - Get Report
dropped 3.1% to $35.11, after the paper maker reduced its first-quarter forecast.
Last night's bad news from tech companies also affected the market today. Data-storage equipment-maker
JNI
(JNIC)
decreased 18.5% to $7.53 after warning last night.
In nontech land,
Ingersoll-Rand
(IR) - Get Report
slid 3.6% to $40.18 after it slashed its first-quarter estimates.
Delphi Automotive
(DPH)
bucked the trend to gain 4.2% to $14.52 following a job cut announcement this morning.
Economic data released before the market opened did little to affect the market's mood. The final reading of fourth-quarter
gross domestic product came in at 1%, just a tick below economists' forecasts. GDP has slowed markedly from the second quarter of last year, when it hit 5.6%.
Market Internals
Back to top
Most Active Stocks
Back to top
International
European markets continued on the downside today. London's
FTSE 100
, which hit a 29-month low last Thursday, closed down 25.5 points, or 0.5%, to 5588. Across the channel, the Paris
CAC 40
gained 7.5, or 0.15%, to 5158.8 and Frankfurt's
Xetra Dax
rose 61, or 1%, to 5879.
Asian markets tanked overnight, giving back previous days gains, on panic over the the Nasdaq selloff. Tokyo's
Nikkei 225
bit the dust, losing 693.2 points, or 5.0%, to 13,072.4. That percentage loss is the index's biggest since April 17, 2000. Hong Kong's
Hang Seng
index also racked up 3-digit losses and broke through the 17-month low hit Monday. The index closed down 173.5, or 1.4%, to 1,2677.9
The dollar was trading at 123.1 yen.
Back to top