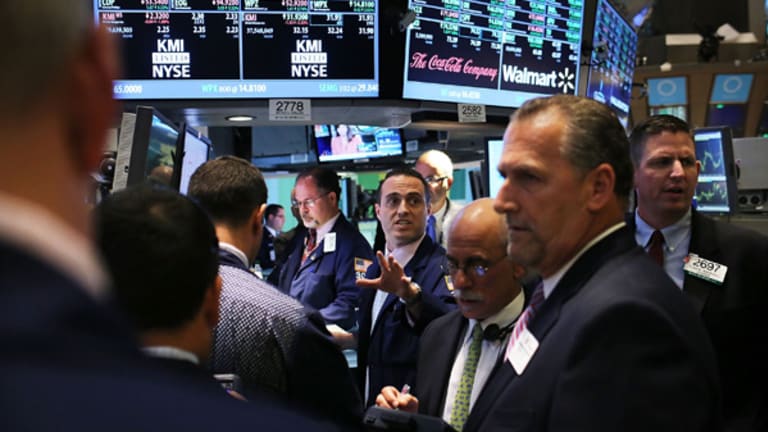 Thursday's Market: Motorola's Warning Gets Market Off to Bad Start; Dow, Nasdaq Can't Recover
The tech sector continues to be beaten up. Intel's warnings after the close doesn't make tomorrow look too great, either.
After Tuesday's record-setting upswing and yesterday's rather chilly downdraft, markets were nauseous and dry-heaving, coughing up whatever they have left to give.
Motorola's
(MOT)
earnings warning was yet another reminder that technology wasn't the golden goose it used to be, with the world's second largest mobile phone maker telling the street that its profits would be 40% lower than earlier estimates. That's especially difficult to take after rival
Nokia
(MOT)
said on Tuesday that it might reach 1 billion customers in early 2002, six months ahead of schedule.
And with warnings from
Apple
(AAPL)
,
Gateway
undefined
,
Xilinx
(XLNX)
and many others still bitter in market mouths, the bad news from Motorola brought technology to its knees.
When will it end? Well, considering that
Intel
(INTC)
just warned after the bell, tomorrow might not be any box of chocolates either.
The
Nasdaq Composite Index slipped 44 to 2753, as a wide variety of sectors felt the weight of Motorola's miss. Disk-drive peripherals, large-cap tech and wireless stocks were all much lower.
But not as low as the Web. Dot-coms were the hardest hit in tech after
Yahoo!
(YHOO)
got bludgeoned by
W.R. Hambrecht
analyst Derek Brown, who cut the company's rating to neutral from buy. Brown cited a soon-to-be crumbling online advertising environment as a primary factor behind the move, while also warning that the overall Internet picture was not good. Not with Web sites
Oxygen Media
and
Women.com
(WOMN)
, Webvertiser
DoubleClick
undefined
and Internet consultants
Scient
undefined
and
Viant
undefined
all announcing layoffs this week.
The
TheStreet.com Internet Sector Index
fell 2.8%. This year, the DOT, as the index is informally known, has lost two-thirds of its value. Sad, but true. Yahoo! slipped 6.8% to $34.94. The stock's 52-week high was $250.13.
The
Dow Jones Industrial Average didn't do that well today, either. The Dow dropped 47 to 10,617, as investors tried to hold onto lunch after two wild days of action.
"We've got some very normal churning," said Al Goldstein, senior market strategist at
A.G. Edwards
, "And a lot of watching and waiting on Florida."
And speaking of Florida, the minute-by-minute bickering persisted today as the Gore and Bush camps continue to engage in their month-long legal noogie fest. In the latest news, Florida's Republican election supervisor testified that there was no conspiracy to fix absentee ballots in favor of Bush. Meanwhile, Al Gore's appeal hearing over the recount was heard by the Florida Supreme Court, which did not hand down a ruling on the matter, but could as soon as this evening.
In any event, markets were uncertain. And as the folks on the television say, "Markets don't like uncertainty."
They also didn't like
Microsoft
(MSFT)
and
J.P. Morgan
(JPM)
today, two of the worst names on the Dow. Bill Gates got the shaft after
Lehman Brothers
and
Goldman Sachs
reduced their 2001 earnings per share on his little company, while J.P. felt the sting for the second-straight day after
Bank of America
(JPM)
warned about its earnings. Combined, the pair accounted for 46 points of the Dow's loss.
Those guys were an overwhelming reason behind the Dow's tough ride home. All in all, 17 of the 30 blue-chips were in the red. So it's a good thing that defensive stocks like
ExxonMobil
(XOM)
,
Merck
(MRK)
and
Coca-Cola
(KO)
ended in the green.
Market Internals
Two days ago, the Nasdaq posted its sixth-heaviest day of trading of all time. And on Nov. 30, it shattered all previous volume records. So what the heck is going on today?
Volume has returned to the anemic levels it was at during most of November, when the Nasdaq lost 25% of its value and losers reigned supreme. It looks like November all over again, with losers doubling up winners and volume falling well short of the 2 billion mark.
In New York, volume was still pretty light and losers still topped winners, but the picture was moderated by the fact that the numbers weren't as extreme.
New York Stock Exchange: 1,439 advancers, 1,386 decliners, 1.113 billion shares. 115 new 52-week highs, 93 new lows.
Nasdaq Stock Market: 1,551 advancers, 2,362 decliners, 1.714 billion shares. 39 new highs, 313 new lows.
Back to top
Most Active Stocks
NYSE Most Actives
Motorola: 45.1 million shares. Lucent (LU) : 29.1 million shares. Southern (SO) : 17.7 million shares.
Nasdaq Most Actives
Microsoft: 70.8 million shares. Intel (INTC) : 60.8 million shares. Cisco (CSCO) : 45.3 million shares.
Back to top
Sector Watch
Chemicals were reacting quite badly for the second-straight day as concerns mount that earnings might not be as good as once hoped. Yesterday,
DuPont
(DD)
said that its raw materials costs would come in over $1 billion this year, but still said it expects that earnings will continue to grow.
ABN Amro
probably didn't help the situation this morning, when it started the specialty chemical companies and opined that the slow growth in the industry doesn't warrant higher valuations. David Begleiter, Amro's analyst, said that the industry faced some serious risks, included the still-weak euro, a slowing U.S. economy, slowing Asian demand and higher costs for raw materials.
And as you can see from the DuPont warning, at least one of those risk factors cited by Begleiter was already evident. The
S&P Chemical Index
dropped 2.8%, despite the fact that many chemical companies pre-announced that their earnings would be okay.
DuPont did, saying that growth would continue despite the higher costs of doing business. Yesterday,
Great Lakes Chemical
undefined
said that it would meet its growth estimates. Two days earlier,
W.R. Grange
(GRA)
said its revenue would grow between 4% and 5%. The only problem was, the company said revenues could have come in between 6% and 7% if not for weakness in the euro.
Paper stocks in the
Philadelphia Stock Exchange Forest & Paper Products Index
weren't having a good day either, slipping 1.9%. And with the chemicals and paper stocks off, both of which are cyclical industries, it should come as no surprise that the
Morgan Stanley Cyclical Index
was off 1.9%.
Back to top
Bonds/Economy
Treasuries added a little to their extraordinary gains of the last two sessions as stock prices fall.
The benchmark 10-year
Treasury note, which rose in price by a total of more than a point and a half on Tuesday and Wednesday, lately was up 2/32 at 113 8/32, dropping its yield to 5.313%, a new low for the year. The gains are based on expectations that the
Fed will lower interest rates in the next few months to stimulate the economy. Falling stock prices are seen as increasing the likelihood of interest-rate cuts.
In the only economic news of the day,
initial jobless claims
(
definition |
chart |
source
) fell to 352,000 from 361,000, a slight tightening of labor-market conditions that have eased considerably by this measure since the spring. The four-week average rose to 345,250, the highest in nearly a year and a half, from 344,000.
Back to top
International
European markets tumbled following Motorola's warning.
London's
FTSE
dropped 42 to 6232. Across the channel, Paris'
CAC-40
fell less than a point to 5985, while Germany's
Xetra Dax
stumbled in late-day trading to close off 54 to 6568.
The euro was hitting an 11-week high, trading up to $0.8884. It has been gaining in the past few weeks as the U.S. dollar weakens in the face of a slowing domestic economy.
Asian markets slid overnight in sympathy with major U.S. indices, which gave up much of their Tuesday gains yesterday. Japan's
Nikkei 225
, which had already pared gains during the previous session on Apple's earnings warning, closed down 169.01 to 14,720.36.
In Hong Kong, losses in China Mobile were tempered by gains in property shares following the government's last land auction this year, and the
Hang Seng
closed down 87.43 points to 15,011.52.
The greenback was higher to 110.6 yen.
Back to top