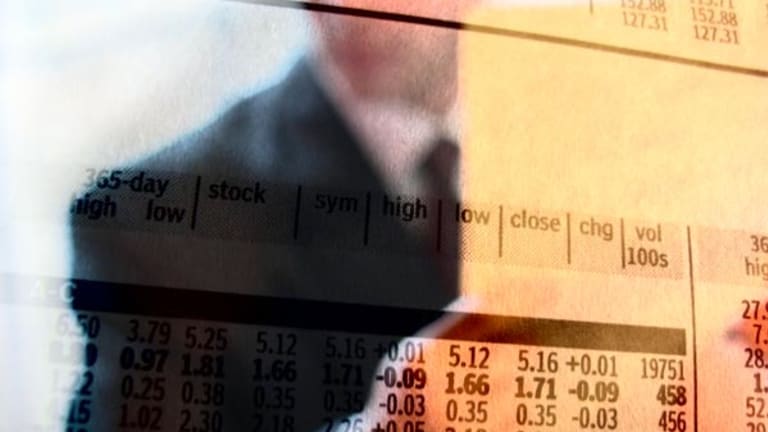 Thursday's Market: Big Tech Comes Back and Takes Dow, Nasdaq Higher
After a few down days, tech staged a bit of a comeback today as all of the major indices ended in the green.
Turn the hats inside out. Jump up and down. Scream a lot. Wall Street rallied today.
Ciena
(CIEN)
, which competes with
Lucent
(LU)
,
Nortel
(NT)
and
Alcatel
undefined
in the crowded fiber-optic equipment market, kicked off a huge rush back into technology after saying it sees strong growth in 2001. The forecast was a gutsy one that scant few tech companies have had the cajones to make. Slowing economy be damned -- we're gonna make more money next year!
"We now believe we will be able to achieve 2001 revenue growth of between 95% to 105% over last year, which translates into a revenue range of between $1.67 billion to $1.76 billion for fiscal year 2001," the company said in its press release.
As a result, both the
Dow Jones Industrial Average and
Nasdaq Composite Index shot up from the opening bell as investors found a reason to buy technology again. The Dow gained about 96 points with the full support of
IBM
(IBM)
,
Intel
(INTC)
,
Hewlett-Packard
undefined
and
United Technologies
(UTX)
.
In the last hour of trading, both the Dow and Comp slid a little from session highs. That's a disappointment. The market is a lot like long-distance running. You always want to finish strong, with a nice kick past the tape. The prospect of profit-taking was simply too alluring. Still, a gain is a gain and most investors were relieved to see a green tape.
Today's upward swing in technology was led by semiconductors and networkers, and then supported by large-cap technology and PC makers. The
Philadelphia Stock Exchange Semiconductor Index
was rising 4.9%, while the
American Stock Exchange Networking Index
was up 3.6%.
TheStreet.com Internet Sector Index
rose 1.7%, thanks primarily to a 9.9% ramp up in
Yahoo!
(YHOO)
.
Ciena, whose equipment can be found in networkers, gained 15.9% to $89, making it one of the biggest winners in the Nasdaq. The movement in Ciena was similar to that of many other tech names -- it rallied the stock back after close to two weeks of nonstop selling. Right now, Ciena is pretty much flat for February.
The Ciena news comes just two days after
Applied Materials
(AMAT)
and
Sycamore Networks
(SCMR)
both announced earnings that topped estimates and warned that earnings growth would be tough in the next few quarters. But yesterday, markets rallied anyway. And the love continued unabashed today: Applied Materials soared 5.6%, while Sycamore ran up 1.9%.
Yum!
Today's performance sure tasted sweet after the bitter bile of late 2000 and February's selloff, which killed off January's gains. A quick check of Intel's and H-P's movement over the last three months is pretty bleak. Both companies slid heavily in September and have been relatively flat since then.
But the upward momentum of the last two sessions has the pair at the top end of a trading range, poised to break through and reach levels unseen since late September and early October. Some companies have already begun this movement. IBM hit a high of $118.64, which hadn't been seen since Oct. 9.
That said, this could be a short-lived rally. The Dow continues to ram its head against the 11K level, which it has been flirting with for most of February with no success. And the Comp has been mercurial in recent weeks as traders try to figure out which tech industries will recover most quickly from the slowdown, using economic data and earnings releases as clues.
Time will tell how significant today's action was in breaking technology out of a three-month funk.
Yesterday's big loser,
3M
(MMM)
, rallied back as the monthly
business outlook survey from the
Philadelphia Federal Reserve Bank
showed manufacturing spending had improved slightly. According to the Fed survey, February came in at a dreary -30.5, an improvement over January, when the number came in at a low unseen since the recession of 1990 and 1991.
It's worth noting that -30.5 was below estimates and is still quite a horrible figure. But like the films of
Sly Stallone, February's data looks better when you compare it to something else -- like, say, some of
Andrew McCarthy's fine work.
Heavy-equipment maker
Caterpillar
(CAT)
, chemical company
DuPont
(DD)
and aerospacer
Honeywell
(HON)
were higher on the news.
Merck
(MRK)
was a notable loser as investors yanked cash out of defensive stocks to go dabble in technology. Merck slid 1.9%, bringing it back to levels unseen since mid-October. That's just like tech -- only in the opposite direction. The drugmaker coughed up all of the huge gains from the end of 2000, when the presidential election and economic slowdown put investors on the defensive.
The
American Stock Exchange Pharmaceutical Index
fell 0.8%.
Market Internals and Most Active Stocks
Winners took the edge on losers, while volume stayed pretty moderate.
Back to top
Sector Watch
Going broke? Go for brokers!
Wall Street investors piled into the
American Stock Exchange Securities Broker/Dealer Index's
membership today. The index rose 2%, as goodwill towards
Merrill Lynch
(MER)
and
Bear Stearns
(BSC)
buoyed the market sector.
Bear Sterns rose after announcing the purchase of Wagner Scott Mercator for $625 million, buying the specialist firm and becoming more like competitors Merrill and
Goldman Sachs
(GS)
in the process. Both Merrill and Goldie have purchased specialist firms in the last six months.
Bear rose 3.2%. Merrill was up 4.7%. Goldie gained 2.8%.
Back to top
Bonds/Economy
Treasury prices are lower for the fourth successive day as the money market trims its hopes of an interest-rate cut next month from 50 basis points to 25. The fall in prices is steepest at the long end, with the 30-year bond two-thirds of a point down. The commercial and jobs data released this morning are slightly positive but still indicative of a softened economy. Yields are a little higher for the notes and fairly flat for the longer-dated maturities.
The benchmark 10-year
Treasury note lately was down 8/32 to 98 17/32, raising its yield to 5.19%.
In economic news,
initial jobless claims
(
definition |
chart |
source
), which track the number of people applying for first-time unemployment benefits, fell to 352,000 in the week ended Feb.10, from 363,000. Economists had predicted a drop to 359,000 in the
Reuters
poll, so the lower number is a good sign. However, the reading is subject to frequent revisions. The four-week moving average rose to 345,000, its highest value since early January.
Import and export prices
(
definition |
chart |
) were mixed for January, with the former down and the latter up. Prices for imports for all commodities slid for the second consecutive month, by 0.4%. The average price increase for the past 12 months has also declined consistently since September; the level now stands at 2.3%. Excluding oil imports, the average monthly and yearly increases were 0.3% and 1.6% respectively. Meanwhile, total export costs were up 0.2% for January and are holding steady at 1.3% in their 12-month average. Excluding agricultural products, the price increases are 0.2% for January and 1% over the past 12 months.
The
Philadelphia Fed Index
(
definition |
chart |
source
), which measures regional manufacturing in Pennsylvania, New Jersey and Delaware, came out below expectations at -30.5. After the steep fall to -36.8 in January, economists had been predicting a more marked improvement than this, forecasting the number would rise to -24. The number indicates contracting activity in factories when below zero, and though it is moving in the right direction, its slow progress indicates the severely depressed state of manufacturing. Almost every Federal Reserve official has commented upon the manufacturing sector's woes, so the latest information is not likely to surprise bond investors.
Finally, the
Consumer Comfort Index
(
definition |
chart ) rose by 4 points to 20, its highest level since the start of the year. The gauge reflects the state of the economy and how people are responding to general.
Back to top
International
European markets were jubilant as traders picked through the remains of tech and found something to buy.
London's
FTSE
rallied 21.7 to 6197.9, reversing a two-day sell off. Investors went bargain hunting for telecommunications stocks, which have been killed recently and were a major factor in the FTSE's fall. Oil slumped due to the falling price of crude, but that was more than offset by the tech rally. Germany's
Xetra Dax
ramped up 111.8 to 6591.7, as today's tech rally helped support the one across the pond. Paris'
CAC
rose 60.3 to 5704.5.
The euro rallied from recent dips in the 91-cent range. It was last at $0.9392. The yen was at 114.92.
Asian markets did the same thing as both American and European ones -- they rallied. Japan's battered
Nikkei
gained 43.3 to 13,327.4 as traders sought and bought cheap tech stocks. The Hong Kong
Hang Seng
, which has been doing pretty well lately, was the lone exception, falling 104.1 to 15,756.4.
Back to top