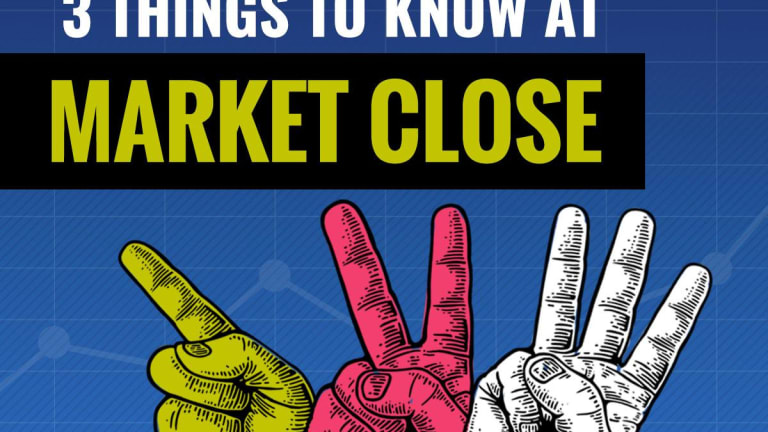 3 Things to Know at Market Close: Tilray, Oil and the Fed
Tilray's deal with InBev gives cannabis new distribution partner, oil tumbles further and more of the top headlines on TheStreet Thursday, Dec. 20.
Happy almost-Friday!
Stocks tumbled on Thursday, Dec. 20, with the Dow diving almost 500 points as concerns grew that the U.S. government would partially shut down over the Christmas holiday season because President Donald Trump won't sign a stopgap spending bill. 
Shares already were down following the Federal Reserve's move Wednesday to raise its benchmark lending rate and signaled tighter monetary conditions into 2019. 
Speaker of the House, Paul Ryan (R-Wis.), said Thursday that Trump wouldn't be signing the spending bill after House Republicans met with him at the White House because the bill doesn't include funding for the border wall.
The Dow dropped 467.38, or 2%, to 22,855, on track for the worst December since the Great Depression and the worst year in a decade. The blue-chip index last traded below 23,000 in October 2017. The S&P 500 fell 1.6%, and the Nasdaq slumped by 1.6%.
Jim Cramer Breaks Down the Fed
Cramer took on the headlines in TheStreet's final show of 2018, specifically tackling the Fed's decision to hike rates in 2019.
"So now we have to make the best of it. We have to try to figure out how to make money even though the Fed is going to make it harder -- not by its focus on the dots and the models, but by ignoring critical warning signs that are pretty much everywhere. Of course, in their view they aren't ignoring anything," Cramer wrote in his morning column for Real Money.
Cramer breaks down his thoughts on the Fed, and why he wants to sit down for lunch with Fed Chair Jerome Powell. 
Hint: It's not just to criticize the hikes.
Tilray's New Deal
Canadian cannabis company Tilray (TLRY) - Get Free Report  , Real Money's stock of the day, announced a product research deal with AB InBev (BUD) - Get Free Report  this week and Cramer weighed in.
Cramer expressed interest in the deal, especially given Constellation Brands (STZ) - Get Free Report  and Canopy Growth (CGC) - Get Free Report  both spoke at Cramer's Teach-In back in October where the topic of drinkable cannabis products was front and center.
At the event, Cramer had asked Bill Newlands, COO of Constellation, and Bruce Linton, CEO of Canopy, how the companies plan on monitoring the strength of the beverages.
The response? The companies are still testing out different metrics to understand the potency of the drinks. This, according to Cramer, is one key that all of the companies will have to work out before introducing beverages to the market.
The deal between Tilray and InBev comes at Altria Group Inc. (MO) - Get Free Report , the maker of Marlboro cigarettes, confirmed Thursday, Dec. 20, it was investing $12.8 billion in Juul Labs Inc., valuing the e-cigarette startup at $38 billion.  Altria's investment represents a 35% stake in JUUL.
AB InBev's statement speaks to the cannabis trend that may make partnerships like this more popular in the future, reports  Real Money's Kevin Curran.
"Labatt is committed to staying ahead of emerging consumer trends," Kyle Norrington, President of Labatt Breweries Canada said in a statement. "As consumers in Canada explore THC and CBD-infused products, our innovative drive is matched only by our commitment to the highest standards of product quality and responsible marketing. We intend to develop a deeper understanding of non-alcohol beverages containing THC and CBD that will guide future decisions about potential commercial opportunities."
Oil Falters
TheStreet contributor Bret Kenwell wrote about the decline of the oil sector.
Oil doesn't just impact OPEC, gas station prices and futures traders. It has far-reaching implications for corporate earnings as well. While many of these companies can lock in oil prices by selling futures contracts at higher prices, most companies do not lock in all of their production. And while many U.S. producers have done a great job at reducing production costs and increasing various efficiencies, the bottom line is that falling oil prices hurts profits.
First, consider ETFs like the Energy Select SPDR ETF (XLE) - Get Free Report  or the Vaneck Oil Services ETF (OIH) - Get Free Report . The two are down 24% and 43% so far this quarter, respectively. That's obviously weighed on individual equities, too.
Exxon Mobil (XOM) - Get Free Report , the sector's largest company, has fallen more than 16% in the last three months. Chevron (CVX) - Get Free Report is one of the better performers, down "just" 9.8% over the same period. Others have fared far worse, with Occidental Petroleum (OXY) - Get Free Report  and EOG Resources (EOG) - Get Free Report  are each down more than 20% and Schlumberger (SLB) - Get Free Report  tumbling almost 40% in the last 90 days.
Schlumberger is a holding in the Action Alerts PLUS portfolio, although the portfolio's far larger holding, BP plc (BP) - Get Free Report , is fairing much better, down 14% over the last three months. There's no simple way to put it. Those with a diverse portfolio and exposure to the energy sector are feeling the heat. But it can extend even further than that. For instance, while consumers enjoy a lower price at the pump, it results in lower revenue fees for companies like Visa (V) - Get Free Report , MasterCard (MA) - Get Free Report  and American Express (AXP) - Get Free Report .
Catch y'all tomorrow.