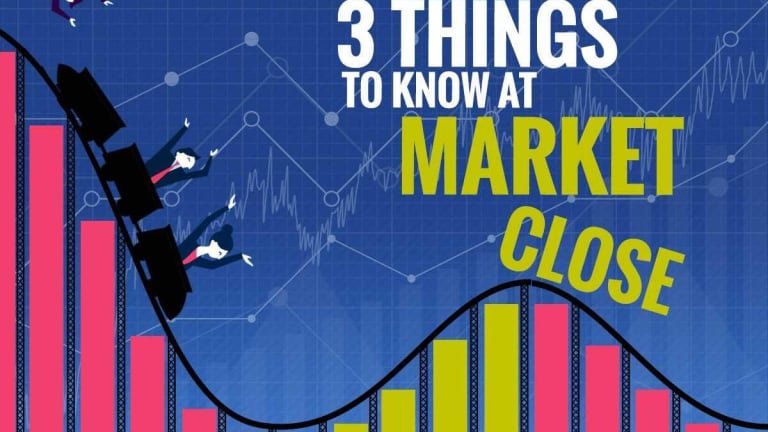 Throwback Thursday: The Market Is the New Macbeth
Boeing's the latest victim of the trade war, Jim Cramer feels like he's stuck in a Shakespearean play and the arrest of a prominent CFO are just some of the stories that you're missing on TheStreet.
It's almost Friday!
And yet the markets aren't feeling the same excitement that we are all feeling. The Dow Jones Industrial Average was down by over 200 points for most of the day, dropping nearly 800 points at one point. Yikes.
The markets are really wobbling, especially as 2019 approaches. 
The Dow fell 79 points, or 0.32%, to 24,948, the S&P 500 declined 0.15%, and the Nasdaq was gained 0.42%. The Dow and S&P closed the day holding on to slim year-to-date gains.
Brent crude contracts for February delivery, the global benchmark, fell 3.64% to $59.32 a barrel, while West Texas Intermediate crude contracts for January delivery, which are more tightly linked to U.S. gas prices, were down 3.54% to $51.02.
The United States added 179,000 jobs to private payrolls in November, according to the ADP National Employment Report. Economists surveyed by FactSet expected 195,000. The ADP number is a precursor to the official U.S. jobs report for last month, which will be released Friday at 8:30 a.m. ET.
Bye Bye Boeing
The airplane company was hit during Thursday trading on trade woes. 
TheStreet's John Pickering reported on the company. 
Boeing Co. (BA) - Get Report shares were the worst performers on the Dow Jones Industrial Average after Huawei Technologies Co.'s chief financial officer was arrested in Canada over possible violations of U.S. sanctions on Iran, potentially worsening relations with China amid a U.S. trade war with Boeing's biggest overseas customer.
Boeing was down over 3% as the bell closed trading for the day. The company ended at $331.74.
Boeing Chief Executive Officer Dennis Muilenburg said on Thursday he hopes China and the U.S. can resolve their trade disputes, on a day when global stocks fell on concern about a trade war between the world's two largest economies.
 "We are hopeful coming out of the G20 summit that we are on a path to finding a trade agreement with China that's going to be productive," Muilenburg said in an interview with CNBC.
Boeing has "not yet" seen an effect on Chinese sales and lease-backs, Richard Hammond, vice president at Boeing Capital, a financing arm of the largest U.S. exporter, said at a media briefing in London Thursday, according to Bloomberg. Boeing expects "robust demand in that region for quite some time" and is "working with our government and their government to provide whatever help we can," Hammond said.
And the volatility with Boeing isn't the only thing to worry about, according to Jim Cramer.
Are We Stuck in a 'Comedy of Errors'?
He compared the market to a Shakespeare play after the amount of drama--from the Facebook (FB) - Get Report documents being seized by Parliament, to the trade truce causing the markets to tumble. 
He also weighed in on Lyft's plan to IPO, beating out Uber in the race to go public. Cramer believes that the ride-sharing app is either hurting for money because he believes that it's a mistake to file for an IPO in the current market. 
And chip stocks were also amiss following development with the CFO of China-based electronics maker Huawei...
Micron Slips After Arrest of Huawei CFO
Real Money's Kevin Curran reported on the news and how it's harming the other semiconductor companies. 
Considering that Micron (MU) - Get Report generates 57% of its revenue from mainland China, the semiconductor maker could be a significant victim of increased Sino-American tension that many observers worry the arrest of Huawei's CFO Meng Wanzhou could provoke. At the very least, the arrest has pulled the "trade truce" rug out from underneath investors.
"At the request of the U.S. side, the Canadian side arrest a Chinese citizen not violating any American or Canadian law," China Embassy in Canada said in a statement. "The Chinese side firmly opposes and strongly protests over such kind of actions which seriously harmed the human rights of the victim."
Possibly complicating the issue is a report from the South China Morning Post that indicates Meng knowingly had skirted international sanctions for the sake of business.
"Of course, beyond the yellow and red lines, there may still be another scenario, and that is where the external rules are clear-cut and there's no contention, but the company is totally unable to comply with in actual operations. In such cases, after a reasonable decision-making process, one may accept the risk of temporary non-compliance," the report quotes her as saying.
The report also quotes her father as being unconcerned about flouting U.S. sanctions specifically.
"The U.S. has very strict compliance policies, but American companies are used to it," the South China Morning Post quotes Huawei founder and President Ren Zhengfei as saying. "Nobody dares to flout the law, it has become a habit, and they can still achieve high speeds. Our company has not yet formed this habit, that is why communication costs are too high."
Micron is Real Money's stock of the day. 
Until next time...
Facebook is a holding in Jim Cramer's Action Alerts PLUS member club.