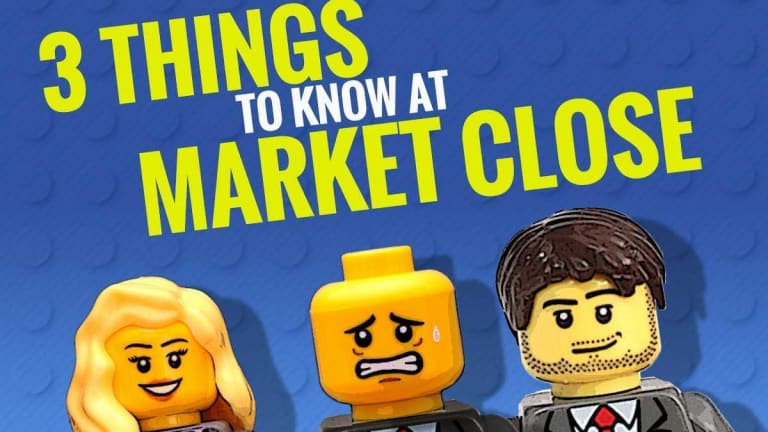 Throwback Thursday: GE, GM Head in Opposite Directions
General Electric pops, General Motors dips and more of the hot topics on TheStreet today.
Happy almost Friday!
Before we head out for the day, here are some of the top stories on TheStreet.
Stocks traded mixed on Thursday, Dec. 13, as Wall Street monitored trade developments between the U.S. and China.
The Dow Jones Industrial Average rose 0.29%, or 70 points ,to 24,597, the S&P 500 fell 0.02%, and the Nasdaq slid 0.39%. The Dow climbed as high as 213 points during Thursday's session.
Has General Electric Finally Reached the Bottom?
JPMorgan analyst Stephen Tusa upgraded General Electric (GE) - Get General Electric Company Report to "neutral" from "underweight."
He's had the rating the since May of 2016, and although he maintained an $8 price target on the stock, he said the ""known unknowns" surrounding the company are now easier to quantify.
"Key to the story, in our view, is the outcome of 'known unknowns' in near term, which are better understood and around which debate is more balanced, as opposed to being overlooked by most bulls in the past," Tusa wrote. "We now believe a more negative outcome one these liabilities (equity dilution is one) is at least partially discounted, and it's possible the company can execute its way through an elongated workout that limits near-term downside."
TheStreet's technical expert, Bruce Kamich, noted earlier this week that his charts were showing a "bullish divergence", but was doubtful the stock could produce a "meaningful advance" on its own.
Jim Cramer weighed in on what the upgrade means for GE and its CEO, Larry Culp.
When the markets closed, GE was up over 7% to $7.22.
General Motors Skids 
In an interview on Fox News, Donald Trump said relocating plants abroad would be "uncomfortable" for General Motors (GM) - Get General Motors Company Report , a company he has earlier accused of betraying taxpayers with plans to cut nearly 15,000 jobs despite receiving nearly $50 billion in federal rescue funds following the global financial crisis in 2009.
TheStreet'sMartin Baccardax reported on the news. 
Shares of the company closed down nearly 2% to $35.11 Thursday after President Trump said the carmaker "isn't going to be treated well" if it moved some of its production facilities outside of the United States after slashing jobs in three heartland states.
"I don't like that General Motors does that," Trump told Fox News. "And they're going down to Mexico to make cars? The new deal that I made really makes it very uncomfortable for people to go out of the country and it will be very uncomfortable for them. General Motors is not going to be treated well."
The Cannabis Craze Continues
TheStreet's Tony Owusu covered the cannabis sector, which got some more good news this week.
Shares of New Age Beverages Corp. (NBEV) - Get NewAge Inc Report , which manufactures CBD-infused drinks, jumped more than 11% after Congress on Wednesday passed the 2018 Farm Bill--legalizing the cultivation and farming of hemp, which contains cannabidiol (CBD), the non-psychoactive chemical compound found in cannabis. The company pared gains amid a broader market selloff (down 2% to $5.89 a share when the market closed Wednesday).
India Globalization Capital Inc. (IGCC) jumped 4% on the CBD news but also closed down 1.5% to 67 cents per share amid the broader sell-off.
Elsewhere in the sector, DAVIDsTEA Inc. (DTEA) - Get DAVIDsTEA, Inc. Report  , which is based in TK-city and manufactures cannabis-infused teas saw shares pop about 5% ahead of earnings. The company, however, reported an adjusted net loss of 28 cents per share on Thursday evening, up from a net loss of 17 cents per share a year ago. The company also reported a decline in same store sales in the third quarter.
"Despite a decline in same store sales, we are seeing favourable trends in several areas of the business," stated Herschel Segal, Executive Chairman and Interim Chief Executive Officer. "We continue to have great confidence in our team, in our brand, our growth opportunities and our capacity to improve our financial results."
Shares traded lower around 5 pm in after-hours trading.
And don't forget...
Cramer's Action Alerts Plus call is on Monday, Dec. 17 at 11:30 a.m.
He will be breaking down his top five winners from 2018 and his losers.
As Cramer himself says, you can't get this type of information from anyone else.
You can tune in live at ActionAlertsPlus.com.
Until Fri-yay...