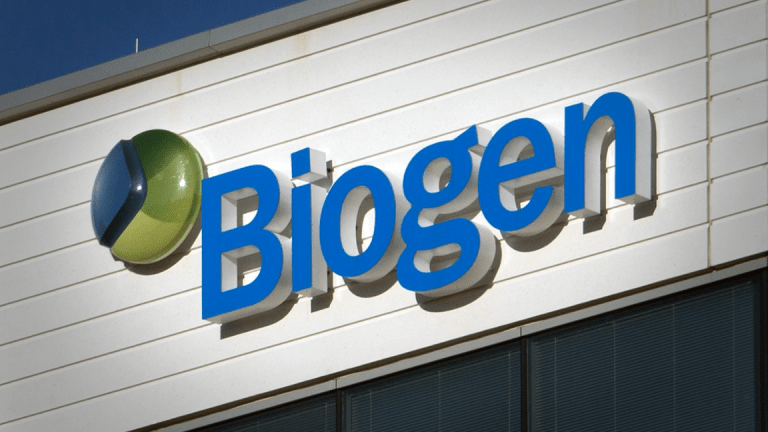 3 Things to Watch When Biogen Reports Second-Quarter Results
The Cambridge, Mass.-based biotech is scheduled to unveil its second-quarter results before the market open on July 24.
All eyes will be on Biogen's (BIIB) Alzheimer's treatment results when the biotech giant reports earnings on Tuesday morning before the open.  
Analysts project that the biotech firm to report earnings per share of $5.21 on revenue of $3.248 billion, according to FactSet Research Systems. But closer attention will likely be paid to Biogen's Phase 2 study of BAN2401 in Alzheimer's disease, a treatment that was developed in conjunction with Tokyo-based Eisai Co. Ltd. (ESALY)
Positive news about that study led Biogen's shares to pop about 20% a few weeks ago, and the pair will present more results from the study on July 25 at the Alzheimer's Association International Conference in Chicago. 
1. Alzheimer's disease data
While the quarterly results are important, many questions on the earnings call will likely center around the Alzheimer's data, SunTrust Robinson Humphrey Inc. analyst Yatin Suneja told TheStreet.
"Investors are really trying to understand what is a good threshold for success," Suneja said. "My sense is a 15% to 20% improvement in cognition is good."
Jefferies LLC analyst Michael Yee said in an interview that analysts will be watching for commentary on the recently announced BAN2401 Phase 2 data and the implications on aducanumab, another Alzheimer's treatment being developed by Biogen and Eisai.
On July 5, Biogen and Eisai unveiled positive topline results from a Phase 2 clinical trial of BAN2401 in early Alzheimer's disease that sent shares of both companies soaring.
Biogen will also conduct a live webcast discussing its Alzheimer's disease investigational therapies at 6:00 pm ET on July 25.
2. Spinraza
Suneja thinks that Biogen will meet or beat TheStreet's estimates for spinal muscular atrophy treatment Spinraza, projecting total sales of $385 million. Analysts forecast, on average, $390 million.
For U.S. Spinraza sales to meet the consensus projection of $193 million, "we estimate 240 new patient starts (down from 280 in 1Q18), which is in-line with management commentary of 'stable' U.S. demand," Suneja wrote in a July 20 note.
As for sales outside the U.S, Suneja wrote that he had conservatively modeled 540 new patient starts, compared with 570 in the first quarter of 2018, which would imply second-quarter sales of about $197 million.
3. Multiple sclerosis franchise
Suneja expects Biogen's multiple sclerosis franchise, which includes Tecfidera and Tysabri, to rebound following a seasonally weak first quarter. He expects total MS franchise sales of about $2.21 billion versus consensus estimates of $2.189 billion.
Suneja thinks sales of Tecfidera could come in a bit above The Street's forecast due to the expected normalization of inventory levels. He expects worldwide sales of about $1.115 billion, compared to his estimate of $1.065 billion and consensus of $1.102 billion.
In addition, he thinks revenue from Tysabri could surpass the consensus estimate of $447 million because of demand stabilization. Suneja thinks sales could come in at around $465 million, broadly in line with his $470 million projection.