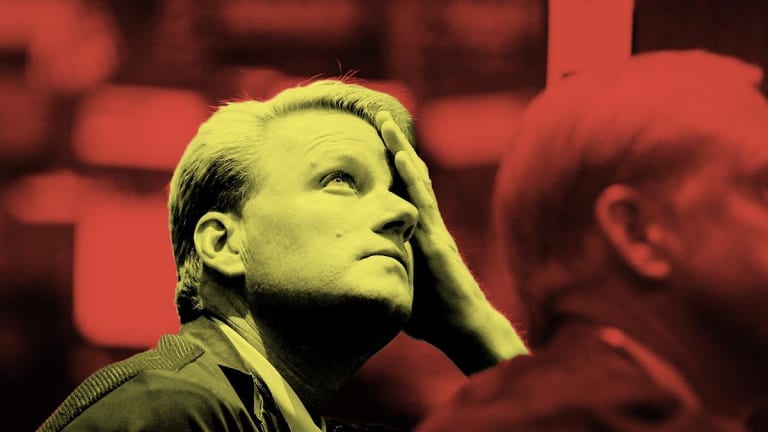 3 Things That Could Send the Market Spiraling
Here are some real reasons to be bearish stocks just as they hover around record highs.
Don't be fooled by a sleeping bear. 
The U.S. stock market has charged ahead this year, as the longest bull run in American history is officially upon us. Many strategists, asset managers, and analysts are bullish, and advising for a continued bull run this year. In fact, 57% of investors in a new E*Trade survey said they were bullish in the third-quarter, compared to 52% in the second-quarter. Those bearish were 43% in the third-quarter, down from 48% in the second-quarter. 
But the risks that could spell a bear market are aplenty. 
"There are a number of warnings signs on the near- and long-term horizon," Mike Loewengart, E*Trade's VP of Investment Strategy told TheStreet. 
"We would not be adding to our equity allocation at this point," John Traynor, Chief Investment Officer of People's United Advisors cautioned in an interview with TheStreet. 
Amongst several risks, three stand out as particularly pertinent.
High Valuations and Federal Reserve Tightening 
"The U.S. stock market is currently trading at the higher end of historic valuation levels, the Federal Reserve is tightening monetary policy, and slack in the economy has diminished," John Toohey, USAA Head of Equities told TheStreet. The S&P 500's undefined trailing price-to-earnings ratio is roughly 25 times right now, well above the historical average of roughly 17 times. With the Federal Reserve on track to raise rates twice more this year, that level of valuation is hardly compelling.
This set of facts is a complete reversal of the period between the Great Recession and the year just after. "This situation is the opposite of 2009, when the U.S. stock market was trading at very inexpensive valuation levels and the Fed was loosening monetary policy," Toohey said. The S&P 500's price-to-earnings ratio plummeted throughout 2009, ending the year at around 20 times. In 2010, it plummeted even more to the current bull run's low of about 15.4 times. 
And FAANG stocks are among those with especially lofty valuations, with Amazon (AMZN) - Get Amazon.com, Inc. Report trading at 182 times trailing twelve months earnings, and Netflix (NFLX) - Get Netflix, Inc. Report trading at 154 times earnings.
FAANG stocks, and many valued like it right now, have the market priced for perfection headed into third quarter earnings season. That sets the table for strong profit reports to be viewed negatively by the market. 
Worsening Trade War and Rising Costs 
"An unsettled trade landscape" is a serious risk to the market "on the near-term horizon," Loewengart said. Toohey agrees. "Expansion of tariffs would add fuel to the fire," Toohey said. "Costs are rising for U.S. companies," he added, which is partly a result of tariffs President Trump has slapped on major trading partners to the U.S., like China and the EU.
Major U.S. industrial companies like Ford (F) - Get Ford Motor Company Report , which relies on purchasing aluminum and steel to make its autos, have seen hits to their gross margins as costs have risen. Ford has specific issues of its own, but industrials such as homebuilder Toll Brothers construction (TOL) - Get Toll Brothers, Inc. Report , which is down 25% this year, have gotten hit as the tariffs have elevated the cost of production.
Several large companies, industrial and non-industrial, have said tariffs are putting pressure on margins, a recent Goldman Sachs research note pointed out. "Raw material inflation is putting pressure on gross margins, accounting for a 320-basis point headwind to our gross margin in the second quarter of this year," Colgate-Palmolive (CL) - Get Colgate-Palmolive Company Report said on its most recent earnings report. 
"What could be the trigger?" to an equities downturn Toohey asked. "Continued strengthening of the U.S. dollar is the most likely possibility." A recent Goldman Sachs research note said that "S&P 500 earnings have a negative relationship with changes in the USD." In months when the dollar rises sharply, the note said, the S&P 500 falls .5%. 
For now, some companies are able to pre-buy materials, meaning that they are buying materials before price increases hit. Some companies are finding they can pass cost increases along to customers without losing too much demand. But the market is mindful that trade policy may continue in its current general direction. President Trump reiterated a threat to pull the U.S. out of the World Trade Organization while also saying that his administration is planning on imposing proposed tariffs on $200 billion worth of Chinese goods if Beijing doesn't agree to U.S. trade terms.
"A big sell off in U.S. stocks could easily occur," Toohey said. 
Labor and freight costs are also causing companies distress. "Especially labor costs and freight costs" are rising, Toohey said. "From an overall margin side, I'd say labor costs continue to be a pressure," McDonald's (MCD) - Get McDonald's Corporation Report said on its most recent earnings call. As for freight costs, Johnson & Johnson (JNJ) - Get Johnson & Johnson Report isn't too thrilled. "Freight costs do remain at an elevated level," management said on its most recent earnings call. "We did not fully offset these costs. Looking to Q4, we expect continued margin pressure related to transportation costs in Power Solutions." 
Alongside elevated valuations, rising costs are the last thing Corporate America needs. 
Strengthening U.S. Dollar
"Strengthening of the U.S. Dollar will tighten financial conditions globally and hurt many emerging market economies," Toohey added. If global credit does tighten, "a global contagion could easily occur," he said. "The U.S. stock market would not be immune." 
Amazon is a holding in Jim Cramer's Action Alerts PLUS member club. Want to be alerted before Jim Cramer buys or sells this stock? Learn more now.