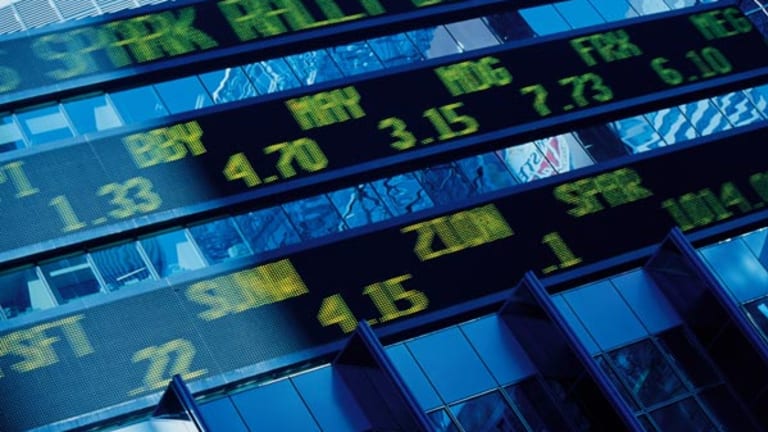 This column was originally published on RealMoney on May 4 at 11:34 a.m. EDT. It's being republished as a bonus for TheStreet.com readers. For more information about subscribing to RealMoney, please click here.
As a general rule, I prefer to focus on shorting companies where the management is inept and/or corrupt. But I've been
focusing on paired trading lately, and that means finding some sector shorts to pair with corresponding sector longs.
I've been mostly highlighting longs this year (as I have for the past five years, really). But I'm actively scaling into some shorts to pair with those longs, and one of the primary theses I'm using to build those positions is my paired trade idea of long the semis and short their suppliers. Here are three semi-supplier short ideas, and I'll highlight three other names in the space in my next piece.
Kulicke & Soffa Industries
Mr. Kulicke is one of the straightest shooting and best CEOs in the semi-supplier space. He's always upfront about falling demand for
Kulicke & Soffa Industries'
(KLIC) - Get Kulicke & Soffa Industries, Inc. Report
wire-bonding equipment. Right now, the company's got problems on its cost side. Gross margins have been falling from the high to mid 20% range.
The company is sensitive to world gold prices and has projected sales of $167 million based on commodities forecasts. Wire bonders account for about 30% of revenue, and, by the company's admission, are largely tied to gold prices. The stock's just about 8% below its 52-week high, and I think there's more downside risk than upside potential.
Novellus
Novellus
(NVLS)
continues to be in play, as the RAM market is still down the tubes. Despite this, the stock is trading near its 52-week high of $38. This is a declaration by investors that the cycle of downward RAM pricing is over and that Novellus is poised to benefit.
I would declare the opposite, that robust cap-ex spending is coming to a screeching halt and that the giants
Samsung
and
Intel
(INTC) - Get Intel Corporation (INTC) Report
, who account for almost 30% of sales between them, are controlling their own costs enough to hurt Novellus.
Applied Materials
Last year, ethanol stocks were all the rage, with
The Andersons
(ANDE) - Get Andersons, Inc. Report
and
Archer Daniels Midland
(ADM) - Get Archer-Daniels-Midland Company Report
benefiting from an investment community looking to find a play on the increased awareness of global warming.
As reality has sunk in that ethanol is a subsidized sham, the trend followers have looked for other ways to profit, including solar, of course. On top of being the world's largest supplier of equipment to the semiconductor industry,
Applied Materials
(AMAT) - Get Applied Materials, Inc. Report
has announced that solar technologies are a top priority going forward.
Analysts have been suggesting that by 2010, AMAT could see $2 billion a year in revenue from solar contracts, a figure that is just under a quarter of current revenue. This kind of speculation can reverse on new information very quickly, such as that plastic wafers for solar panels may be up to twice as efficient as Applied Materials' silicon-based technology.
Currently trading near its 52-week high, I'd be looking for AMAT to fall in the short term if the quarterly numbers aren't stellar, and even more if the zeitgeist shifts.
For even more short ideas, please
click here.
At the time of publication, the firm in which Willard is a partner was net short Novellus, although positions can change at any time and without notice.
At the time of publication, the firm in which Willard is a partner was net short Novellus, although positions can change at any time and without notice.
Cody Willard is the manager of CL Willard Capital Management, LLC. He is a regular guest on
Fox News
,
CNBC
and other networks, and he writes a monthly column for the
Financial Times
. He is also an adjunct professor at Seton Hall University and the author of
TheCodyReport.net
, a monthly stock market newsletter. Willard appreciates your feedback --
to send him an email.