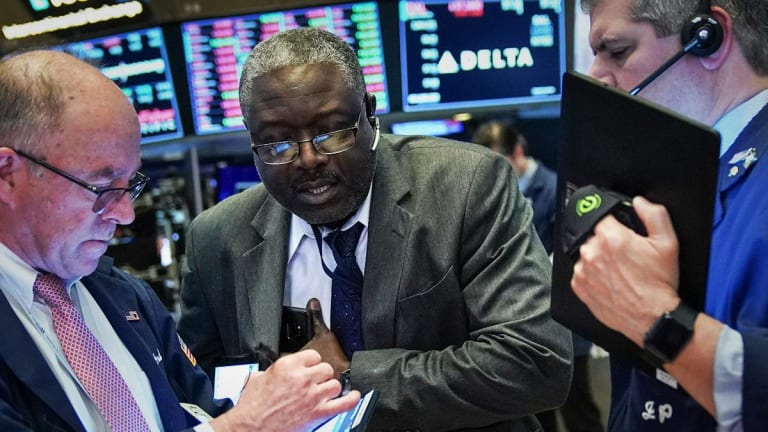 Three Job-Market Data Points Investors Are Overlooking
The poor economic trend in the past 10 months or so is pointing toward an interest rate cut. But looking under the hood of that data could paint an even darker picture.
The jobs numbers Friday showed an economic beat. But investors appear to be overlooking other unemployment data points. More attention to these data could change investors' view of some of the headline numbers and the financial markets more broadly. And that new view could be darker, an economy weaker than it appears. 
Friday's government report showed 224,000 added jobs, beating economists' expectations of 140,000. The unemployment rate currently stands at 3.7%, but GDP growth has been slowly fading from a current-boom high of 4% in August 2018, and inflation has remained at around 2%. 
The Federal Reserve had initially planned to raise interest rates four times in 2019 -- before rapidly falling economic forecasts prompted investors to sell off stocks to end 2018. Now, the Fed is considering cutting rates. When one considers a few more economic data points, the picture doesn't necessarily get better. The S&P 500 fell 0.9% Friday, as investors worried the Fed may reconsider cutting rates.  
Participation Rate 
The labor-participation rate is the elephant in the room. For the past few years skeptics have said the low participation rate is tainting the reported unemployment percentage. Jobless statistics account only for people seeking jobs or participating. They don't count those who are not participating. 
The U.S.'s current labor-participation rate is 62.9%, according to the U.S. Bureau of Labor Statistics, down from 66% in 2007, just before the financial crisis. 
"The number remains low," Danielle DiMartino Booth, former adviser to the president of the Dallas Fed and founder and CEO of Quill Intelligence, told TheStreet.
As for GDP, "There is no feasible way to reflect the labor-participation rate, and therefore you don't get the full story when you see the GDP numbers," she said. "The Fed's dual mandate is to maximize employment. We're not seeing that happen because were seeing a decline in the labor-participation rate."
Mike Loewengart, vice president of investment strategy at E*Trade, generally agrees. He says the actual unemployment rate may be higher than reported. "The participation rate, it is important. You can use that number to say that unemployment is artificially low."
He noted that this topic is a "very subjective exercise" and that the unemployment rate can be cut and spliced in different ways, but the poor participation isn't helping the economy. 
Hours Worked Per Week 
This metric can often be an indicator of the near future. "We're going to be paying attention to hours worked -- that can be a precursor to layoffs," DiMartino said before Friday's results. "What [employers] do first is decrease hours worked."
She said that even a 0.1 percentage point tick downward in the metric would mean the U.S. is soon to see layoffs. The last reading showed 34.4 hours worked per week on average, but a move to just 34.3 would have been indicative of impending layoffs, she said. The result was an unchanged 34.4, the BLS said. 
Wage Growth  
"Wage growth is not going to tie into the headline number, but that's going to tie in directly to how much people are working and future spending," Loewengart said. Wage growth recently slowed to 3.1% from a 3.4% clip several months ago.
While wage growth may not be the most talked-about metric, markets have certainly digested it. The 10-year Treasury yield never moved higher than 3.18% during the boom and is now down to 2.05%. The S&P 500 has returned 287% since March 1, 2009, aided by low rates. 
Loewengart mentioned the slow wage growth has been the "missing piece" for the current boom, which began after the 2009 Great Recession. Of course, that has helped prompt the low inflation. 
That's not a great thing, Loewengart said. "It's certainly healthier to have a larger swath of the population earning more money. We've had modest GDP growth for the last decade."
He added, "It hasn't been the worker" who has fueled the boom. "Their wages haven't kept pace. The gains have all been in assets, whether it's financial or real assets." 
Market Impact 
"If investors would start to pay attention to [economic data] nuances, the stock market would start to behave more like the bond market behaved," DiMartino said. 
Stock prices and treasury prices have both climbed in 2019, but DiMartino's remarks suggested the falling bond yields (which happen as bond prices rise) signal low confidence in domestic demand and inflation.
If the stock market behaved that way, stock prices would fall. After having corrected to end 2018 on the back of fears of a global economic slowdown, the U.S. stock market is back near all-time highs. The S&P 500 is up 18% year-to-date. 
Still, while closer attention to finer data points may make stock investors more skittish, those investors are already looking for aggressive rate cuts on the back of weakening data. Some market participants want a 50-basis-point interest rate cut. 
But DiMartino said, "I wouldn't go any more aggressive than the 25 basis points." She noted the Fed only has nine cuts to use, so "if I'm the Fed, I am trying to conserve my ammunition right now." A 50-basis-point cut would power stocks, while a 25-basis-point cut would at least validate their elevated levels. 
The reality is that the current bull market has been powered by low rates, which reflect low growth and weak data. "What's been driving the market over the last decade?" Loewengart asked. "It really comes down to monetary policy and actions from the Fed." 
He added, "It's become perverse. If we see strong economic metrics that indicate the economy is firming, that's going to be interpreted by investors that the Fed won't have to cut. If there are any metrics that don't drive that narrative, you see stocks come down."