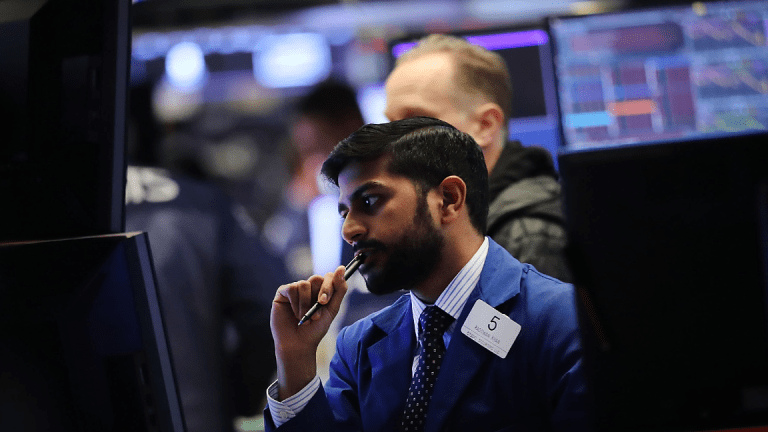 Three Big Factors That Rocked the Stock Market Tuesday
The Dow suffered as much as a 600-point drop in Tuesday trading. Here's what sent markets lower.
What started out as a strong open on the stock market quickly devolved into very red trading session for Wall Street on Tuesday, April 24.
By the market close, the Dow Jones Industrial Average undefined lost 424 points, or 1.74%, the S&P 500 undefined handed over 1.34% and the Nasdaq undefined shed 1.68%.
Here are the three biggest factors that contributed to widespread stock market losses on Tuesday.
10-Year Yield Surges
The benchmark 10-year Treasury note yield hit 3% for the first time since January 2014 in Tuesday trading. The major moves in the bond market sent stock market investors reeling, as the 3% threshold served as a strong psychological indicator.
TheStreet's Founder and Action Alerts PLUS Portfolio Manager Jim Cramer said, "If you think that 3% is just a way station to 5%, then you got to get out. If you think these things are going to happen and you're scared, you can't invest."
The 10-year benchmark yield came off highs by the market close, yielding about 2.996% at the bell.
Industrial Earnings Weigh Heavy
Caterpillar Inc. (CAT) - Get Caterpillar Inc. Report brought the entire industrial sector lower in Tuesday trading. After reporting earnings and opening higher, Caterpillar stock plummeted 6.36% to $144.19 by the close.
The downward pressure on industrials came after Caterpillar Chief Financial Officer Bradley Halverson said on the company's earnings conference call that it expects "steel and other commodity costs to be a headwind all year."
As Caterpillar sank, so too did Cummins Inc. (CMI) - Get Cummins Inc. Report , down 4.5%, Cree Inc. (CREE) - Get Cree, Inc. Report , down 2.5%, Crane Co. (CR) - Get Crane Holdings Co. Report , down 8% and Freeport McMoRan (FCX) - Get Freeport-McMoRan Inc. Report , down 14.5%.
Apple Selloff Continues
Apple Inc. (AAPL) - Get Apple Inc. Report stock dipped into correction territory on Tuesday, down more than 11% since its most recent high at $183.50 on March 13. Tuesday was the first time shares of Apple fell below $163 since February.
The stock's weakness comes as Apple's suppliers continue to rattle off underwhelming quarterly earnings, sales and near-term forecasts. Continued disappointment among semiconductor manufacturers has stoked fear in investors that the global demand for smartphones that rely heavily on their chips - such as Apple's iPhones - is shrinking dramatically.
Compounding stock difficulties is an antitrust probe Apple is facing in Europe. European Union regulators announced Monday plans to investigate Apple's proposed acquisition of music recognition app Shazam.
Apple has traditionally been the darling of Wall Street, with shares up an impressive 46% in 2017 compared to the broader S&P 500's 20% gains in the same time. With Apple stock down in five consecutive trading sessions, Wall Street has started to question one of its favorite names. Share met the closing bell Tuesday lower 1.39% to $162.94.