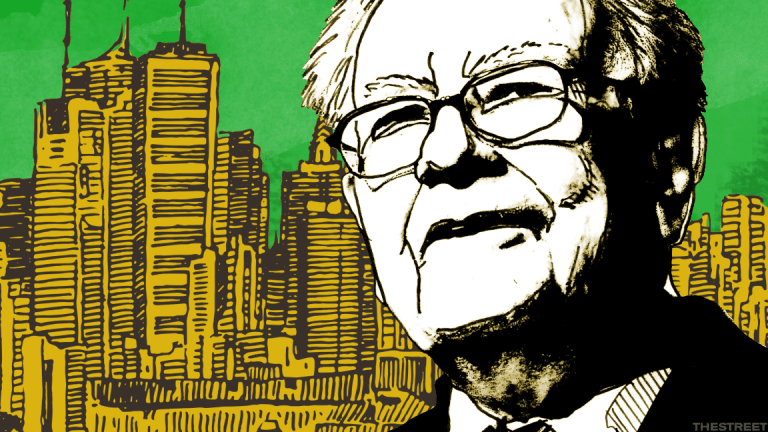 Feel bullish on Buffett?
The Berkshire Hathaway (BRK.A) - Get BRK.A Report (BRK.B) - Get Berkshire Hathaway Inc. Class B Report CEO, Warren Buffett, told CNBC's Becky Quick that Berkshire had recently bought back 'a little' of its shares. This comes after Berkshire Hathaway changed its policy that dictate when the company decides when to make repurchases. 
Buffett, earlier in 2018, said that buybacks would be considered in order to trim the exceedingly large cash pile that Berkshire Hathaway is sitting on. Currently, the company has over $120 billion just lying around.
"A firm will buy back stock when it has excess cash and the management believes that the market undervalues the stock," said Robert R. Johnson, professor of finance at Creighton University in Buffett's hometown of Omaha, Nebraska. Professor Johnson is a Berkshire Hathaway shareholder and "an avid Warren Buffett watcher."
Buffett, in an interview with CNBC's Becky Quick, said that his decisions are based on long-range strategies for investors. He said that he and Charlie Munger, vice chairman, are "in sync" about the decision to buy back shares. 
"Earlier this year, Buffett had indicated that he would consider buybacks to utilize his huge cash hoard -- over $100 billion. Previously, the metric at Berkshire used to consider a buyback is if the company's stock sold for less than 120 percent of book value," said Johnson. "Now, Buffett indicates that Berkshire will consider buying back shares when he believes that the firm is selling for less than intrinsic value. The firm currently sells for around 140 percent of book value."
So, how do investors feel about these buybacks?
"As a long-time shareholder, I am thrilled to hear this news. Essentially, what Mr. Buffett is telling the market is that Berkshire Hathaway shares are undervalued at this level. This is particularly important because Berkshire Hathaway isn't a serial repurchaser," Johnson said. "In other words, this is out of character for Mr. Buffett, who has been criticized by some Berkshire Hathaway shareholders in the past for not repurchasing stock. In the 1999 annual report, Buffett conceded that in the past he had sometimes 'erred' in not making repurchases. "My appraisal of Berkshire's value was then too conservative or I was too enthused about some alternative uses of funds."
Another investor, Trip Miller, managing partner of Gullane Capital Partners, said that the buybacks are "very opportunistic on [Berkshire Hathaway's] part...it's a great use of that cash."
"In essence, what Buffett is saying is that one of the best uses of cash in this market is to buy Berkshire Hathaway," Professor Johnson said.
"We believe that the stock is undervalued, they obviously think it as well," said Miller. "If he feels like this is good--who's going to second guess Warren Buffett?"