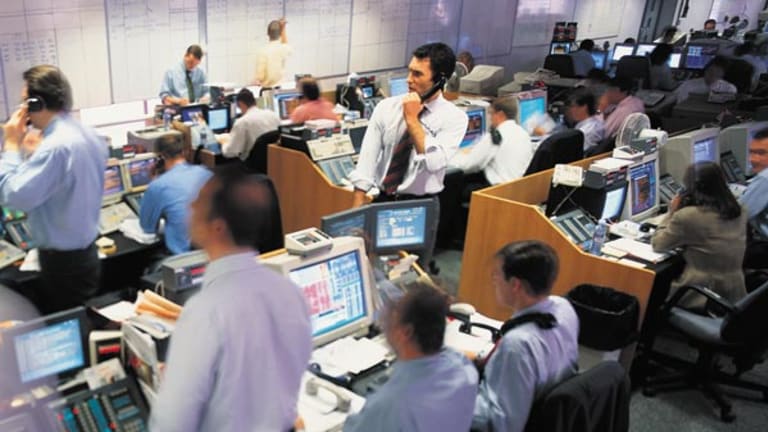 The Sweet Clatter of Falling Metal
Sector rotation out of steel and basic materials stocks offers some low-risk shorts.
Sector rotation out of steel and basic materials stocks offers some low-risk shorts.
This column was originally published on RealMoney on May 31 at 12:00 p.m. EDT. It's being republished as a bonus for TheStreet.com readers.
Many traders and investors fancy themselves to be good stock pickers. In other words, they focus on finding stocks likely to produce outsized returns. If you're a good stock picker, you must have some selection criterion that works for you. If not, you're probably just a good dart thrower.
Some traders use pure fundamental analysis and let the stock do its thing without worrying much about it, while others are strict chart technicians using nothing but price and volume data for selecting short-term trades. Others -- probably most -- use a combination of the two. But irrespective of stock-picking methodologies, some market principles are universal. Understanding them will help you become a better stock picker.
If your portfolio has taken a beating over the last month, you've just experienced the flip side of the old Wall Street adage that a rising tide lifts all boats. While it's true that some stocks go up every day, it's a heck of a lot easier to find one when the market is strong. And if the market is weak, there is no rule against refraining from playing the game. Cash is much more profitable than being long in a lousy market. If all the boats in the harbor are sinking, why not just stay on the dock for a while?
Group and sector rotation is an integral part of the financial markets. You'll hear lots of talk about "where we are in the cycle." It's important to understand basic economic principles and how different industries either thrive or starve at various points within an economic cycle. Institutions base their investment decisions, in part, on economics and sector rotation. You've got to understand that the periodic allocation shifts of banks, pension funds and other large institutional investors are at the very heart of sector rotation.
For example, a large firm won't decide to invest in
Google
(GOOG) - Get Report
or
Intel
(INTC) - Get Report
. Rather, it will decide to shift some assets into the Internet and semiconductor sectors. Buying Google and Intel will be a result of this shift of assets.
You may disagree with many of the moves made by large institutions. How dare they sell the cornerstone of your portfolio,
Titanium Metals
(TIE)
? Don't they know that it's going to $40? Well, considering that some institutions may have been holding Titanium Metals for the last several years with a split-adjusted basis of about 20 cents, can you really blame them for deciding to shift money to a sector with more compelling valuations?
You've got to keep these big guys in mind. Large institutions don't trade for lunch money. They hold for long periods of time. Their activity is what draws the charts we all know and love. Their accumulation at a particular price level is what forms a bottom. They buy all the stock for sale at those prices. Later, they distribute these same shares at much higher levels when the run is played out. The byproduct of their distribution will be seen in hindsight as a top.
Let's put some of these ideas together as we look at some of the metal stocks in the basic materials sector. You'll see that all of these stocks are moving lower as a group.
That's sector rotation. And if you look at multiyear charts of these stocks, you'll understand why the big guys are selling them.
Tuesday's open marked the high of the day for
Oregon Steel Mills
( OS), as with most of the charts below. With the closing price still relatively close to Tuesday's high, it looks like a fairly low-risk short, because the trade can be protected with a buy-stop just a bit above $46.
United States Steel
(X) - Get Report
looks like a carbon copy of Oregon Steel, as sellers took the stock down all day. This short-term top is easier to pick than the intermediate-term price peak that occurred in early May. Though trading volume was quite high during last week's decline, there has been no follow-through by the bulls. This looks like a high-probability short, with a buy-stop at about $68.
A lot is happening in this daily chart of
AK Steel
(AKS) - Get Report
. Notice that the early March gap was filled during last week's decline. I'm sure a lot of technicians noticed that closure and decided that AK was safe to buy. But the subsequent rally appears to have also failed, so those recent buyers are likely to sell.
This high-probability short can be protected with a buy-stop just above $14. Notice that the long
price-by-volume bar at $11 is a probable support level because of the amount of emotional commitment there. So if you're short, consider placing a profit target at $11.
Ryerson
(RYI) - Get Report
didn't show much of a snapback over the past couple of days -- the stock has just hung around the $26-$27 level. I've drawn support around the closing levels rather than the intraday lows extending almost to $25. The intraday lows aren't as relevant to me because they were ultimately rejected by the bulls -- buying pressure came in at the end of the day to take the stock back up to around $26. Tuesday's close, however, was the lowest since March. If you're long, consider putting a stop just below Tuesday's close.
Is this shortable? With only about half a million shares trading each day and a short interest of 5.5 million, shorting Ryerson carries a bit more risk than I'd be willing to take. I don't really see a short-squeeze occurring, but why take the risk?
Back in early 2003,
Allegheny Technologies
(ATI) - Get Report
was trading at about $2. Earlier this month it peaked at $87. Can you see why long-term investors might be booking some profits?
I get concerned when I see heavy volume on a pullback followed by a rally that just doesn't go anywhere. The abbreviated rally tells me that all the sellers weren't washed out. That's what Allegheny looks like to me. I'd sell short if the stock moves any lower. After all, the highest level of congestion is clear down at $50, a long way from the current price of $63.
Be careful out there.
P.S. from TheStreet.com Editor-in-Chief, Dave Morrow:
It's always been my opinion that it pays to have more -- not fewer -- expert market views and analyses when you're making investing or trading decisions. That's why I recommend you take advantage of our
to TheStreet.com's
RealMoney
premium Web site, where you'll get in-depth commentary
and
money-making strategies from over 50 Wall Street pros, including Jim Cramer. Take my advice --
Fitzpatrick is a freelance writer and trading consultant who trades for his own account in Encinitas, Calif. He is a former co-manager of a hedge fund and teaches seminars on technical analysis, options trading and asset-protection strategies for traders and business owners. Fitzpatrick graduated from the McGeorge School of Law and was a fellow at the Pacific Legal Foundation, a nonprofit public interest firm specializing in constitutional law. He also practiced law in the private sector before pursuing trading as a full-time career. Under no circumstances does the information in this column represent a recommendation to buy or sell stocks. While Fitzpatrick cannot provide investment advice or recommendations, he appreciates your feedback;
to send him an email.