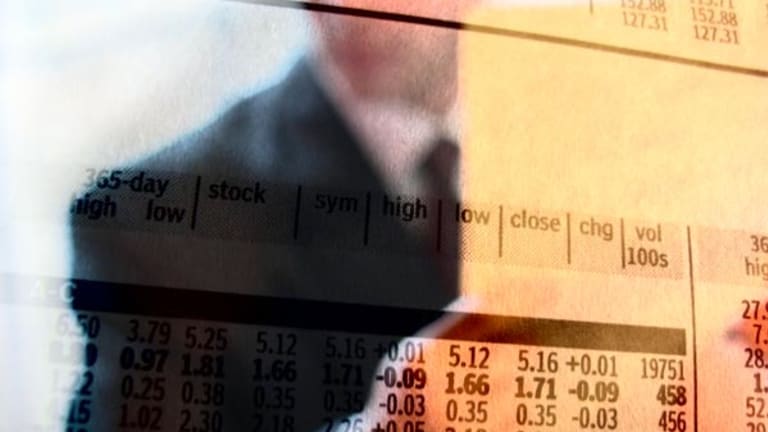 Stocks Decline on Profit-Taking
Stocks fell on Monday as investors locked in gains on the previous week's advance despite heightened deal activity. Gregg Greenberg has The Real Story.
NEW YORK (
) -- Stocks fell on Monday as investors locked in gains on the previous week's advance despite heightened deal activity.
Selling intensified in the final half hour of trading, with the
Dow Jones Industrial Average
closing the day 48 points or 0.4% lower at 10,812. The
S&P 500
shed 6 points or 0.5% to 1142, while the
Nasdaq
declined 11 points at 2369.
Stocks began the session on a weak note, as investors reacted to a spate of mergers and acquisitions news with cautious optimism. Market sentiment was pretty evenly split, with 51% of the stocks advancing while 45% declined.
"It is tough to find a catalyst to keep prices up after the 2.5% rally we had last week," said Art Hogan, chief market strategist at Jefferies. But he felt that the market still had some steam left. "The stories on M&A do not suggest that things are overdone. There will be ample opportunity to topple over the applecart but we will have to wait till Q3," said Hogan.
Volumes also remained light as investors awaited fresh news to drive up stocks.
"We're seeing minor losses on light volume but transportation and utilities are still up. I wouldn't put too much into the decline," said Peter Cardillo, chief market strategist at Avalon Partners.
"For the rest of the week, I think the market will be concentrating on two things: window-dressing and, later in the week, personal consumption and personal income data. Plus, I think ISM manufacturing on Friday could be a market-mover," Cardillo said.
Economists are anticipating a slightly lower September ISM reading of 55 on Friday, compared with August's level of 56.3, according to Briefing.com.
A three-notch downgrade to
Anglo Irish Bank's
debt by Moody's Investors Service also may have been weighing on global markets. According to a
Wall Street Journal
report, the bank is expected to need more support from the government.
Overseas, Hong Kong's Hang Seng gained 1%, and Japan's Nikkei added 1.4%. The FTSE in London slipped 0.5% while the DAX in Frankfurt lost 0.3%.
The increased uncertainty likely contributed to
gold prices that inched closer to the $1,300-an-ounce mark. The December gold contract settled at $1298.6 an ounce.
Meanwhile, the dollar was trading lower against a basket of currencies, with the dollar index down by 0.1%, and the benchmark 10-year Treasury note strengthening 24/32 and diluting the yield to 2.522%.
On the Dow,
Hewlett-Packard
,
AT&T
,
Verizon
(VZ) - Get Verizon Communications Inc. Report
and
American Express
(AXP) - Get American Express Company Report
were the session's best performers.
The transportation sector was showing strong gains lifted by news that
Southwest Airlines
(LUV) - Get Southwest Airlines Co. Report
agreed to buy
AirTran Holdings
( AAI) in a cash and stock deal valued at roughly $1.4 billion. Southwest's stock gained 8.7% to $13.35 while AirTran shares soared 61% to $7.34.
Shares of competitors such as
Delta Airlines
(DAL) - Get Delta Air Lines, Inc. Report
and
US Airways
(LCC)
ended down 2.6% at $11.39 and up 3.2% to $9.28, respectively.
Ocean transport company
Dryships
(DRYS) - Get DryShips Inc. Report
was also contributing to the sector's strength as the stock jumped 8.6% to $4.48 on a Morgan Stanley upgrade to equal weight and a price-target increase to $5.50 a share.
In other deal news,
Wal-Mart
(WMT) - Get Walmart Inc. Report
made a nonbinding bid to acquire
Massmart Holdings
, South Africa's third-largest store group by value, for more than $4 billion. Wal-Mart's stock shed 1% to $53.50.
Unilever (UL) - Get Unilever Plc Report agreed to acquire beauty products maker Alberto Culver (ACV) - Get AllianzGI Diversified Income & Convertible Fund Report
for $3.7 billion. Shares of Unilever added 1.1% to $28.89. Alberto Culver shares advanced 19.6% to $37.66.
IBM
(IBM) - Get International Business Machines Corporation Report
picked up
Blade Network Technologies
, a privately held blade servers, switches and software company, for a rumored price of $400 million. IBM's stock gained 0.4% to $134.70.
The stock of
M&T Bank
(MTB) - Get M&T Bank Corporation Report
was down 7.1% to $84.15 on reports that
it may consider buying back Allied Irish's 22.5% stake in the bank.
According to a
Journal
report, French pharmaceutical company
Sanofi-Aventis
(SNY) - Get Sanofi Report
is talking to new lenders about additional financing options as it considers raising its $18.5 billion bid for
Genzyme
( GENZ). Sanofi's stock was down by 1.7% at $33.43 and shares of Genzyme were off by 0.5% at $71.20.
Elsewhere in equities, shares of
Sprint Nextel
(S) - Get SentinelOne, Inc. Class A Report
jumped 3.2% to $4.59 helped by a UBS report projecting a turnaround on the back of strong wireless sales growth.
Comcast
(CMCSA) - Get Comcast Corporation Class A Report
Operating Chief Steve Burke will step in as CEO of NBC Universal after Comcast completes its takeover. Burke takes the place of Jeff Zucker who will step down by the end of 2010 when the deal is expected to close. Comcast's stock ended lower by 1.4% to $18.31.
Shares of
AIG
(AIG) - Get American International Group, Inc. Report
rose 1.7% to $37.11 as it gets closer to repaying $70 billion in government bailout money. It has begun premarket the IPO of its Asian insurance business. Separately, a judge refused to dismiss a lawsuit against AIG that alleged that the company misled investors about its exposure to toxic assets.
Ford
(F) - Get Ford Motor Company Report
CEO Alan Mulally said he expects the auto company to post "solid" profits and also aims to invest roughly $2.37 billion in the U.K. over the next five years, according to
The Wall Street Journal
. The stock was down 0.6% to $12.48 amid market weakness.
Jewelry retailer
Zale
(ZLC)
said its fourth-quarter loss narrowed to 89 cents a share, which came in better than analysts' estimates for a loss of $1.21 a share. Sales of $345 million, however, fell short of the $354.6 million in quarterly revenue that Wall Street had been anticipating. The stock fell 6.4% to $2.05.
LDK Solar
(LDK)
gained 18% to $10.46 after it announced that it has received a loan guarantee package of close to $9 billion ($8.9 billion to be exact), from the China Development Bank.
Seattle Genetics
(SGEN) - Get Seagen, Inc. Report
surged 17% to $14.30 on news of the successful clinical trials for its drug to treat lymphoma.
In commodity markets, November crude settled slightly higher at $76.52 a barrel.
--Written by Melinda Peer and Shanthi Venkataraman in New York
.
Disclosure: TheStreet's editorial policy prohibits staff editors and reporters from holding positions in any individual stocks.