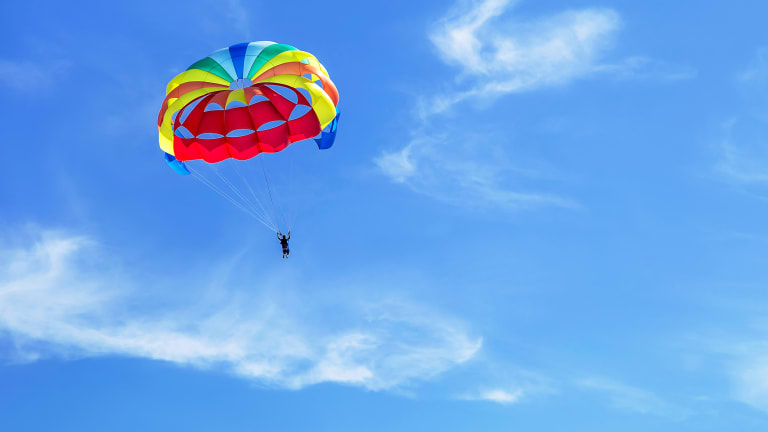 This 'Shock Drop' Indicator Hints the Stock Market's Bottom for the Year Is In
Stocks have been all over the map in 2018, mostly with a bias to the downside. This one market indicator by Canaccord Genuity's Tony Dwyer suggests that the bottom for the year has already formed.
Here's a punch to the face of any stock market bear, courtesy of a helping hand of data analysis. 
Canaccord Genuity's chief market strategist Tony Dwyer tells TheStreet his "shock drop indicator" suggests the market bottom for the year has already formed. Dwyer summarizes the shock drop indicator, which is a deep dive into human emotion and markets, in his latest client note:
"As a reminder, a shock drop is a correction sharp enough to cause the 10-week rate-of-change (ROC) in the CBOE Volatility Index (VIX) to spike to 125. We found that, historically, every shock drop was followed by a bounce and then a nasty retest of the low as volatility began to decline."
Dwyer believes the latest action in the market off the February lows is comparable to other times there has been a shock drop. 
For those fretting over the muted reaction to financial sector earnings from JPMorgan & Chase (JPM) - Get JP Morgan Chase & Co. Report , Bank of America (BAC) - Get Bank of America Corporation Report and BlackRock (BK) - Get The Bank of New York Mellon Corporation Report , Dwyer says to relax. The longer term charts on the financials continue to bullish. Further, the economic fundamentals remain solid.  
JPMorgan & Chase is a holding in Jim Cramer's Action Alerts PLUS.  
Before You Go
Get ready for the must-attend investing conference of 2018, hosted by none other than TheStreet's Jim Cramer. From an exclusive interview with PayPal CEO Dan Schulman to expert panels that touch on investing in the stock market to alternative investing, you won't want to miss the event TheStreet is hosting on May 5. Details are below.
Canaccord Genuity's Tony Dwyer will be one of the featured speakers at the event.  
How to Diversify Your Portfolio: A Boot Camp for Investors
Date: Saturday, May 5, 2018
Location: 117 West 46th Street, New York City