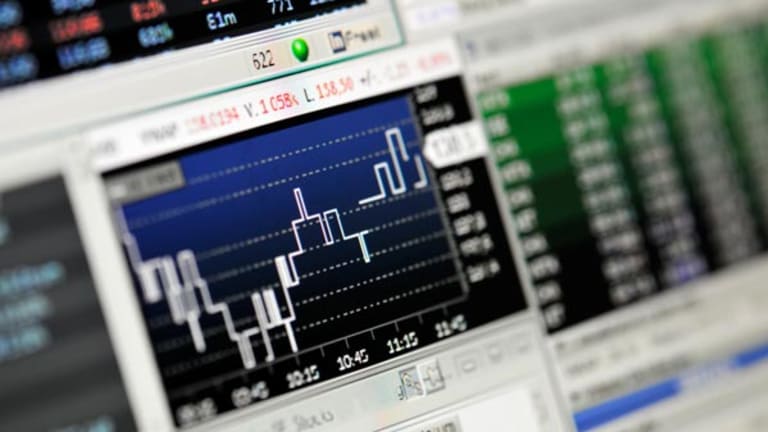 The Short Take on Electronic Chipmakers
The hype over hot gadgets rarely is matched by the reality of the profits of electronics component makers.
This column was originally published on RealMoney on April 11 at 4:14 p.m. EDT. It's being republished as a bonus for TheStreet.com readers.
One of the worst mistakes an investor can make is to confuse cyclical stocks for growth stocks. This is a particular problem with consumer electronics component makers, which repeatedly gain the affections of professionals and individual investors alike.
In the initial stages of new product launches, these companies exhibit growthlike characteristics. The trouble is, one critical aspect of a good growth story is pricing power and margins, and in consumer electronics, these are difficult to maintain. Most of these companies are one-product wonders -- competition mounts rapidly and margins shrink faster than the growth of shipments. This pattern is exacerbated by the rapid decline in the price of the product in the end market. It doesn't take long for a product that initially sells for $500 to fall to $199 and lower -- just look at DVD players.
Every time a hot new gadget is introduced, a bunch of knuckleheads throw it off the roof to find out what chips are inside. The next step is to extrapolate infinite growth for the component makers, as if these companies existed in a vacuum. I think investors' financial health would be best-served if they limited themselves to enjoying their new cameras -- unless you have a specific insight into product cycles and the supply-demand makeup of a particular market, stay away from these companies.
The hype over a new consumer product is almost always much greater than the true profit potential for component suppliers. Back in the day, I lost money in stocks like
Silicon Storage Technology
(SSTI) - Get ShotSpotter Inc. Report
,
Zoran
( ZRAN) and
Genesis Microchip
( GNSS).
I learned my lesson: These stocks make far better shorts. I've done very well in this regard with
SigmaTel
( SGTL). The cycle of behavior is familiar: Let the hype really take hold, let the stock run and short the stock.
Unless you are dealing with a market dominator like
Intel
(INTC) - Get Intel Corporation Report
(which is a rarity), you can pretty well expect a consumer electronics component supplier to trade between one to three times sales. Margins in these businesses are unsustainable -- consumer electronics just isn't a very good business, period.
Sony
undefined
is a leader in consumer electronics and the stock is a disaster area. I shorted
Dell
(DELL) - Get Dell Technologies Inc. Class C Report
when the company announced intentions to grow its presence in consumer electronics.
Let's look at a few companies that fit this description.
Not Sharing In the Wealth
U.S. DVD sales rose from roughly 10 million units in 2000 to 37 million in 2004. Digital camera unit sales rose 37.7% in 2004 and were expected to increase another 20.8% in 2005 and a further 17% in 2006, according to the Camera and Imaging Products Association.
These are interesting numbers for investors in Zoran, considering that it's a leading provider of chips to both the DVD and digital camera markets. However, while growth in unit shipments has been impressive, unless you were extremely lucky with timing purchases of Zoran shares, at best you have broken even with the stock over the past five years.
It has had a run-up recently in sympathy with the Nasdaq and the latest offenders who are endorsing the company as a wonderful way to make money off the proliferation of digital devices. For me, it's like deja vu all over again.
Don't think this is isolated to Zoran. The performance of its competitors --
Cirrus Logic
(CRUS) - Get Cirrus Logic Inc. Report
and
ESS Technology
( ESST) -- has been even worse.
While worldwide shipments of flat-panel TVs increased nine times between 2002 and 2005 from 2 million units to 17 million, shares in Genesis Microchip, a maker of display controllers for flat-panel TVs, performed almost as dismally as Zoran's.
Again, Genesis isn't an isolated incident of poor execution in its sector --
Pixelworks'
(PXLW) - Get Pixelworks Inc. Report
chart is even uglier and
Silicon Image
(SIMG)
isn't particularly inspiring, either.
Generally, the hype is better than the true prospects, as fierce competition and rapid decline in end-market prices erodes margins faster that unit growth. All this leads me to a potential short candidate.
One to Spear
Trident Microsystems
( TRID) is a classic short play on a hot consumer electronic product cycle.
It makes integrated circuits for flat-panel digital TVs, which have captured our imaginations -- they're cool.
The stock has been a terrific performer, more than tripling over the past 12 months, and growth is very impressive, too: Expectations are for revenue and profits to increase almost 50% in 2007. The trouble is, even with that growth, revenue will only be $236 million and profit 94 cents a share, or roughly $50 million. That means the company trades at a rather generous 7 times forward revenue and more than 30 times earnings.
The great thing about growth investors and analysts is that until proven otherwise, they tend to extrapolate growth linearly and infinitely. This rarely comes true, and it's unlikely here.
Trident doesn't have the market to itself. Its competitors include Genesis Microchip, Pixelworks, Silicon Image and potentially a host of others looking to capture share in a fast-growing market, not to mention the threat of Chinese companies willing to knock their products off with little or no concern for intellectual property.
For closer comparison, I am going to flatter Trident by using forward estimates for 2007. These companies sport relatively similar revenue and valuation metrics, except for Trident, which has significantly better growth and much higher valuation multiples. You can choose to interpret this as a company that has been rewarded for above-average performance with a premium valuation. I see at it as a short-term phenomenon.
Several factors are working against the sustainability of the stock's outperformance. The law of big numbers suggests that growth gets more difficult as the size of the company grows and the company already has much to achieve to justify its current valuation premium. Similar hot technology consumer electronics component suppliers like Zoran have demonstrated the difficulty of margin sustainability in the industry. Lastly, the company's many competitors are unlikely to lie down and let Trident dominate the industry.
Shorting stocks is a risky proposition, so all I will say is to be wary of long-term prospects for nondiversified consumer electronics component suppliers. Saving money can be just as good as making it and discretion is the better part of valor.
Please note that due to factors including low market capitalization and/or insufficient public float, we consider Pixelworks, SigmaTel, Silicon Storage and ESS Technology to be small-cap stocks. You should be aware that such stocks are subject to more risk than stocks of larger companies, including greater volatility, lower liquidity and less publicly available information, and that postings such as this one can have an effect on their stock prices.
P.S. from TheStreet.com Editor-in-Chief, Dave Morrow:
It's always been my opinion that it pays to have more -- not fewer -- expert market views and analyses when you're making investing or trading decisions. That's why I recommend you take advantage of our
to TheStreet.com's
RealMoney
premium Web site, where you'll get in-depth commentary
and
money-making strategies from over 50 Wall Street pros, including Jim Cramer. Take my advice --
At the time of publication, Bulwa was short Trident Microsystems, although holdings can change at any time.
Steven Bulwa is an independent portfolio manager based in Toronto. Under no circumstances does the information in this column represent a recommendation to buy or sell stocks. Bulwa appreciates your feedback;
to send him an email.