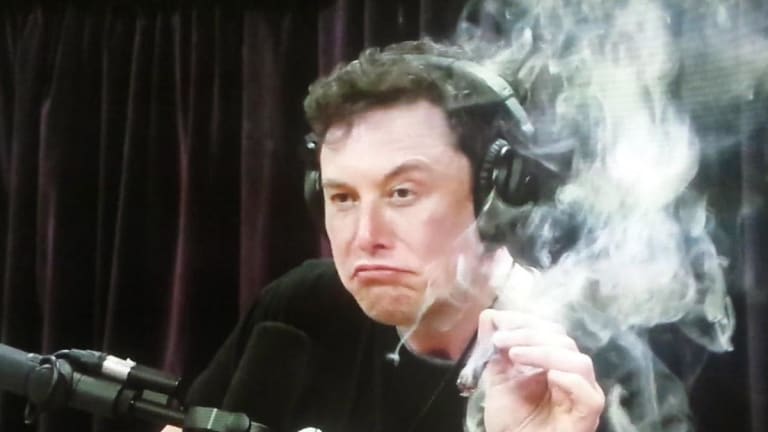 SEC Sues Tesla CEO Elon Musk
Tesla shares fall in after-hours trading after regulators sue over CEO's Musk's 'go-private' tweet.
The U.S. Securities and Exchange commission on Thursday sued Tesla (TSLA) - Get Tesla Inc. Report CEO Elon Musk, over his now-infamous tweet claiming that he was thinking about taking the company private and had financing "secured." TSLA, which had been rallying of late, dropped some 11% to about $275 in after-market trading on the news. 
"This case involves a series of false and misleading statements made by Elon Musk ... on Aug. 7, 2018, regarding taking Tesla, a publicly traded company, private," agency lawyers wrote in court papers filed with the U.S. District Court in New York.
The SEC alleged that Musk had spoken on Twitter untruthfully, misleading investors in a damaging way. "Musk's statements, disseminated via Twitter, falsely indicated that, should he so choose, it was virtually certain that he could take Tesla private at a purchase price that reflected a substantial premium over Tesla stock's then-current share price, that funding for this multi-billion dollar transaction had been secured, and that the only contingency was a shareholder vote," the agency wrote.
"We allege that Musk's statements were false and misleading," an SEC official told reporters at a press conference. "The SEC seeks a finding that Musk committed securities fraud," the official said. The action also seeks to bar Musk from serving as director or executive of any publicly traded company. 
Another SEC official elaborated, saying that Musks "funding secured" tweet, whether or not it was intended to manipulate the stock, disrupted the market. "These misleading statements caused significant market confusion and disruption," the official said. "Musk's tweets significantly impacted both the price and volume of Tesla's stock."
The SEC official also said the regulator is alleging that part of Musk's reasoning for saying the phony take-private idea was targeted at a price of $420 a share was because of the significance the date has to those who smoke marijuana. The official said "We allege that Musk had arrived at the price of $420 by assuming a 20% premium and then rounding up to $420," a reference to "marijuana culture," because "it would be funny to his girlfriend."
Musk doesn't exactly seem to be coming clean.  In a statement reported by Recode and CNBC, Musk said "This unjustified action by the SEC leaves me deeply saddened and disappointed. I have always taken action in the best interests of truth, transparency and investors."
The SEC action comes less than two weeks after the U.S. Justice Department launched a criminal probe into Musk's "funding secured" tweet. The tweet claimed that Tesla had secured financing for a transaction that would take the electric car-company private -- news that initially boosted Tesla's stock price from $363 to $379. But the statement seemed questionable to many legal experts, including former SEC Chairman Harvey Pitt. If the funding wasn't "secured," many legal experts say Musk's claims would be securities fraud.
If it's deemed that the tweet was made with the intention of boosting the stock price, Musk's tweet could be considered market manipulation. In that case, Musk could be liable for damages to investors who shorted the stock, and short-sellers have indeed already sued both Musk and Tesla.
However, only a small number of short-sellers covered their positions the day the tweet came out. Roughly 2 million shares were bought back, according to S3 Partners, a financial data analytics firm.
That means Musk might not actually be liable for a large amount of money because only realized losses can be recovered as damages in a lawsuit. "If you don't have any realized damages, there's nothing to recover," Thomas Gorman, a partner at law firm Dorsey & Whitney LLP, told TheStreet. "Paper losses ain't going to cut it."
What Are "Closed-End" Mutual Funds and How Do They Fit into Savvy Investors' Portfolios?Click here to register for a free online video in which TheStreet's retirement expert Robert Powell and an all-star panel run down all you need to know.