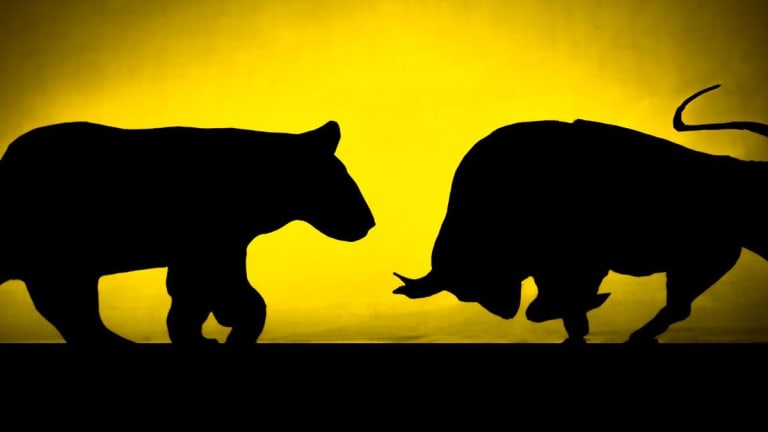 The S&P 500 Has Formed a Rare and Ominous Triple Top
Why market bulls should be worried about the action in the S&P 500 over the past 18 months.
CHAPEL HILL, N.C. - The S&P 500 has formed what certainly appears to be a rare -- and dangerous -- triple top.
How worried should you be?
The accompanying chart paints the picture. The S&P 500 hit an initial bull market high in January 2018 at 2,873, and then turned down. It did the same thing two more times-in September of last year (reaching 2931) and then again in April of this year (at 2946).
To be sure, it would be premature to declare that the market's behavior of the last 18 months constitutes an official triple top. There's one more precondition: The stock market must drop from its third top below support, and we're not there year. As this is written, the S&P 500 is some four percent below its late-April high.
Still, it can't be good news for the bulls that the stock market has three times tried, and three times failed, to break through the 2875-2930 level.
How scared should you be?
To find out, I reached out to Hayes Martin, president of Market Extremes, an investment consulting firm that focuses on major market turning points. I was introduced to Martin several years ago by David Aronson, author of Evidence-Based Technical Analysis and co-author (with Dr. Timothy Masters) of Statistically Sound Machine Learning for Algorithmic Trading of Financial Instruments. Aronson said he knows of no one doing more careful or rigorous work analyzing past market tops or bottoms.
Aronson specifically mentioned that Martin is quite aware of the statistical limitations of working with a small sample. This is especially important in the case of triple tops, Martin said in an interview earlier this week, because there just aren't that many historical examples of triple tops involving the major market averages. As a result, it's difficult to prove statistically that triple tops are automatically bearish -- especially since there have been several instances in which the stock market, far from breaking down after an apparent triple top, reversed course and quickly rose to new all-time highs.
One such instance came in 2013, when chart watchers were very concerned about a triple top extending back to the top of the Internet bubble in 2000. Martin recalled that some technicians were referring to it as the greatest triple top in all of history. But the market kept on rising.
This isn't to say that Martin isn't worried. He is. But, to him, the apparent triple top isn't in and of itself bearish; it instead provides a reason to be more bearish in the event significant market divergences were to develop. By divergences, Martin has in mind situations in which the major averages hit nominal new highs while significant subsectors of the market exhibit significant weakness.
To be clear, Martin does not detect such serious divergences yet. But he can easily foresee that they could develop in the event the market makes another attempt at returning to the 2875-2930 level. If they do, then he says there is the potential for a 10% to 20% drop.
The bottom line? The market's apparent triple top is one of the preconditions for a possible serious market drop. But it in and of itself won't be the cause of it, and it might prove to be little more than a way station on the market's path to much higher levels.
Mr. Hulbert was the founder of Hulbert Financial Digest, which closed in 2016. His Hulbert Ratings tracks investment newsletters that pay a flat fee to be audited. He can be reached at mark@hulbertratings.com
WATCH: Investing Basics Explained: The Difference Between Stocks and Bonds