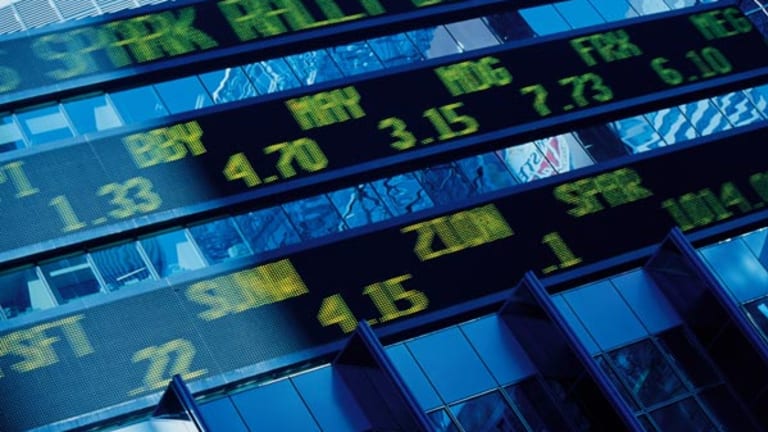 The Real Story: Playing the Numbers Game
A preview of earnings lays out the challenges for P.F. Chang's, Beazer, St. Joe and others.
Four times a year, analysts and journalists get all hot and bothered as they decipher the latest results and comments issued by public companies. Numbers are crunched, models are updated and the vocal inflections of CEOs are scrutinized.
Most rational long-term investors realize that they should not necessarily take their cues from each quarterly report. Sometimes factors such as seasonality, a few weeks of bad weather or just plain bad luck can impact a company's quarterly results. Businesses are fluid, and quarterly reports are simply a snapshot of their results. Nevertheless, investors don't want to wait for the annual report, so the quarterlies are the best we have to work with.
Since I began writing for
TheStreet.com
, I've profiled roughly a
dozen stocks that I believe are good contrarian plays. Below are earnings previews on several of them that will be reporting in the next week or so.
Margins Key at P.F. Chang's
P.F. Chang's
( PFCB) pre-released first-quarter sales figures on April 5. Revenue of $228.6 million was an increase of 18%. However, same-store sales numbers were abysmal. At P.F. Chang's China Bistro, same-store sales grew 1.3%, but that was in conjunction with a 1.3% price hike -- indicating no traffic growth. Pei Wei, which is expected to be the primary growth driver for the company, saw a 2% decline in same-store sales. That came on the heels of a 1.5% price increase -- indicating 3.5% less traffic at stores open at least a year.
The stock sold off hard in reaction, and Bear Stearns downgraded P.F. Chang's to hold from buy. With some of the key data already out, I believe Wall Street will be most interested in the company's margins when it reports before the open on April 26. In the last three quarters, operating and net margins have decreased from the year-ago period. Gross margins fell in the past two quarters. Should margins continue to deteriorate, I wouldn't be surprised to see an earnings miss, warning and more downgrades. A further decrease in margins would drive the point home that P.F. Chang's is
no longer a high-octane growth story.
The restaurant chain is expected to earn 36 cents per share on revenue of $228.7 million in the first quarter, according to Thomson/First Call. Operating margin is forecast to improve to 7.5% from 6.8% last quarter, but down from 9.2% in the year-ago period. Net margin is predicted to stay flat from the fourth quarter at 4.4%, but down from 5.6% in the first quarter of last year.
How Bad Is Housing?
We should get a clearer picture on housing before the open on April 27, when
Beazer Homes
(BZH) - Get Free Report
reports fiscal second-quarter earnings. The consensus estimates are EPS of $2.28 on revenue of $1.17 billion. For the full year, expected earnings of $10.56 and sales of $5.56 billion represent year-over-year growth rates of 21% and 11%, respectively. Investors are eagerly awaiting comments from management on just how bad the current housing market is.
It's not tough to find housing bears these days; even Tuesday's
stronger-than-expected existing home-sales data drew criticism based on rising inventories. The financial press is filled with bearish statistics on a daily basis -- inventories are up, mortgage applications are down, prices in previously hot markets are falling, etc. But whether or not housing stocks have factored in this bad news is the key piece to the puzzle.
I
posit that the bad news is priced in in Beazer's case. The stock is trading at less than six times forecast earnings, near the bottom of its historical range, and 2006 EPS estimates have already come down 12 cents in the past two months.
It may sound as if I'm taking both sides of the argument, but I expect the deteriorating housing market to significantly impact
St. Joe
(JOE) - Get Free Report
. While in Beazer's case I believe the bad news is priced in, that ain't so for St. Joe, as I stated in my
original story.
St. Joe is expensive at 32 times projected 2006 earnings of $1.80 (down 4 cents since my article ran in late March). St. Joe will report earnings and offer guidance before the open on May 2. The quarterly estimates are earnings of 20 cents per share on sales of $208.48 million.
If the company lowers guidance, I expect the share price to get hit hard. This is a well-loved stock that some believe is insulated against a weaker housing market due to its vast land holdings.
Investors may be hoping to learn more about who will replace outgoing President and Chief Operation Officer Kevin Twomey, who will retire after the company's annual meeting on May 16. But St. Joe spokesman Jerry Ray said not to expect any succession announcements until the annual meeting at the earliest.
Encore Medical
Orthopedic device maker
Encore Medical
( ENMC) reports first-quarter results May 1, before the open. The consensus estimate is for earnings of a penny per share on sales of $86.16 million.
I'm expecting a solid quarter from Encore. Its larger competitor
Stryker
(SYK) - Get Free Report
posted strong results last week, when it saw sales rise by 10%.
Naturally, sales need to continue to be strong for Encore for it to continue improving its margins. But aside from the top line, I'll be looking to see what management says about the consumer-products division of Compex, which doesn't quite fit in with the rest of Encore's business.
The street wants to see this unit sold off, or at the very least to stop acting as a drain on cash flow. Management has stated that it's not in a rush to sell the company, as it is just about at breakeven. Another issue is IT expenses. The company expects to incur some significant costs in the latter half of the year, so timing and its impact on earnings either this year or next could be an issue. I suspect investors will want to see the expenses this year, get them over with and look ahead to 2007.
Etc.
Other companies I have written about that will be reporting soon include
Netgear
(NTGR) - Get Free Report
after the close on April 26;
Scana
(SCG)
and
Kellogg
(K) - Get Free Report
before the open on April 27; and
Elan
(ELN)
before the open on May 4.
I will be taking a look at all of the above earnings releases and publishing updates as events warrant. Stay tuned.
In keeping with TSC's editorial policy, Lichtenfeld doesn't own or short individual stocks. He also doesn't invest in hedge funds or other private investment partnerships.
Marc Lichtenfeld was previously an analyst at Avalon Research Group and The Weiss Group and a trader at Carlin Equities. He holds NASD 86, 87, 7 and 63 licenses. His prior journalism experience includes being a reporter/anchor for On24 in San Francisco and a managing editor of InvestorsObserver, a personal finance Web site. He is a graduate of the State University of New York at Albany. He appreciates your feedback;
to send him an email.