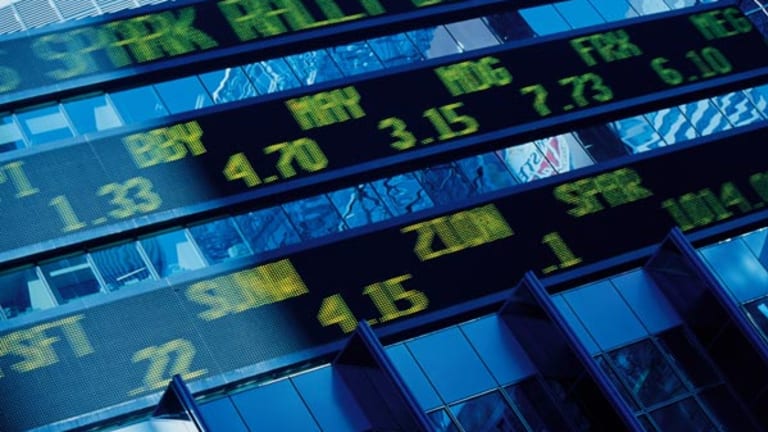 The Other Side of Overstock
Don't be too quick to follow the buyers in.
This column was originally published on RealMoney on April 16 at 3:41 p.m. EDT. It's being republished as a bonus for TheStreet.com readers. For more information about subscribing to RealMoney, please click here.
As Brett Arends notes in
his column today, the
undefined
Turnaround Fund is betting big on
Overstock.com
(OSTK) - Get Free Report
. If you're contemplating the same course of action, I believe you should think twice and instead avoid this stock.
In Arends' story, Glenn Surowiec, co-manager of the fund, says that the Turnaround Fund specializes in companies "we think are being plagued by temporary, or cyclical, factors." However, Overstock's biggest problem has been its distinct inability to generate profits, and there's nothing temporary about that. Overstock has been serially unprofitable since it came public, and the company reported its biggest loss ever in 2006.
Glory Days Are History
This online retailer once showed signs of promise. After all, the Internet as a whole and online shopping in particular have proved to be a strong foundation for numerous secular growth stories, ranging from
Google
(GOOG) - Get Free Report
to
Amazon.com
(AMZN) - Get Free Report
.
Overstock itself also enjoyed its share of outsized revenue growth: Sales soared from just $40 million in 2001 to a whopping $788 million in 2006. But those days are over.
In the fourth quarter of 2005, Overstock grew revenue at an impressive year-over-year rate of 44%. Subsequently, its revenue growth slowed markedly to 8.6% and 6.2% for the first two quarters of 2006, before reversing to declines of 6.3% and 6.4% for the third and fourth quarters of the year, respectively.
Compare that with rival Amazon, which saw sales jump 34% in its fourth quarter. Sales at
eBay
(EBAY) - Get Free Report
grew 29% in the same period. And there are countless other examples of retailers showing strong growth online, ranging from
Circuit City
(CC) - Get Free Report
to
Abercrombie & Fitch
(ANF) - Get Free Report
. With so many retailer players doing so well on the Web, the fact that Overstock couldn't manage to notch positive fourth-quarter growth is unusual and almost disturbing. It implies that Overstock is simply not participating in the growth of online shopping.
Also in the fourth quarter, Overstock saw a dramatic drop-off in gross margin, which slid to 10.3%, down a significant 430 basis points year over year. In other words, Overstock must have practically given everything away to clear out its inventory. Amazon also saw gross margin degradation, but to a much lower degree.
Overstock also noted with its fourth-quarter earnings report that lower site traffic was also an issue, so it will likely have to increase marketing spending to draw in buyers. Its inventory was certainly cleared out from elevated levels earlier in the year, falling to $20 million in the fourth quarter from $93 million at the end of 2005. But I have to raise an important question: Can Overstock adequately improve its merchandising while bringing site visitors back? As evidenced by the aforementioned margin degradation, Overstock has clearly been having serious trouble stocking inventory that people want.
In addition, competition in online retail is only getting stronger. Bricks-and-mortar retailers were slow to get on board in the late 1990s, but many of today's biggest Web retailers are run by the old-line companies. According to data provider Alexa,
Wal-Mart
(WMT) - Get Free Report
,
Best Buy
(BBY) - Get Free Report
and
Target
(TGT) - Get Free Report
are all ranked among the top retail Web sites. Plus, the emergence of search-advertising providers such as Google has enabled smaller retailers to effectively operate on the Web.
Put another way, consumers hold all the cards when they shop online. Within seconds, a Web shopper can compare prices on virtually any item from dozens, if not hundreds, of different retailers.
Now, given the potential for the mother of all short squeezes in the event of improved fundamentals, I'd eagerly turn bullish on Overstock if the company can get its act together. But there's no reason to buy shares in an unprofitable company with no discernible competitive advantage, operating in what is truly a buyers' market. Overstock certainly is cheap, trading at just 0.4 times sales, but I think it will actually get cheaper.
Please note that due to factors including low market capitalization and/or insufficient public float, we consider Overstock to be a small-cap stock. You should be aware that such stocks are subject to more risk than stocks of larger companies, including greater volatility, lower liquidity and less publicly available information, and that postings such as this one can have an effect on their stock prices.
TheStreet.com and James J. Cramer, its co-founder and major shareholder, were subpoenaed in February 2006 in connection with an SEC investigation into allegations by Overstock that a research firm, Gradient Analytics, engaged in a conspiracy with short-sellers (including Rocker Partners, which at the time owned a small stake in TheStreet.com, the publisher of this Web site) to manipulate Overstock's share price. The SEC agreed that it would not, at that time, seek to enforce the portions of the subpoenas issued to the company and other media firms, including Dow Jones( DJ), that concern communications between journalists and their sources.
In keeping with TSC's editorial policy, Michael Comeau doesn't own or short individual stocks. He also doesn't invest in hedge funds or other private investment partnerships. Comeau is a research analyst at TheStreet.com. In this role he performs stock analysis for
, and is also a regular contributor to RealMoney.com. Prior to his arrival at TSC in June 2004, Comeau worked as a Consultant to Toyota Motor North America, performing in-depth research on automotive industry issues, primarily in the areas of alternative engine technologies, competitive analysis and macroeconomics. His primary market interests include consumer technology, specialty retail, and small-caps. Comeau received a bachelor's degree in Finance from Brooklyn College, and has completed Level 1 of the CFA program.. He appreciates your feedback;
to send him an email.