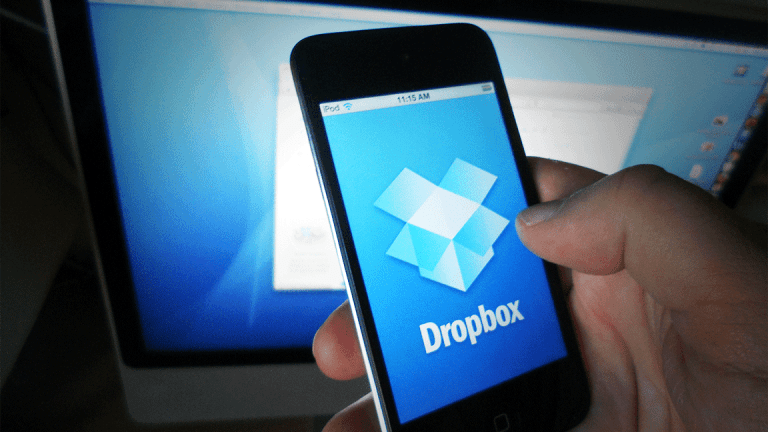 The Number of Private Companies Is Shrinking; Dropbox Drops -- ICYMI
Here's what you need to know now for Friday, Aug. 10.
The number of options for investors on the U.S. public markets is shrinking, at least for now. Let me explain. IPOs filing are rolling in at a snail's pace. LBO activity has increased as PE is taking companies out at a nice clip. Now, there's talk that Intel (INTC) - Get Intel Corporation Report  should go private. Tesla's (TSLA) - Get Tesla Inc. Report  Elon Musk, of course, made headlines this week that he wants the automaker out of the crosshairs of public shareholders' scrutiny. Part of the reason? It's just easier to invest in yourself and grow Ebitda as a private company. After going private U.S.-based companies grew their Ebitda by an average of 56% from 2013 through August 2018, according to a report Friday from S&P Global Market Intelligence. With PE hungry to do deals and regulators cracking down on IPOs that allow founders to maintain sole control of their companies, the number of public companies could continue to shrink. But like many things, I imagine this could be cyclical and a wave of take-privates this year means a wave of IPOs -- potentially IPOs of companies with 56% more Ebitda -- is only a few years off.
My thoughts aside:
Dropbox (DBX) - Get Dropbox Inc Report  drops. Analysts say that Friday's share price decline in Dropbox -- which plunged more than 9% in afternoon trading in part on concerns over the departure of Chief Operating Officer Dennis Woodside -- is only temporary, writes Kevin Curran, the newest addition to TheStreet's Real Money staff. "This is like putting a beach ball underwater," says Canaccord Genuity analyst Richard Davis. "It will pop up." He added that the decline is likely driven by people less familiar with the company, who are "spooked" by the revelation. Dropbox, which recently had a successful initial public offering, reported solid earnings after the bell Thursday, but is showing some signs of slowing growth. "The [fact] that the COO departure is a material issue is frankly mind-numbing," Davis said. "This is the problem with new IPOs: they're fresh and people are new to the story. I get it, buyers can get scared, but in the longer-term view we think you can make money on this stock." Davis said he is keeping his "Buy" rating on the stock and set a price target of $38 even though DBX fell Friday, Curran writes.
Markets Today: Stocks on Wall Street closed sharply lower on Friday, Aug. 10, amid concerns over the ongoing slide of the Turkish lira and fears the country's economic and political crisis could spread to Europe and elsewhere. The Dow Jones Industrial Average fell 196 points, or 0.77%, to 25,313, the S&P 500 fell 0.74% and the Nasdaq was down 0.67%. The tech-heavy Nasdaq closed higher on Thursday, Aug. 9, for an eighth straight session, its longest winning streak since October.
This is an excerpt from "In Case You Missed It," a daily newsletter brought to you by TheStreet. Sign up here.