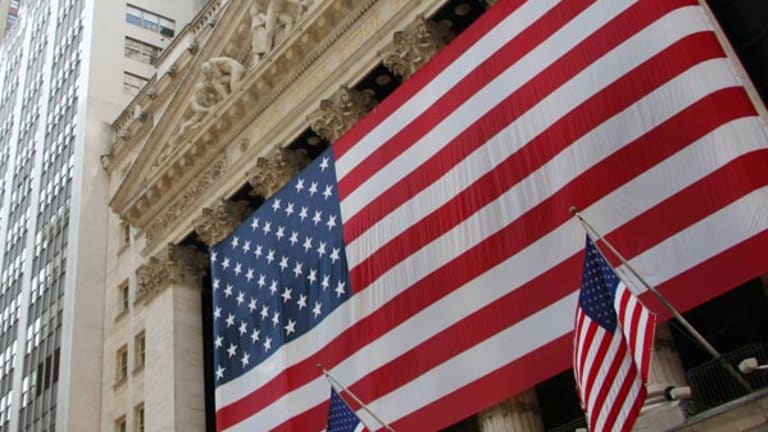 Stocks Soar on Draghi's Eurozone Pledge
The Dow finishes more than 200 points higher after ECB President Mario Draghi says he's prepared to do "whatever it takes" to keep the eurozone together.

NEW YORK (TheStreet) -- U.S. stocks soared Thursday with investors seizing on a promise by European Central Bank President Mario Draghi to pull out all stops to keep the eurozone intact.
"The ECB is ready to do whatever it takes to preserve the euro," said Draghi at an investors conference in London. "And believe me, it will be enough."
The rally also drew confidence from favorable U.S. economic data, including a fall in weekly initial jobless claims and an increase in durable goods orders.
The
Dow Jones Industrial Average
finished up 212 points, or 1.67%, at 12,888. The blue-chip index, which ran as high as 12,931 earlier in the session, has now appreciated 5.49% so far in 2012.
Twenty-nine of the Dow's 30 components finished in positive territory with
Cisco
(CSCO) - Get Free Report
being the only exception. The biggest percentage gainers in the index were
3M
(MMM) - Get Free Report
,
Alcoa
(AA) - Get Free Report
,
American Express
(AXP) - Get Free Report
,
AT&T
(T) - Get Free Report
,
Chevron
(CVX) - Get Free Report
,
Coca-Cola
(KO) - Get Free Report
,
General Electric
(GE) - Get Free Report
,
Home Depot
(HD) - Get Free Report
and
Walt Disney
(DIS) - Get Free Report
; all rising more than 2%.
It didn't hurt that earnings reports from a trio of Dow components were all fairly positive.
United Technologies
(UTX) - Get Free Report
shares ticked up after the company posted a slight increase in quarterly earnings on a year-over-year basis as slowing Chinese economic growth and the European crisis hurt sales. The company managed to beat on the bottom line but was light on the top line.
3M shares were up 2.4% after the diversified technology company beat quarterly earnings estimates amid strength in its health care, industrial and transportation businesses. 3M reported a second-quarter profit of $1.66 a share; analysts expected $1.65 a share. Sales of $7.53 billion came in about $250 million below the Wall Street target. 3M's full-year outlook was unchanged.
Shares of
Exxon Mobil
(XOM) - Get Free Report
added 1.5% after the oil and gas giant reported second-quarter earnings of $1.86 a share on revenue of $127.36 billion; analysts expected earnings of $1.95 a share on revenue of $115.08 billion.
The
surged 22 points, or 1.65%, to close at 1360, while the
Nasdaq
advanced 39 points, or 1.37%, to settle at 2893.
The strongest sectors in the broad market were consumer non-cyclicals, conglomerates and energy. Advancers outpaced decliners by roughly 2-to-1 ratios on both the New York Stock Exchange and Nasdaq.
Markets from around the globe and commodities got a bump on expectations of some kind of major action by the European Central Bank in the wake of Draghi's pledge.
"His comments," said Martin Mitchell, head of government trading at Stifel Nicolaus, "led markets to believe that he is prepping for a major policy announcement."
Added Andrew Wilkinson, chief economic strategist at Miller Tabak: "Draghi's words carry a great deal of weight because he has in the past refused to fill in where governments fail, recognizing the futility of sticking a finger in the dyke."
John Higgins, a senior markets economist at
Capital Economics
, doubts "very much" an ECB restart of sovereign bond purchases under its Securities Market Program would mark a big turning point in the European debt crisis, given his view that Spain and Italy's financial problems would likely require full and massive sovereign bailouts.
"Not only is the required size of these operations far in excess of what the ECB would probably be prepared to commit to bond purchases, but the Bank itself remains ideologically opposed to monetary financing of sovereign debt," Higgins said.
The FTSE in London finished ahead by 1.36% and the DAX in Germany settled higher by 2.75%.
September crude oil futures settled up 42 cents at $89.39 a barrel. August gold futures rose $7 to settle at $1615.10 an ounce.
The benchmark 10-year Treasury fell 10/32, raising the yield to 1.437%. The greenback fell sharply, losing 0.92%, according to the
In U.S. economic news, the Labor Department reported Thursday that initial jobless claims fell by 35,000 to 353,000 in the week ended July 21, though in a volatile data collection period. Economists surveyed by
Thomson Reuters
had forecast that initial jobless claims would fall to 380,000.
"Claims data tend to be volatile around this time of year due to temporary shutdowns in the automotive industry, so the latest improvement should probably be partly discounted," Goldman Sachs economists noted.
The four-week moving average declined to 367,250, from 376,000, the lowest level since March.
The number of Americans still collecting jobless benefits fell by 30,000 in the week ended July 14 to 3.29 million.
Simultaneously, the Commerce Department said that durable goods orders rose 1.6% in June after rising 1.6% in May. Economists had predicted that durable goods orders would increase 0.4% in June.
Excluding the transportation component, durable goods orders fell 1.1%, which the steepest decline in five months.
"The details were much weaker than the headline, however, with total orders boosted by the exceptionally volatile and long lead time defense and civilian aircraft components," cautioned Jim O'Sullivan, chief U.S. economist at
High Frequency Economics
.
The housing market continued to show signs of softness as the National Association of Realtors said that its pending home sales index slipped 1.4% to 99.3 in June from a downwardly revised 100.7 in May, but is 9.5% higher than in June 2011 when it was 90.7. A small gain of 0.2% in June was expected by economists. The disappointing report follows a negative surprise in both the latest existing and new home sales data.
Inventory shortages were in part to blame for the dip in June, according to Lawrence Yun, chief economist at the NAR. "Buyer interest remains strong but fewer home listings mean fewer contract signing opportunities," Yun said.
On the corporate front,
Facebook
(FB) - Get Free Report
reported revenue that topped Wall Street's expectations after Thursday's closing bell, but the stock continued to get hammered in after-hours action.
The Menlo Park, Calif.-based social networking giant posted a non-GAAP profit of $295 million, or 12 cents a share, on revenue of $1.18 billion for the three months ended in June. The average estimate of analysts polled by
Thomson Reuters
was for earnings of 12 cents a share on revenue of $1.15 billion. On a GAAP basis, including the impact of special items related to the company's IPO, Facebook lost $157 million, or 8 cents a share, in the latest quarter.
The company said its monthly active users stood at 955 million as of June 30, up 29% from a year ago. The stock, which fell 8.5% in Thursday's regular session, was off an additional 8% to $24.70 after the close. Facebook went public on May 18 at a price of $38 per share.
The apprehension ahead of Facebook's numbers was driven by a weak report from partner
Zynga
(ZNGA) - Get Free Report
. The developer of social media games such as FarmVille reported a below-consensus profit on Wednesday and lowered its outlook, citing "a more challenging environment on the Facebook web platform." The stock plunged 37.5% in regular trading.
Whole Foods
(WFM)
shares surged more than 11% after the company posted fiscal third-quarter earnings that exceeded expectations and hiked its full-year guidance.
-- Written by Andrea Tse in New York.
>To contact the writer of this article, click here:
Andrea Tse
.