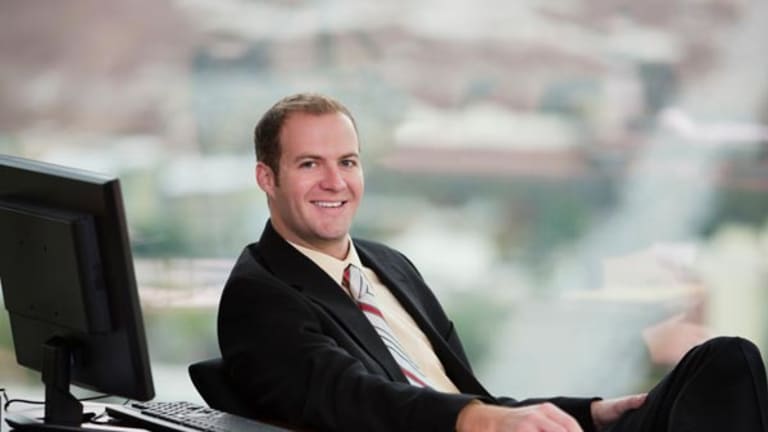 The Holiday Gadget Guide
Here are five winners for your shopping list, plus three gifts to avoid.
This column was originally published on RealMoney on Dec. 8 at 2:23 p.m. EST. It's being republished as a bonus for TheStreet.com readers. For more information about subscribing to RealMoney, please click here.
As the holiday season is now officially upon us, it's time to scout out the best gifts. To help you with that, I've compiled a list of the five best holiday gadget gifts, and I'll tell you about three products to avoid. So without further ado, here is my 2006 Gadget Gift Guide.
The Ones to Buy
The Nintendo Wii: $249
While the Wii was not expected to do much compared to
Sony's
undefined
PlayStation 3, Nintendo didn't face the same production problems as Sony did. As a result, Nintendo is now selling more than twice as many units this season.
The Wii introduces a wireless controller unlike any in the market; it senses a player's movements in 3-D, allowing games to respond to both buttons and the player's actual movements.
Another nice feature of the Wii is that it is backward-compatible with the Nintendo GameCube; in other words, it allows GameCube games to be played on the Wii. For those old-school gaming fans out there, the Wii also comes with the Virtual Console, a download service that allows users to download and play a selection of old Nintendo, SegaGenesis and TurboGFX 16 games. I might even come out of retirement to extend my 100 game-winning streak in Tecmo Super Bowl, a record I retired with when I traded my Nintendo for a guitar at a pawn shop back in 1992.
iPod Shuffle: $79
Though not offering anything groundbreaking,
Apple's
(AAPL)
latest iPod Shuffle does not disappoint. It's a barebones option for those looking for a compact, easy-to-use music player. The appeal of the newly designed iPod shuffle relies on the one thing Apple has consistently delivered over the past five years: its "cool" factor.
While there was nothing wrong with the original Shuffle, Apple got the new one right by completely redesigning its look and feel. The biggest addition is a simple clip that allows consumers to "wear" their music. While a 35-cent clip does not usually add much value to most products, Apple is leveraging it by focusing its entire TV ad campaign on the theme "Put Some Music On."
Slingbox Pro: $249.99
By allowing users to control and watch TV from anywhere serviced by a broadband connection, the Slingbox Pro makes the perfect gift for anyone who travels frequently and has access to a broadband connection on the road.
I've been a fan of the original Slingbox since it was introduced in 2004, and I use it weekly to control and watch my TV on my
Motorola
(MOT)
Q. A few months ago, I
met with two Sling Media executives in my office, and I was very impressed when they showed me the prototype of the Slingbox Pro.
The Slingbox Pro does not try to reinvent what made the original Slingbox great; instead, it builds upon the original Slingbox by increasing the number of video sources it allows and improving the video quality streaming over the Internet. With the Slingbox Pro, users can now control one high-definition and three standard-definition video sources (up from one standard source). With this increased control, the only limitation that users face is the speed of their broadband connections, which can be an issue, especially with wireless service providers like
Verizon
(VZ)
. But, hey, we're talking about watching live TV from a cell phone. I don't think we're really allowed to complain about living in the future already.
The Garmin nüvi 360: $749.99
When you think about GPS, only one name should come to mind, and that is
Garmin
(GRMN)
. The nüvi 360 only helps bolster this reputation. It comes preloaded with North American and European maps, supports Bluetooth wireless calling, and (with extra hardware and a monthly fee), it can alert users to and reroute them around traffic problems automatically in supported cities. Other useful, but far from necessary, features include MP3 and audiobook playback, a picture viewer, a calculator and a currency converter.
Palm Treo 680: $199 (with two-year Cingular contract), $399 (any GSM service provider)
Palm's
(PALM)
latest update to its family of smartphones keeps the basic functionality we've come to expect (email, Web, application support) and offers some features we've been waiting for. Personally, I've been waiting for Palm to figure out how to make its phones smaller and to remove the external antenna. The 680 delivers that. However, the one glaring weakness is that it only supports GSM wireless operators like Cingular. So this phone makes a perfect gift if you either live somewhere outside New York City, where Verizon broadband rules, or will be living and/or traveling out of the country frequently.
The Ones to Avoid
Microsoft Zune
I got my Zune the day it went on sale, and the first thing its software did after installing was to download updates from
Microsoft
(MSFT)
. Updates on the
first
day? Think Softee might have rushed this product out before it was ready? Although the Zune has the makings to be a great product, we'll have to check back with version two or three before that will truly happen.
Helio
Helio is one of these mobile virtual-network operators (MVNO) that basically rent cell-phone access and then market their devices around some niche group. If Helio had its own network, I'd recommend this service because a lot of the GPS applications (buddy finder,
Google
(GOOG)
maps integration, directions, etc.) are very useful and very intuitive. However, this isn't the case, and soon enough, the large wireless providers will add these services. I'd never personally sign up for services from one of these MVNOs.
Delphi Nav200 GPS Navigator
While it might have started out promising, my experience with
Delphi's
latest GPS device quickly turned south as my assistant and I -- two very tech-savvy individuals, I should add -- could not get the thing to work. For starters, when programming my home address into the device, it was either extremely slow or kept providing suggestions that were completely wrong. Next, it never could pick up a GPS signal in the city until I went upstate for a weekend. There, it suddenly began working (well, "working" being a relative term.) This thing is a piece of junk, frankly. What was Delphi's stock price again? Oh, Delphi's in bankruptcy. If this product is any indication, I think that's about right.
At the time of publication, the firm in which Willard is a partner was net long Apple, Microsoft and Google, although positions can change at any time and without notice.
Cody Willard is the manager of CL Willard Capital Management, LLC. He is a regular guest on
Fox News
,
CNBC
and other networks, and he writes a monthly column for the
Financial Times
. He is also an adjunct professor at Seton Hall University and the author of
TheCodyReport.net
, a monthly stock market newsletter. Willard appreciates your feedback --
to send him an email.