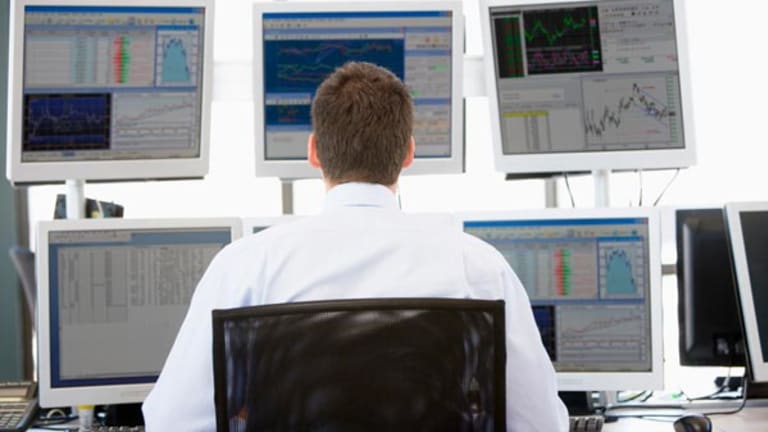 The Hedge Fund Report: Trading to a Major Quarter
Most hedge funds earned their money in the last three months.
Hedge fund returns generally outran the broader market last month, and many strategies had similarly strong results for the first quarter as well.
"Hedge funds continue to outperform the
index, with technology, Asia-Pacific and Europe leading the way," said E. Lee Hennessee, managing principal of Hennessee Group. The Hennessee Hedge Fund Index rose 1.64% in March and 5.76% for the first quarter, beating both the S&P 500's 1.25% return in March and 4.21% return in the first quarter.
Hedge funds also outperformed the
Dow Jones Industrial Average
, which rose 1.05% in March and 3.65% in the first quarter.
One solid performer was the equity long/short sector. The good performance of stocks in the January-to-March period helped managers who maintained a long bias and who bought energy and technology names. The HFN long/short equity average was up 2.63% in March and 7.02% for the quarter. Many hedge fund managers rotated from bonds to equity in late winter and benefited from a strong run in small-cap stocks.
"Hedge funds are chasing small-caps. They are much more short-term focused and they are going after something that is working right now," said Jack Ablin, chief information officer of Harris Private Bank.
Trading strategies that try to profit from corporate news flow also posted fairly good results. The S&P Event-Driven Index gained 1.40% during March due to a favorable environment for merger and buyout activity.
With private equity and hedge funds competing against one another in the space, deal sizes increased, helping to raise the multiples on several potential takeover targets, said Charles Davidson, senior hedge fund analyst at S&P. Managed futures also did well, with a 3.95% gain last month, according to S&P, reflecting strong trends in equities and commodities.
Perhaps the most notable result is the spectacular recovery of the convertible arbitrage sector, which is finally showing signs of life after several years of bad performance. After posting a 1.6% return in March, according to HFR, the strategy realized a 5% gain during the first quarter, its best performance in five years.
The last time convertible arbitrage showed similar quarterly results was in the first quarter of 2001, with a 6.2% gain. One factor behind the recovery was the improvement in corporate bond markets. During the quarter, high-yield and investment-grade spreads compressed, helping managers with long bond positions, according to Citigroup.
Garbage Men
Hedge funds' appetite for junk food is well-known. As James Altucher noted at a recent conference, Pershing Square loves
McDonald's
(MCD) - Get Free Report
; Nelson Peltz is a
Wendy's
(WEN) - Get Free Report
aficionado; and David Nierenberg is hungry for
Mexican Restaurants
(CASA) - Get Free Report
-- the list goes on and on.
Now, in addition to junk, we learn that managers also love garbage. John Quirk, a managing director with investment bank Morgan Joseph, said that market valuations for many privately owned solid-waste companies have risen more than 40% in the past two years, spurred by eager buyers among private equity firms and cash-rich hedge funds.
According to the National Solid Wastes Management Association, the industry generates more than $43 billion in revenue, with 76% of it by the private sector. "Hedge funds are attracted by the industry because of the stable and predictable cash flows, the recession-proof characteristic of the business and also because it's a very fragmented sector," said Quirk. Acquisition opportunities also exist, he said, because major firms in the industry have significantly reduced their purchases of other companies and are focusing more on asset swaps.
In the public sector, solid waste companies have easily outpaced the major equity indices during the past six months, Quirk says. Apollo Advisors is the largest shareholder of
Allied Waste Industries
( AW), with a 20% stake in the company, according to filings with the
Securities and Exchange Commission
.
Cascade Investments, the investment firm that manages the Bill Gates Foundation, is
Republic Services'
(RSG) - Get Free Report
largest shareholder, with 14% of the shares. Other large hedge funds, such as Caxton Associates, Clinton Group, D.E. Shaw, Farallon Capital Management, Citadel Investment Management and S.A.C. Capital Advisors, own shares in some of the largest public solid-waste companies, according to BigDough.com.
Big Launch
Man Group, the world's largest publicly held hedge fund, recently raised more than $2.3 billion for a new investment product. The launch exceeded the $2 billion expected in the preclose trading statement. "This is by far the largest global private client launch of a hedge fund product ever done," said Stanley Fink, Man's chief executive.
The money is for a capital-guaranteed hedge fund product, a kind of hedge fund derivative. Investors can buy units in the form of bonds and get exposure to two of Man's hedge funds: a managed futures fund and a fund of funds. Man is an expert in this kind of deal, often called structured product notes, which are hybrids of fixed-income instruments and a hedge fund. The capital-guarantee feature offers principal protection as long as the notes are held until maturity. Investors can buy in different currencies targeting different regions.
Same to You
Lawsuits between hedge funds and companies are nothing new, particularly with all the activists floating around these days. Companies often sue when they suspect that hedge funds are acting as a group. When they are, they're required by the Securities and Exchange Commission to file 13Ds jointly -- but the rule has spotty compliance.
Managers, on the other hand, tend to sue companies when they feel that they are being blocked from winning board seats.
That's what happened with Santa Monica Partners, a Larchmont, N.Y.-based hedge fund, which filed a lawsuit against
Warwick Valley Telephone Company
( WWVY) last week. The suit seeks to prevent the company from employing a bylaw provision requiring 120 days' notice in order to nominate directors. The lawsuit contends that the company announced the resignation of two of its directors on March 24, failing to give the hedge fund enough notice to nominate its two candidates for the April 28 annual meeting. The company is countersuing.