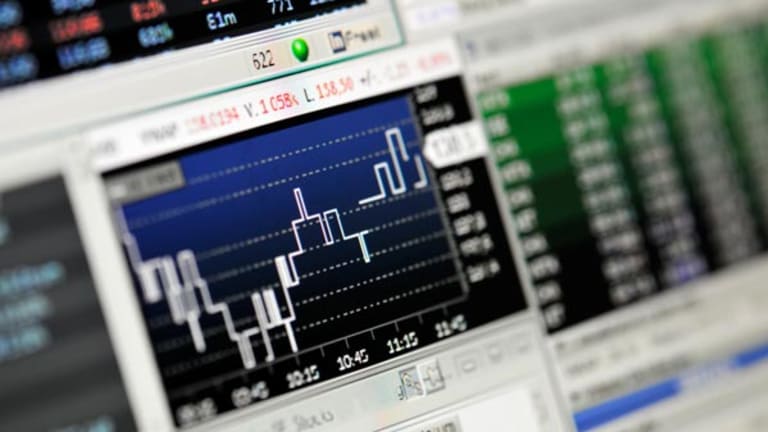 The Hedge Fund Report: Crowd Gets Bigger at Lexar
Griping continues about its decision to sell to Micron.
Three hedge funds raised their stakes in
Lexar Media
(LEXR)
last week, suggesting management at the flash memory company could face a proxy fight from its main shareholders. At issue is the company's plan to sell itself to
Micron Technology
(MU) - Get Micron Technology, Inc. Report
for $688 million.
The filings last week came after Carl Icahn said he might oppose the acquisition. Hedge fund activist Elliott Associates, which owns 6.5% of the company, also wrote a letter to management in which it strongly criticized the Micron deal, saying that Lexar "is worth significantly more" than what it's getting. Following Elliott, two large hedge funds, D.E. Shaw and GLG Partners, raised their stakes to 7.9% and 6.3%, respectively, although they did not publicly criticize the Micron deal.
"It's likely that those hedge fund shareholders are going to force an auction process," says Daniel Gelbtuch, an analyst with CIBC World Markets. "The price is low in a lot of people's minds. The firm declared that there was a fair process. But I don't believe there was an auction, and the activist shareholders believe there should have been," he says.
Several companies, especially competitors looking to enhance their distribution channels, might have bid if they knew Lexar was for sale, Gelbtuch adds, including Samsung and Fuji Films. "Micron was able to cut a sweet deal because it allowed Lexar's management team to stay in place, something that a foreign buyer may not have permitted," he concludes. A spokeswoman at Lexar declined to comment.
Tepper at the Table
Last week was a good one for hedge fund activist David Tepper, president of Appaloosa Management, one of the largest shareholders of
Delphi Corp.
(DPHIQ)
Appaloosa, which owns 9.3% of the bankrupt auto-supplier's common shares, had asked Delphi several times to create an equity committee to represent shareholders in the reorganization, but to no avail. He finally obtained it in court on Tuesday. Tepper told
TheStreet.com
that having a "voice in the process" will save him the cost of a proxy fight, which would have been "disrupting" for the company.
A wildcard remains: how much flesh
General Motors
(GM) - Get General Motors Company Report
will demand from Delphi after agreeing last week to help fund worker buyouts. "They did not make the indemnity the condition of the deal, which is a good thing," Tepper said.
"That doesn't mean they are not going to assert a claim." Under the 1999 spinoff agreement, GM can claim some of the assets of Delphi as a compensation for the money it spends on benefits for Delphi workers. Delphi's bondholders have already made it clear that they will challenge the indemnity clause, and Tepper said that he is likely to follow suit as a member of the equity committee.
The big picture is that Tepper wants to be part of the reorganization process because he believes that the company is undervalued. At 73 cents, the stock is worth "nothing," right now, he says. "This is not like another auto-part company. It's a high-tech company hidden here. ... They have 17,000 engineers, they make satellite radios, medical products, electronic components ... There is a huge potential," he says. Tepper sees the stock price potential as high as $10-$15, depending on the economy and the shape of the reorganization.
Time to Time
Stock buybacks in the
S&P 500
surged to $104 billion in the fourth quarter of last year, up 57% from a year earlier, according to Standard & Poor's. Buybacks reduce the overall share count and hedge funds typically push for them as a way to increase shareholder value. "The impact of the share count reduction was a significant boost to earnings per share for 52 issues in the S&P 500 during the fourth quarter," says Howard Silverblatt, senior index analyst at S&P.
The hedge fund industry is getting more and more concentrated and less and less egalitarian. The top 50 hedge funds now control 40% of all industry assets, with the largest 200 firms managing more than 80%, according to a Morgan Stanley study. The super league of multi-strategy hedge funds directly caters to very rich individuals, endowments, some pension funds, and to a lesser extent the very best funds of funds.
Meanwhile, on the other side of the Atlantic, the U.K. is becoming more liberal with the little guy. The Financial Services Authority, Britain's watchdog, is considering allowing funds of hedge funds to market their products directly to retail investors. In the U.S., hedge funds, unlike mutual funds, are subject to conservative rules when it comes to promoting themselves to the general public.
Yankee Prudence
William Galvin, secretary of state for Massachusetts, is often seen as a tough Wall Street regulator. In an interview with the
Boston Globe
, Galvin said he is displeased with the amount of money the Massachusetts Pension Reserves Investment Trust is putting in hedge funds. Galvin declined to comment further. His spokesman, Brian McNiff, says that Galvin's real concern is with possible federal legislation that would permit hedge funds to take in huge amounts of pension money without being subject to the stiff fiduciary standards of the Employee Retirement Income Security Act.
Galvin is "strongly opposed" to this bill, which is in a joint committee of Congress, McNiff said. A vote is expected between April 15 and Memorial Day.