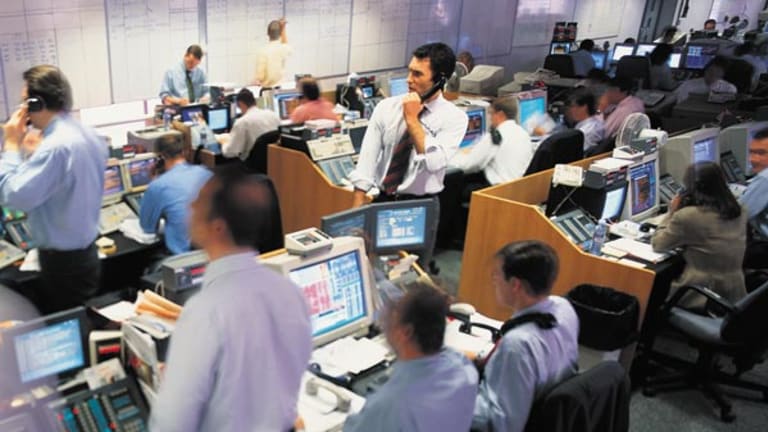 The Game Gets Rougher
The video-game industry is seriously troubled. Growth assumptions taken for granted last year require a major overhaul.
This column was originally published on RealMoney on April 3 at 1:30 p.m. EDT. It's being republished as a bonus for TheStreet.com readers.
The video-game industry underperformed the broad market by a wide margin in the first quarter. There's little doubt this is a seriously troubled business, in which growth assumptions taken for granted last year now require a major overhaul.
And things could get even worse.
The problems began in late November when
Microsoft
(MSFT) - Get Free Report
released fewer than expected units of its long-awaited Xbox 360 console.
This baffling move set off a buying frenzy on
eBay
but left game developers and retailers scratching their heads.
After all, the holiday season was just beginning and developers and retailers planned to sell a boatload of new games as users upgraded their console systems.
Instead, major industry players were forced to hit the wires, one after another, reporting year-end sales that couldn't meet modest expectations.
Curiously, one game-related company has prospered this year, despite declining holiday sales in 2005. Mall retailer
GameStop
(GME) - Get Free Report
has tagged a series of new highs since early January.
But a closer look suggests this maverick performance won't help the industry, because it's largely due to cost savings from its merger with Electronics Boutique.
Microsoft recently indicated it will finally be able to fill store shelves with enough consoles to meet demand. However,
Sony
undefined
, its main competitor, has pushed back the launch of its long-awaited PlayStation 3 to November.
Adding to Sony's woes, movie studios and retailers are pulling away from the PSP-compatible UMD format after months of poor movie sales.
The Disruption of Online Gaming
Gaming companies assume that customers will buy an endless flow of new titles, sequels, and sequels to sequels. Add in the continuous revolution in video graphics and it seems realistic to project that hard-core gamers will buy variations of an original theme at least a dozen times over the life of the title.
However,
World of Warcraft
is tossing those assumptions out the door.
WoW
is a massively multiplayer online role-playing game (MMORPG), in which users buy software and then pay for a monthly subscription to play online with other people. Since its December 2004 release this highly addictive game has become a cultural phenomenon and a real pain in the neck for the rest of the industry.
Over 5 million people around the world now pay between $15 and $20 a month to play WoW. Do the math and you'll notice this astounding user base translates into more than $1 billion a year in sales. That's great news for its developer, Blizzard Entertainment, a unit of
Vivendi Universal
(V) - Get Free Report
.
However, subscription-based gaming sales draw customer capital away from new consoles and software. The competition has taken notice of the juggernaut and is redirecting development money from existing products so they can release their own worldwide blockbusters someday. However, I believe only a handful of companies will benefit, and it won't be the likes of
Electronic Arts
undefined
and
Activision
(ATVI) - Get Free Report
, because subscription-based gaming undercuts their existing business model.
Pirates Attack
The same piracy issues bedeviling the music and movie industries now plague gaming as well. This assault on the bottom line is twofold, because it's directed against both hardware and software security.
On the software side, PC gaming titles now show up days or weeks ahead of scheduled release dates in the shady world of
, IRC chat and newsgroups. These hefty files come with simple-to-apply cracks that bypass the most carefully constructed antipiracy schemes. And surprisingly, most of these programs are free of viruses and spyware.
But doesn't the industry have ways to identify users pirating games and other media? Yes and no. Traceable peer-to-peer sharing networks, like Kazaa, have been attacked by the entertainment industry. However, geeks have responded by moving underground into an untraceable world the gaming industry can't touch -- at least not yet.
Add super-broadband into the mix and you have a potent recipe for declining industry sales. The contents of an entire DVD can now be downloaded in less than two hours on a typical cable-modem connection. And consider the public's amoral attitude about piracy in general, after Napster's glory days. It isn't really stealing, is it?
Hardware piracy may corrode industry sales more than software piracy in coming years. There is a vast underground hacking consoles so that they will run pirated games. If you hack the software directly and find a way to burn it onto a DVD, the Xbox will still reject it as long as the hardware security is in place. Using file-transfer protocol (FTP) connectivity, hackers force reworked Xbox, PlayStation and GameCube operating systems to run off decoded hard drives.
Gamers then load pirated games onto the hacked systems and run them at will. The connectivity also lets them download new games when they're released and load them for instant console play. And anyone can find modification instructions if they're willing to search hard enough through the shady world of Internet hacking sites.
Considering the myriad serious issues facing this troubled industry, how will video-game stocks perform in the second quarter and the rest of 2006? To answer this question, I'll take a detailed look at the long-term charts of the sector's biggest players Tuesday.
P.S. from TheStreet.com Editor-in-Chief, Dave Morrow:
It's always been my opinion that it pays to have more -- not fewer -- expert market views and analyses when you're making investing or trading decisions. That's why I recommend you take advantage of our
to TheStreet.com's
RealMoney
premium Web site, where you'll get in-depth commentary
and
money-making strategies from over 50 Wall Street pros, including Jim Cramer. Take my advice --
Alan Farley is a professional trader and author of
The Master Swing Trader
. Farley also runs a Web site called HardRightEdge.com, an online resource for trading education, technical analysis and short-term investment strategies. Under no circumstances does the information in this column represent a recommendation to buy or sell stocks. Farley appreciates your feedback;
to send him an email.
Also,
click here to sign up for Farley's premium subscription product The Daily Swing Trade brought to you exclusively by TheStreet.com.
TheStreet.com has a revenue-sharing relationship with Trader's Library under which it receives a portion of the revenue from purchases by customers directed there from TheStreet.com.