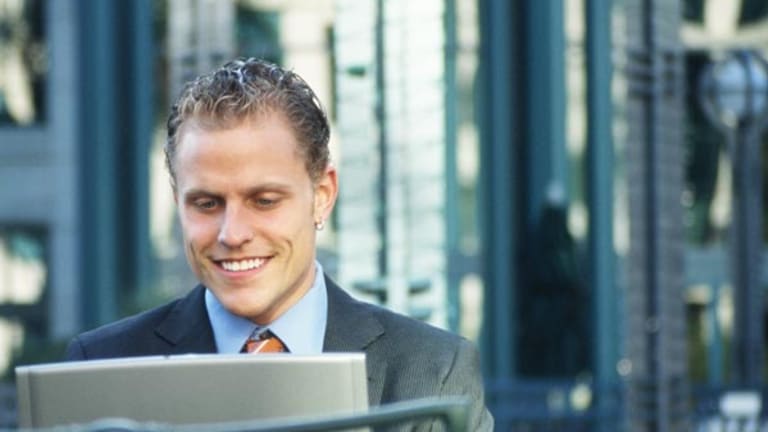 The Dream Trader's Picks
A conversation with this trader shows life on the other side and yields several stock ideas.
This column was originally published on RealMoney on June 2 at 1:57 p.m. EDT. It's being republished as a bonus for TheStreet.com readers.
Many traders dream of the time when they accumulate enough money to never have to work full-time again, and instead they can sit home, watch the market and swing only for the super fat pitches. When I
interviewed Jim Cramer
a few months ago, he said that the benefit a small trader has over a hedge fund or mutual fund is that the trader doesn't need to put up consistent monthly numbers. He can wait for the fat pitches and then swing as hard as possible.
Despite the fact that I know many people in the industry, I actually know very few who have decided at a relatively young age to get out of the rat race and just focus on building the nest egg through astute stock-picking.
One such person is on my AOL IM window, "Ralph" (he did not want me to use his real name). Ralph started trading in the mid-1990s using credit card debt, and has built up his fortune solely from stock-picking. I tried to talk him into contacting the editors at
TheStreet.com
to see if he wanted to write here, but he told me, "Nah, that sounds too much like real work."
Instead, for what seems like 20 hours a day, Ralph is researching stocks and continuing to build up his portfolio. Ralph has a deep value bent, and I've occasionally used his ideas for myself, including
Ryerson
(RYI) - Get Ryerson Holding Corporation Report
, mentioned below, which I own after listening to Ralph's take on it last December.
So via IM the other day, I asked him which stocks he likes:
"Right now I like steel. There's a commodity boom going on, but steel is the only major commodity where there are no futures on it, hence, no speculative activity that could cause a bubble or bust. I like NS Group (NSS) - Get NuStar Logistics L.P. 7.625% Fixed-to-Floating Rate Subordinated Notes due 2043 Report and Ipsco (IPS) . NS and Ipsco are dirt-cheap plays on steel. NS is gonna make $6 this year, IPS $12. They are in the absolutely healthiest part of the steel sector. They make octg (oil-country tubular goods); that is, steel and alloy drilling tubes. So, whether oil is $70, $60, $50, it is extremely economic to drill for natural gas and oil, 'cause when oil is $20, the only thing economic is Saudi Arabia. But now you can do Gulf drilling, you can do oil sands, you can do all the high-cost marginal wells. But that's not all. Both of these companies are sitting on excess cash, too much cash in fact, so when you look at EV/EBITDA, they are like 4 times, which is quite incredible for what they are. In fact, I think the best thing for both companies is if IPS buys NS, using ... their excess cash to help fund the acquisition. By taking on a little debt, this will fix their capital structures and be very earnings accretive."
OK, I said, give me another one.
" Ryerson (RYI) - Get Ryerson Holding Corporation Report is another play on steel. It doesn't make it, it distributes and processes it, and makes like 15%-20% gross margin. With steel prices twice what they were two-and-a-half years ago, it has twice as much gross-profit dollars to spread over, relatively, the same fixed costs. The short-sellers have RYI completely confused. RYI uses LIFO accounting, which means its earnings are depressed when prices for steel go up, and when prices soared in 2004, short-sellers misinterpreted its low accounting profitability as low economic profitability. They have been intransigent ever since, as the company continues to demonstrate the dynamic I mentioned (more gross profit to spread over same fixed costs). It should make well over $3 this year, which means it is a comfortable single-digit multiple. Most importantly, the company has a $300 million LIFO reserve, which means its stockholder's equity hugely understates the true economic value of the company's assets. So, the company is trading way below liquidation value."
What about something that isn't steel related?
"I like Movie Gallery( MOVI). It got into a bidding war with Blockbuster( BBI) for Hollywood Video, which Blockbuster had to concede because of antitrust issues. So, MOVI won. It took over Hollywood Video in Q2 last year, and almost immediately, things turned to spit: integration issues, too much debt and a disastrous box office led to huge volume declines in the rental market. The debt used to finance the acquisition had to be renegotiated and will need to be renegotiated again in the future. No wonder everybody thought it was going bankrupt. So, after three quarters of dreck, it finally printed up a wonderful Q1 last week. 2006 EBITDA was thought to be $200 million or so, which likely means bankruptcy, but Q1 EBITDA was $116 million, and I think it has a very good shot at more than $300 million this year, given: 1) Better box office and rental comps, 2) Finally squeezing some of those promised merger savings and synergies and 3) Their backs are against the wall. If it doesn't execute, it goes bankrupt. The CEO was the founder of company and still owns more than 10%. If I am right, the stock is probably a triple or quadruple from here."
Finally, after all this stock talk, I asked him how he spends his day. He took a few minutes before he responded.
Ralph: "I dunno how to answer that question."
Me: "That's sort of funny in itself."
Ralph: "I look at stocks and trade them like I always do, but if I feel sick of it or bored of it or whatever, I do something else."
Me: "Like what?"
Ralph: "Watch TV?"
Ralph: "Nap?"
Ralph: "I dunno."
P.S. from TheStreet.com Editor-in-Chief, Dave Morrow:
It's always been my opinion that it pays to have more -- not fewer -- expert market views and analyses when you're making investing or trading decisions. That's why I recommend you take advantage of our
to TheStreet.com's
RealMoney
premium Web site, where you'll get in-depth commentary
and
money-making strategies from over 50 Wall Street pros, including Jim Cramer. Take my advice --
At the time of publication, Altucher and/or his fund was long Ryerson, although positions may change at any time.
James Altucher is a managing partner at Formula Capital, an alternative asset management firm that runs several quantitative-based hedge funds as well as a fund of hedge funds. He is also the author of
Trade Like a Hedge Fund
and
Trade Like Warren Buffett
. Under no circumstances does the information in this column represent a recommendation to buy or sell stocks. Altucher appreciates your feedback;
to send him an email.
Interested in more writings from James Altucher? Check out his newsletter, TheStreet.com Internet Review. For more information,
.
TheStreet.com has a revenue-sharing relationship with Trader's Library under which it receives a portion of the revenue from purchases by customers directed there from TheStreet.com.