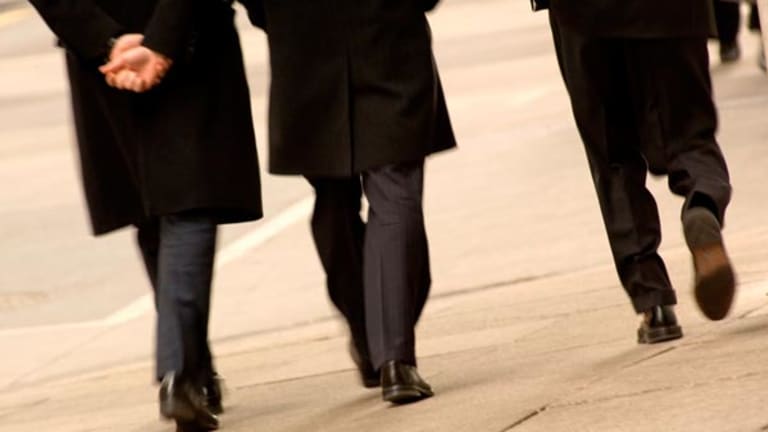 The Dow Leads the Way Higher
Blue-chips return to their highest level in three weeks as lower oil prices spark a rally.
Updated from 4:13 p.m. EDT
Blue-chips outperformed a broadly positive market Thursday, as stocks continued to build on recent gains amid a drop in oil prices, positive earnings news, and a mixed bag of economic data.
The
Dow Jones Industrial Average
gained 95.31 points, or 0.94%, to 10,205.20; the
Nasdaq
closed up 8.35 points, or 0.42%, to 1985.50; and the
S&P 500
, the only major stock index that is currently in positive territory for the year, added 6.32 points, or 0.57%, to 1121.56.The 10-year Treasury note rallied up 16/32 in price to yield 4.59%, while the dollar was weaker against the yen and euro.
The S&P 500 was able to close above its technically significant 50-day moving average of 1116.
In moderate trading, volume on the
New York Stock Exchange
exceeded 1.4 billion shares, and advancers outpaced decliners by more than 2 to 1. On the Nasdaq, over 1.6 billion shares changed hands, and advancers held a small majority over decliners.
Barry Ritholtz, chief market strategist with Maxim Group, said that technical factors were driving the markets forward, and relative weakness in the Nasdaq was primarily the result of its dominance over the last few days.
"The market has adjusted to higher oil prices and it has adjusted to the geopolitical turmoil," Ritholtz said. "We got to a point where sellers were exhausted and now it's really not taking a lot of buying to get things moving up again. To me, at this point, the path of least resistance is upwards, at least for the next couple of months."
Crude futures sank below $40 a barrel in New York after the president of OPEC said the cartel was weighing a roughly 10% increase in production as a way of snapping the oil market out of its recent uptrend. Indonesia's Purnomo Yusgiantoro said such a hike could be a way of sending a "psychological" message to bulls who have bid up the price of crude by almost one-fourth this year alone. Nymex crude for July delivery dropped 3.1% to settle at $39.44.
Stocks held widespread gains across different sectors of the economy, but oil services shares were weak, as evidenced by a 2.2% drop in the Amex Oil Services Index. In areas showing particular strength, the iShares S&P Global Healthcare gained 2.5%, the Amex Gold Index added 1.3% and the S&P Retail Index was up 1.1%.
The government's preliminary GDP growth estimate for the first quarter was revised up to an annualized 4.4%, up from the advance figure, 4.2%, reported in April but slightly lower than the consensus estimate of 4.5%. The economy grew at a rate of 4.1% in the fourth quarter of 2003. Also, the implicit price deflator was revised up slightly to 2.6% from the advance number of 2.5%.
Corporate after-tax earnings increased 1.4% over the previous quarter, an initial estimate in the report showed. Though lower than fourth-quarter profit growth of 7.6%, first-quarter profits were up 36.7% over last year's results.
Paul Nolte, director of investments at Hinsdale Associates, found no surprises in the GDP report and said he expects economic growth to hold at around that rate for the rest of the year. "This is a very good number overall," he said, "but judging by the way the markets reacted to the number, I would say it's pretty much a nonevent. It was right in line with expectations."
Nolte also said investors were starting to act as though the markets had made a short-term bottom, but he thinks stocks are still mired in a trading range. "We're probably down at the bottom of the range now, and the top of the range on the S&P is at about 1150," he said. "That's a long way from where we are now, and still going nowhere."
Separately on the economic front, the Labor Department said initial jobless claims in the week ended May 22 dipped less than expected to 344,000 from an upwardly revised 347,000 in the previous week. Economists had expected claims to drop to 335,000.
Boeing
(BA) - Get Boeing Company Report
, up 3.2%, led gains among the 26 stocks in positive ground on the Dow.
Coca-Cola
(KO) - Get Coca-Cola Company Report
and
McDonald's
(MCD) - Get McDonald's Corporation Report
followed, both up over 2%.
Media conglomerate
Vivendi
(V) - Get Visa Inc. Class A Report
said its first-quarter loss narrowed to about $7.3 million from about $385 million a year ago, while operating profit jumped 10% to $1.13 billion. Vivendi Universal Entertainment saw operating profit jump 15% to $298 million, thanks to solid results at its television and parks segments. Its shares closed up $1.49, or 6.2%, to $25.67.
Discount chain
Costco
(COST) - Get Costco Wholesale Corporation Report
earned $198.6 million, or 42 cents a share, in the third quarter, up from $153.8 million, or 33 cents a share, last year. Revenue jumped 12% to $10.67 billion. Analysts had been forecasting earnings of 37 cents a share on revenue of $10.57 billion in the period. Its shares closed up 63 cents, or 1.7%, to $38.07.
Overseas markets were higher, with London's FTSE closing up 0.3% to 4454 and Germany's Xetra DAX up 1.2% to 3913. In Asia, Japan's Nikkei closed up 0.1% to 11,166, while Hong Kong's Hang Seng added 2.5% to 11,984.
Earnings releases will be practically nonexistent on the Friday before the Memorial Day weekend, but a stream of economic data throughout the day will keep lingering market-watchers occupied. At 8:30 a.m. EDT, the government is expected to report that personal incomes grew 0.5% in April, up from 0.4% in March, while consumption slowed from 0.4% to an increase of 0.2%.
The University of Michigan will then report the revised results of its Consumer Sentiment Index for May at 9:45 a.m. EDT, expected to stay flat at 94.2. At 10 a.m. EDT, the National Association of Purchasing Managers is expected to say its Chicago Purchasing Managers' Index dropped from 63.9 to 62 in May, and then the Weekly Leading Indicators index is due out from the Economic Cycle Research Institute at 10:30 a.m. EDT.