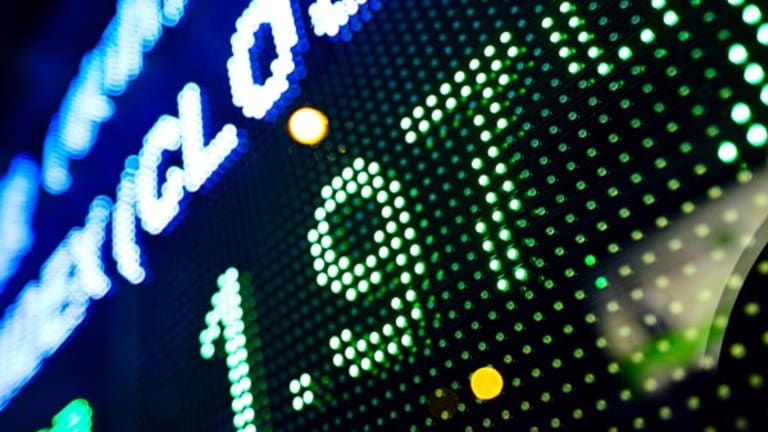 Publish date:
The Dow Ekes Out Another Winning Week
With 6 points to spare, blue-chips post their fourth-straight week of gains.
With 6 points to spare, blue-chips post their fourth-straight week of gains.
Updated from 4:55 p.m. EDT
Stocks held onto slight gains Friday as options expiration and the continued unwillingness of investors to head into a weekend with extended holdings resulted in a mostly sideways session.
The
Dow
gained 38.89 points, or 0.37%, to 10,416.41; the
S&P 500
rose 2.95 points, or 0.26%, to 1135.00; and the
Nasdaq
was up 3.06 points, or 0.15%, to 1986.73. The 10-year Treasury note fell 7/32 to yield 4.71%, while the dollar fell against the yen and euro.
The Dow, struggling to regain its June highs set earlier in the month, managed by 6 points to stretch its weekly winning streak to four in a row. Meanwhile, the S&P and the Nasdaq lost ground on the week, giving up 0.1% and 0.7% respectively. The S&P remains the only index to be in positive ground for 2004; it's up more than 2%.
John Hughes, equity strategist at Shields & Co., said the market seems to have good fundamentals in place but it's been unable to break out of its trading range to mount a significant rally.
"
It can't get above it," Hughes said. "There doesn't seem to be a real push here to buy anything in a big way. I don't know what's missing. Things look positive, but I'm a little concerned about how long it's taking to break through these levels.
"We do have a decent-enough background to make money in certain names," he added. "There are areas that can make you money, the more economically sensitive areas. The missing piece is technology. Without strength in technology, things lose their luster a bit."
Straying from one defining characteristic of late, volume picked up a bit. About 1.5 billion shares traded on the
New York Stock Exchange
, where advancers held about a 5-to-4 majority over decliners. Nearly 1.7 billion shares changed hands on the Nasdaq, and decliners outnumbered advancers by about 5 to 4.
Contributing to the higher volume were the expirations of four different kinds of options and futures contracts, one of the "witching hours" that takes place on the third Friday in June (as well as March, September and December) that added some volatility to the session.
Weighing on sentiments in the afternoon, the American hostage held by militants in Saudi Arabia, Paul M. Johnson Jr., was beheaded by his captors, according to a report from
The Associated Press
. The militants, who kidnapped Johnson last week, were demanding the release of al Qaeda prisoners held by the Saudi government.
Later, three men believed to be involved in the Johnson murder -- including the leader of al Qaeda in Saudia Arabia, Abdulaziz al-Moqrin, 31 -- were killed by Saudi security forces in shootout, according to the ABC News Web site.
Oil prices rose in a volatile session after a series of attacks on oil facilities in Iraq raised new supply questions. The benchmark U.S. crude rose 19 cents to $39 a barrel. Gasoline prices added less than 1 cent to $1.187 a gallon. A coalition spokeswoman in Iraq said Thursday that exports could be curtailed until Tuesday, following attacks in Basra and elsewhere earlier in the week.
North American semiconductor-equipment makers received $1.58 billion in orders last month, based on a three-month average, unchanged from a revised tally in April, according to Semiconductor Equipment and Materials International. Meanwhile, the industry billed $1.42 billion in May, up 2% from $1.39 billion in April. That drove the industry's book-to-bill ratio down to 1.11 from 1.13 the previous month.
On the economic front, the government reported that the nation's current account deficit rose more than expected to $144.9 billion in the first quarter of 2004, up from a revised $127 billion in the last quarter of 2003.
However, continuing to loom large in investors' minds is the
Fed's
next meeting on June 30, which also coincides with the official hand-over of sovereignty to the new Iraqi government.
"We think the market really wants the Fed to
raise interest rates and move strongly, and that will be good news for equities in the long run," said Joe Veranth, executive vice president with Dana Investment Advisors, who believes the early indicators of inflation are picking up. He believes recent economic data, particularly the producer price index reading coming out Thursday, should be worrisome for investors.
The market has been awash with speculation about when and by how much the Fed will raise interest rates in the coming months to remove what many view as an overly accommodative monetary policy in a strongly rebounding economy. Most market-watchers expect the central bank to raise rates by 25 basis points after its meeting at the end of June, but the Fed signaled recently that if inflationary pressures prove stronger than anticipated, they may have to be more aggressive.
Tuesday's reading of the consumer price index, the government's main gauge of inflation, came in slightly higher than expected, rising 0.6% after economists had called for a 0.5% increase. Still, the report was widely viewed as evidence that inflation was tame because the core index, which excludes food and energy prices, was in line with consensus estimates, adding 0.2% -- the same pace set in April.
The markets rallied after the CPI, taking it as evidence that the Fed had things under control and would stick to its plan of raising rates at a "measured pace," but the PPI, released Thursday, challenged this theory. It rose 0.8%, faster than Wall Street's estimate of 0.6%, and the core figure was 0.3%, above the estimate of 0.2%. The mixed messages on inflation have contributed to a cloud of indecision that has weighed over the stock market for the last several sessions.
In corporate news Friday,
Viacom
(VIA) - Get Report
shares gained 17 cents, or 0.5%, to $37.38 after it
released details about how it will rid itself of its 81% stake in
Blockbuster
(BBI) - Get Report
. The move is expected to generate $738 million in cash for the media empire.
Shares of
Blackboard
(BBBB)
, a newly public maker of education software, shot up $6.01, or 42.9%, to $20.01, marking the best debut of a new technology stock so far in 2004. The company, not yet profitable, sells two software packages for teaching online classes and managing educational costs.
Microsoft
(MSFT) - Get Report
, by far the heaviest-traded stock in Friday's session, added 58 cents, or 2.1%, to $28.35 on follow-through from recent rumors that the software giant is on the verge of a stock buyback.
Several smaller software companies that reported earnings last night were among the market movers.
Red Hat
(RHAT)
closed down $2.29, or 10.2%, to $20.10 as traders digested first-quarter revenue that, while up from a year ago, fell short of expectations. The Linux vendor said quarterly revenue rose 53% to $41.6 million, missing the consensus forecast by about $1.4 million.
Solectron
(SLR)
posted pro forma earnings that beat expectations and guided current-period earnings higher. The contract electronics manufacturer earned $13 million, or 1 cent a share, excluding items in its third quarter, a penny better than estimates.
In the fourth quarter, the company expects to earn 3 to 5 cents a share, compared with the Thomson First Call consensus estimate of 2 cents a share. Its stock closed up 64 cents, or 12.6%, to $5.72.
Tibco
(TIBX)
dipped after saying second-quarter revenue shot up 32% to $81.2 million and reporting earnings of $9.6 million, or 5 cents a share. Analysts had been looking for $77.3 million on the top line and for earnings of 5 cents. The stock closed down 46 cents, or 5.6%, to $7.81.
Asian markets closed sharply lower, partly in reaction to an industry report that showed May orders for North American semiconductor-equipment makers were unchanged from April. Japan's Nikkei ended down 2% to 11,382, while Hong Kong's Hang Seng fell 1.9% to 11,856. In Europe, London's FTSE 100 added 0.3% to 4506 while Germany's Xetra DAX was up 0.4% to 4,000.
Next week will kick off with an earnings release from
Walgreen
(WAG)
before Monday's opening bell. The pharmacy chain is expected to report first-quarter profits before special items of 32 cents a share, up from last year's 28 cents a share.