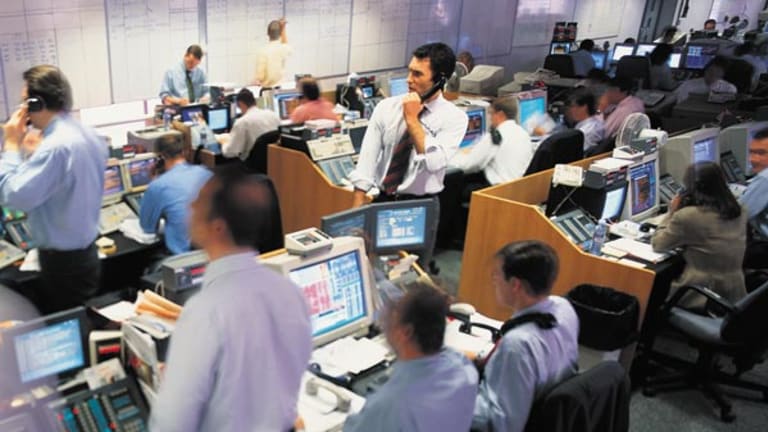 The Dow: A Guru Case for Large-Caps
Nearly half of the benchmark index's stocks meet the high buying criteria of top investors.
This column was originally published on RealMoney on June 13 at 4:03 p.m. EDT. It's being republished as a bonus for TheStreet.com readers.
In early May, the
Dow Jones Industrial Average
was trading around 11,500 for the first time in years. Since then, it has backed off, and at the time of this writing, had dipped below 11,000. That's a drop of 6%. Ned Davis Research in Nokomis, Fla., keeps excellent statistics on stock market declines and bear markets. It finds that drops of 5% or more in the Dow have occurred 355 times since 1900, or an average of 3.3 times a year. Only 31 times did the decline worsen into a bear market, defined as a drop of 20% or more. A bear market occurs about once every three years, so more than 90% of all 5% declines
don't
turn into bear markets.
This recent decline in the Dow made me wonder: Is this an opportunity to buy the Dow's large-cap stocks? To find out, I ran the 30 stocks that make up the Dow through my guru analyses. Here are some of the Dow stocks that get a strong thumbs-up from at least one of my guru strategies. Of course, I've written about a number of the Dow stocks at one time or another in columns here, including some that I've liked recently, such as
Procter & Gamble
(PG) - Get Procter & Gamble Company (The) Report
and
Altria
(MO) - Get Altria Group Inc. Report
.
You'll see that every stock that got high grades was liked by either the Peter Lynch strategy or especially the James P. O'Shaughnessy strategy, both of which I have based on the writings of their namesakes. Both strategies favor larger companies. The Lynch strategy looks at the price-to-earnings ratio relative to growth, which is a measurement of how reasonable the price is. A low P/E/G suggests the price might be a bargain. The O'Shaughnessy strategy favors plenty of positive cash flow and high yields, which suggest prices are in the doldrums and that the conventional Wall Street outlook for these companies is depressed.
With both of these strategies, current prices appear lower than what their potential suggests, making this a time to buy. I'll focus here on some stocks I've never discussed in this column before.
3M
The Lynch strategy likes venerable diversified technology company
3M
. It's got a yield-adjusted P/E/G ratio (price-earnings ratio relative to the sum of growth rate plus yield) of 0.92 (1.0 is the maximum acceptable), has positive earnings per share and a not-heavy debt load, with equity about four times debt.
Alcoa
Aluminum company
Alcoa
(AA) - Get Alcoa Corporation Report
is liked by the O'Shaughnessy strategy. It's a large company, its cash flow per share ($3.59) exceeds the mean of the market's cash flow per share ($2.06 for the
S&P 500
), its total number of outstanding shares exceeds the market's average and its trailing 12-month sales ($27.2 billion) are more than 1.5 times the mean of the market's trailing 12-month sales ($17.3 billion). Plus, it is one of the 50 companies that have passed the above criteria that have highest dividend yield (2.0%).
AT&T
The O'Shaughnessy strategy likes the
AT&T
incarnation of the old Ma Bell. Like Alcoa, AT&T is large, has cash flow per share that exceeds the market's mean, has plenty of shares outstanding and has plenty of sales. Plus, it too has a good dividend yield (5%).
Walt Disney
The Lynch strategy likes entertainment icon
Walt Disney
(DIS) - Get The Walt Disney Company Report
. Its P/E/G ratio is a very strong 0.54; 1.0 or less is needed, and 0.5 or less is best-case, so Disney is nearly best-case. Its P/E ratio (22.8) is below 40, and its EPS growth rate of 42.1%, based on the average of the three-, four- and five-year historical EPS growth rates, is acceptable -- though it is so high that it probably is unsustainable. And equity is about twice debt, which is OK by this strategy.
ExxonMobil
The world's largest oil company,
ExxonMobil
(XOM) - Get Exxon Mobil Corporation Report
, finds favor with the O'Shaughnessy strategy. The company has strong cash flow ($7.52 per share), about 10 times as many shares as the market average, trailing 12-month sales that are enormous ($377.6 billion) and a dividend yield of 2.18%.
The Lynch strategy also gives ExxonMobil very high grades.
General Electric
The O'Shaughnessy strategy likes classic conglomerate
General Electric
(GE) - Get General Electric Company Report
. GE is big (with a market cap of $357.7 billion), has a positive cash flow per share ($2.57) larger than the market's mean and has trailing 12-month sales of $194.7 billion. Plus, it has a dividend yield of 2.9%.
Honeywell
Diversified technology and manufacturing company
Honeywell
(HON) - Get Honeywell International Inc. Report
is also liked by the O'Shaughnessy strategy. This is a large company, with a market cap in excess of $32 billion, that has strong cash flows, plenty of shares outstanding, big sales and a dividend of 2.3%.
Intel
Intel
(INTC) - Get Intel Corporation Report
, the largest computer chipmaker, is liked by the Lynch strategy. It's a fast grower with a very favorable P/E/G ratio of 0.38, which is in best-case territory. Its P/E ratio is a modest 13.5 and its EPS growth rate is high, about 36%. Plus, Intel has exceptionally low debt, with equity running about 15 times debt.
JPMorgan Chase
One of the country's largest banks,
JPMorgan Chase
(JPM) - Get JP Morgan Chase & Co. Report
is a favorite of the O'Shaughnessy strategy. It's large, has very strong cash flow per share, plenty of shares outstanding, rich revenue and a dividend yield of 3.22%.
Among other Dow stocks highlighted by at least one of the other guru strategies:
Large-cap stocks haven't done well in recent years, but these behemoths are performing well and getting the attention of the guru strategies. These are solid companies that, statistically speaking, as a group are likely to have substantial price rises in their stock over the next year.
There are 14 stocks out of the Dow 30 that have guru interest. I'd have to conclude that the guru strategies see opportunity among large-cap stocks.
P.S. from TheStreet.com Editor-in-Chief, Dave Morrow:
It's always been my opinion that it pays to have more -- not fewer -- expert market views and analyses when you're making investing or trading decisions. That's why I recommend you take advantage of our
to TheStreet.com's
RealMoney
premium Web site, where you'll get in-depth commentary
and
money-making strategies from over 50 Wall Street pros, including Jim Cramer. Take my advice --
At the time of publication, Reese was long ExxonMobil, Intel, JPMorgan Chase, Verizon, Procter & Gamble and Altria, although holdings can change at any time.
John P. Reese is founder and CEO of Validea.com, an investment research firm, and Validea Capital Management, an asset management firm serving affluent investors and companies. He is also co-author of the best selling book,
The Market Gurus: Stock Investing Strategies You Can Use From Wall Street's Best
. Under no circumstances does the information in this column represent a recommendation to buy or sell stocks. Reese appreciates your feedback.
to send him an email.
TheStreet.com has a revenue-sharing relationship with Amazon.com under which it receives a portion of the revenue from Amazon purchases by customers directed there from TheStreet.com.