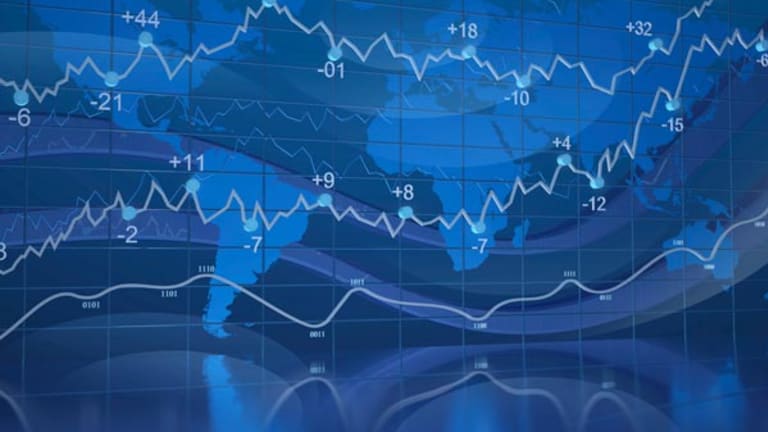 [video]The Deal: European Stocks Slip, Asian Shares Close Mixed
European stocks pause for breath on Thursday after a four-day rally; Asian stocks close mixed ahead of U.S. reports on consumer prices and initial jobless claims.
LONDON (The Deal) -- European stocks took a pause for breath on Thursday after a four-day rally and Asian stocks closed mixed ahead of U.S. reports on consumer prices and initial jobless claims.
The inflation and labor market and reports will both be out at 8.30 a.m. EST in Washington. The December inflation rate is expected to have swelled to 1.5% from 1.2%, while jobless claims are estimated to have risen by about 328,000 last week, according to consensus forecasts.
In Europe, the  European Union's statistics arm said the December annual inflation rate in the eurozone was 0.8%, matching its own early January estimate and down from 0.9% in November.
In London by mid-morning, the FTSE was down 0.04% at 6,817.31. In Frankfurt, the DAX slipped 0.05% to 9,729.11 and in Paris, the CAC 40 was off 0.22% at 4,322.57.
In Amsterdam, retailer Royal Ahold fell after releasing fourth-quarter sales figures that fell short of consensus forecasts at  7.5 billion euros ($10.2 billion), down 4.2% on the year.  The company, which runs the Giant Food Stores and Stop & Shop grocers in the U.S., said market conditions were challenging in its domestic market and announced a reorganization of its European business.
In London, a raft of Christmas trading statements from retailers were largely positive. Among them, Home Retail Group rose after  the owner of Argos and Homebase, said full-year earnings will be at the top end of forecasts after reporting higher Christmas sales. Same-store sales at variety-store chain Argos rose 3.8% in the 18 weeks to Jan. 4 and were up 4.7% at Homebase, a home-improvement retailer.
Meanwhile, Dixons Retail Group also reported strong Christmas trading, including a 5% same-store sales rise that beat analysts' forecasts. However, its shares fell even as analysts including Jefferies & Co. said they may upgrade profit forecasts.
Also in London, Aberdeen Asset Management  fell after reporting in a trading update that the amount of money flowing into its funds declined in the fourth quarter by almost 30% from the third quarter as investors got jittery about Asian and emerging markets.  The fund manager , which will become Europe's largest listed fund manager when it completes the 663 million pounds ($1.1 billion) purchase of Scottish Widows Investment Partnership had 193.6 billion pounds under management at year-end, down from 200.4 billion pounds as of the end of September.
In Sydney, Warrnambool Cheese & Butter Factory rose after the front-runner bidder struck a side deal to buy a near-19% stake amassed by Bega Cheese before it pulled out of a three-way bidding race.  That deal strengthens Saputo's lead over Murray Goulburn Cooperative, whose bid has yet to receive antitrust clearance, and fueled hopes shareholders will receive one of the higher per-share prices from Saputo, who has set different payouts according to how much of Warrnambool it secures.
In Tokyo the Nikkei 225 closed down 0.39% at 15,747.20, and in Hong Kong the Hang Seng gained 0.37% to end the day at 22,986.41.