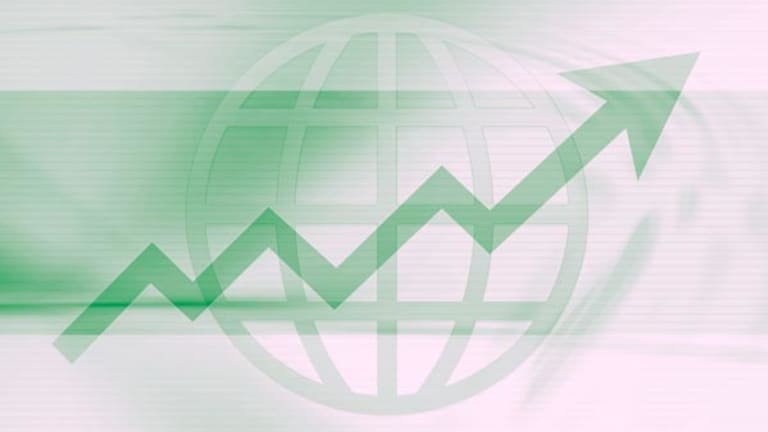 The Deal: European Stocks Rise as Confidence Gauge Climbs
European stock indices rise on Friday as a gauge of eurozone economic confidence climbs faster than expected.
LONDON (The Deal) -- European stock indices rose on Friday as a gauge of eurozone economic confidence climbed  faster than expected.
The European Commission's statistics arm said its eurozone economic sentiment indicator rose to 102.4 in March, up 1.2 points and well above expectations for an increase of 0.2 of a point.
The DAX in Frankfurt rose 0.94% to 9,539.79 on the last day of a week where the ebb and flow of worries about Ukraine and the related standoff with Russia, and Chinese growth,  have led to significant market volatility.  In Paris, the CAC 40 was up 0.54% at 4,402.51.
Outside the eurozone in London, the  FTSE 100 was up 0.52% at 6,622.41.
In London insurer Brit priced its IPO at 240 pence  per share, towards the bottom of a marketing range, raising 235 million pounds ($390 million) of net proceeds for selling shareholders Apollo Global Management and CVC Capital Partners. The IPO delivers  a debut market value for Brit of 960 million pounds and puts 25% of the company in free float.
Fund managers and life insurers including Aviva, Legal & General Group, Prudential, Standard Life and St James's Place fell sharply  as the Financial Conduct Authority prepared to announce an inquiry into 30 million financial policies sold between the 1970s and 2000. The sector has already been roiled by measures announced in the government's annual budget this week to give retirees more freedom about how they use their pension pots. The changes will stunt the sale of annuities.
Retailer Sports Direct International rose after analysts at Jefferies International  initiated coverage with a buy recommendation, stating that the company "enjoys remarkable international growth prospects."
In Milan restructuring bank Intesa Sanpaolo rose after it posted a 5.19 billion euros ($7.2 billion) fourth-quarter loss after write-downs as investors drew comfort from promised dividend payouts and an improved operating performance.
Asian markets ended the day mostly in the green. In Tokyo the Nikkei 225 closed up 0.50% at 14,696.43. In Hong Kong the Hang Seng gained 1.06% to close  at 22,065.53. Retailer China Resources Enterprise closed up 7.4% and internet company Tencent Holdings,  which sustained heavy losses Thursday, rebounded to rise 2.5% But mainland Chinese indices fell sharply, with the Shenzhen Stock Exchange Composite Index closing down 2.17%.