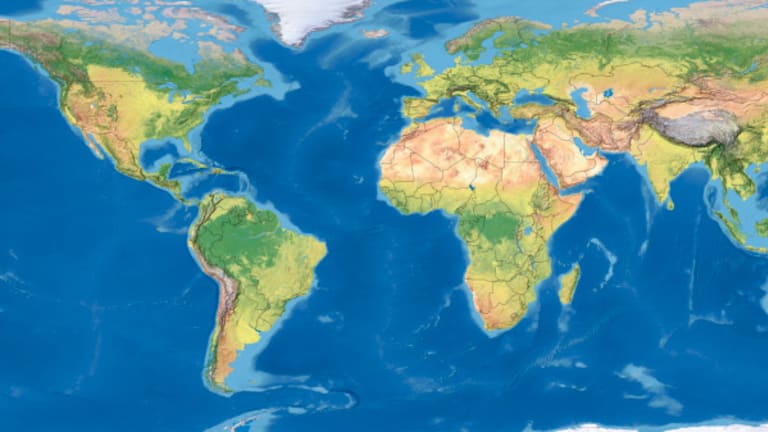 The Deal: European Stocks Mixed as Ukraine Uncertainty Dents the Mood
European markets are mixed in early trading Friday, with concerns about the situation in Ukraine affecting the mood.
LONDON (The Deal) -- European markets were mixed in early trading Friday, with concerns about the situation in Ukraine affecting the mood, especially in Germany, and continued worries over Beijing's deliberate weakening of the Chinese currency, the renminbi. But traders were also looking to economic news from the European Union and the United States for direction.
In the eurozone, unemployment was stuck at 12% while inflation stayed steady at 0.8%, according to the European Union statistical office. That's less than half the 2% targeted by the European Central Bank, but slightly higher than expected. The ECB may do nothing when it meets next Thursday, but the euro strengthened against the dollar on the news.
The markets will watch for U.S. housing, consumer spending and economic growth figures on Friday.
Individual stocks took the limelight though, as British education publisher Pearson (PSO) - Get Free Report, which also publishes the Financial Times newspaper, fell 6.3% to 1,008 pence, after announcing operating profit before net restructuring charges was 6% lower at 871 pounds million in 2013.
Meanwhile, International Consolidated Airlines, the owner of both British airways and the Spanish airlines Iberia and Vueling, fell 2.6% to 440 pence, despite reporting an operating profit for 2013 of 770 million euros, compared with an operating loss of 23 million euros in 2012.
On the bright side, insurance group Old Mutual rose 5% at 195 pence, and took other insurance companies up with it. South African, but London-listed, Old Mutual said it was preparing an IPO of its United States asset management business. It also announced a 7.2% rise in annual profit to $1.63 billion.
Meanwhile in Belgium, steel wire and coatings specialist Bekaert rose over 5% on announcing the $310 million acquisition of Italian tire maker Pirelli's steel cord business.
In Frankfurt, the Dax was quite volatile as the political situation in Ukraine developed, but was slightly above Thursday's close in late morning trading at 9593.81. In Paris, the CAC40 was down 0.31% at 4383 and in London the FTSE 100 was down less than 0.1% at 6805.
In Asia, the Nikkei 225 closed down 82 points at 14,841 and the Hang Seng was up 9 points at 22,837.