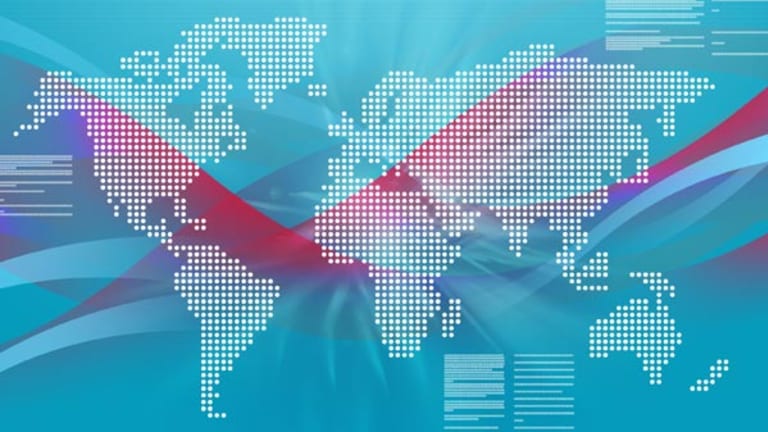 The Deal: European Stocks Fall Following Tuesday's Rally
Global stock indices are mixed Wednesday, with European indices largely in the red.
LONDON (The Deal) -- Global stock indices were mixed Wednesday, with European indices largely in the red after Tuesday's rally even as tensions in Ukraine eased.
In London, the FTSE 100 was down 0.41% at 6,796.10, shedding, in common with mainland European peers, some of the ground it recovered on Tuesday after Monday's market rout. In Frankfurt, the DAX slipped 0.30% to 9,560.06 and in Paris the CAC 40 slipped 0.38% to 4,379.33.
U.S. Secretary of State John Kerry and Russian Foreign Minister Sergei Lavrov are preparing to hold talks about Ukraine after Russia appeared Tuesday to step back from the brink of military intervention in the eastern European country, which has just ousted a pro-Russia government.
Markit Economics' eurozone purchasing managers' output index unexpectedly rose to 53.3 in February from 52.9 in January, above the institute's initial estimate of a slight monthly fall and hitting a 32-month high. Meanwhile the European Union's statistics arm confirmed earlier estimates of fourth-quarter euro-zone GDP, which rose 0.3% on the quarter and 0.5% year-on-year. It also said January retail sales jumped 1.6%, twice the pace of a previous estimate and rebounding from a 1.3% decline in December.
French retailer Carrefour edged higher after posting strong 2011 results and reporting a return to sales growth in its domestic market and a strong performance in Brazil and Argentina. Overall sales rose 2.5% to 74.9 billion euros ($102.8 billion), while net profit rose more than six-fold to 949 million euros.
In Frankfurt, sporting goods maker Adidas fell despite posting strong fourth-quarter results as it warned that adverse currency movements would weigh on sales in the current year and announced a 2014 forecast profit range that lagged expectations.
In Stockholm, telecom Tele2 was up almost 4% after it hired ABG Sundal Collier Holding ASA to work on the potential sale of its Norwegian unit after last year's exit from Russia.
But oilfield services provider Subsea 7 was down more than 6% in Oslo and Stockholm after reporting declining fourth-quarter sales and saying net profit had more than halved, in part because of provisions taken related to a Brazilian project.
London-listed, emerging markets-focused lender Standard Chartered rose as investor relief about the company's capital position -- and reassurance it won't be selling new stock -- offset the fact full-year sales and earnings came in below estimates.
In Tokyo, the Nikkei closed up 1.2% at 14,897.63 after the yen declined sharply, thanks to an easing of tensions in Ukraine.
In Hong Kong, the Hang Seng closed 0.34% at 22,597.78. Mainland indices also ended in the red . The Chinese government maintained its annual 7.5% GDP growth goal for 2014, prompting investors to fret it would struggle to curb credit risks at the same time as meeting its expansion target. It set an unchanged inflation target of 3.5%.