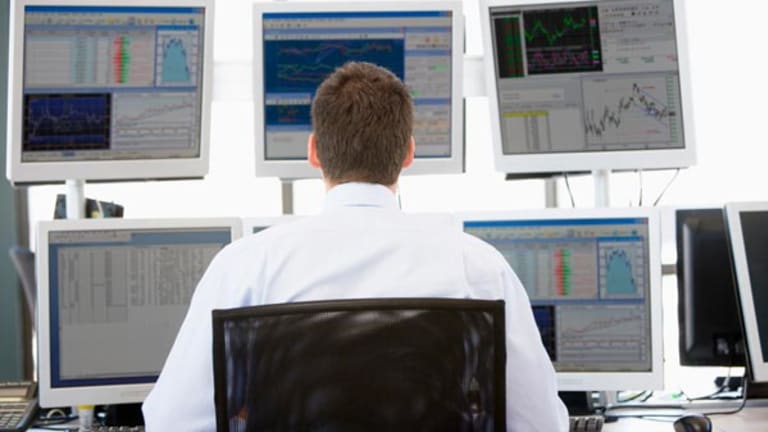 The Daily Chart: Not for Everyday Use
Use the daily chart as an entry tool, but after you've bought in, it's better to put it away.
This column was originally published on RealMoney on April 21 at 1:00 p.m. EDT. It's being republished as a bonus for TheStreet.com readers.
It's important to look at stocks in multiple time frames. For me, it's daily vs. weekly charts. The weekly chart is your reference for the trend. You need to understand whether the stock is moving up, down or sideways.
The weekly chart isn't actionable -- it doesn't provide entry or exit signals. However, analysis of the weekly chart enables you to know whether you should be buying, selling or passing on the stock.
Buy uptrending stocks, and sell/short downtrending stocks. I touched on this a bit in
Thursday's column. In uptrending stocks that are tough to enter without feeling like you are chasing, wait for profit-taking.
You'll see it on the weekly chart, but you should then switch to the daily chart to get a better feel for the price action. You want to have an idea when the dip might have run its course. That's when you buy.
Here's the lesson: After you've used your "entry tool" (i.e., the daily chart), put it away. Ignore the daily chart and get back to where you were before -- assessing the trend on the weekly chart.
By zooming away from the day-to-day action, you eliminate noise. Rather than getting confused by the random daily action, you remain fixed on the trend. This enables you to hold for longer periods of time because your emotions aren't getting in the way.
Let's look at some charts.
Digital River
(DRIV)
is in a strong uptrend on its weekly chart. This chart also provides us with an informative frame of reference. We can see that the stock has been trading in a very, very wide channel over the past couple of years -- from the low $20s to around $40. But it finally broke above that formidable resistance level and is now free to move higher. So we check the daily chart for our entry.
The daily chart shows the same clean uptrend as the weekly chart, but we can also see that the current price isn't the best entry point. If prior price action is any indication (and it typically is), the bulls are likely to pause a bit and offer us a slightly better entry point.
The daily chart of
MEMC Electronic Materials
(WFR)
shows that the key level is $40. The stock has run too far over the past week or so, from $35 up to $44. The prudent move is to wait for a pullback to around $40, where the stock broke out.
The weekly chart of
InfoSpace
(INSP)
shows a downtrending stock searching for a bottom. It has been firming up since October, and appears to be working on some higher highs and lows. I'd wait to see if the stock tests $25 again. If it does, I'd make a scaled entry. A subsequent move to around $22 would be a lower low, which would be my signal to take the loss. But a move higher would be sufficiently bullish to warrant buying more stock.
American Reprographics
undefined
is in a prolonged volatility squeeze on the daily chart. Volume is a bit low now. Don't be fooled by the huge volume spike earlier this month -- that resulted from a huge secondary stock offering at $34.50. Until the stock moves above resistance, I wouldn't buy it.
Be careful out there.
P.S. from TheStreet.com Editor-in-Chief, Dave Morrow:
It's always been my opinion that it pays to have more -- not fewer -- expert market views and analyses when you're making investing or trading decisions. That's why I recommend you take advantage of our
to TheStreet.com's
RealMoney
premium Web site, where you'll get in-depth commentary
and
money-making strategies from over 50 Wall Street pros, including Jim Cramer. Take my advice --
Fitzpatrick is a freelance writer and trading consultant who trades for his own account in Encinitas, Calif. He is a former co-manager of a hedge fund and teaches seminars on technical analysis, options trading and asset-protection strategies for traders and business owners. Fitzpatrick graduated from the McGeorge School of Law and was a fellow at the Pacific Legal Foundation, a nonprofit public interest firm specializing in constitutional law. He also practiced law in the private sector before pursuing trading as a full-time career. At the time of publication, Fitzpatrick held no position in any stocks mentioned, though positions may change at any time. Under no circumstances does the information in this column represent a recommendation to buy or sell stocks. While Fitzpatrick cannot provide investment advice or recommendations, he appreciates your feedback;
to send him an email.