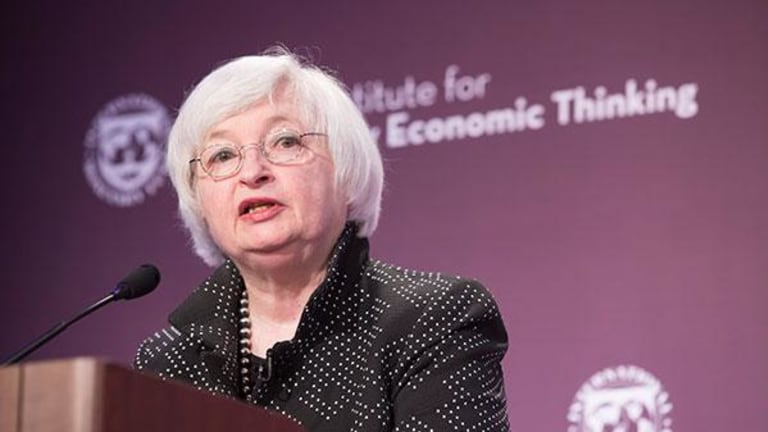 The Case To Hike Rates Has 'Strengthened' In Recent Months, Fed Chair Janet Yellen Says
Fed Chair Janet Yellen is speaking at the Kansas City Fed's economic symposium in Jackson Hole, Wyoming,
NEW YORK (TheStreet) -- The case for hiking rates has "strengthened in recent months," Federal Reserve Chair Janet Yellen told the Kansas City Fed's economic symposium in Jackson Hole on Friday morning. 
U.S. stock and government bond yields popped after Yellen's remarks were released. 
Her hawkish remarks are a result of the U.S. economy reaching maximum employment, as well as price stability, Yellen said, according to BloombergTV's Michael McKee. Household spending has also seen solid growth. 
The Fed gained tools during the last crisis that it can use to combat the next recession, Yellen said. One of those tools is interest on excess reserves. 
The Fed's ability to predict the future for rates is "quite limited" as a result of economic disturbances and head winds, Yellen claimed, McKee noted. 
Forecasts show federal funds rate should settle around 3% in the long term, she said. This prediction is higher than Wall Street's estimates.
The Fed's decision on whether to hike rates at their next meeting on September 20 to 21 seems to depend on the Labor Department's September 2 jobs report, according to the Wall Street Journal.
If the central bank backs off hiking rates during the September meeting, it has two more opportunities to do so at either its November meeting, ahead of U.S. elections, or in December. Her comments suggest a hike at one of these three meetings, the Journal reported.