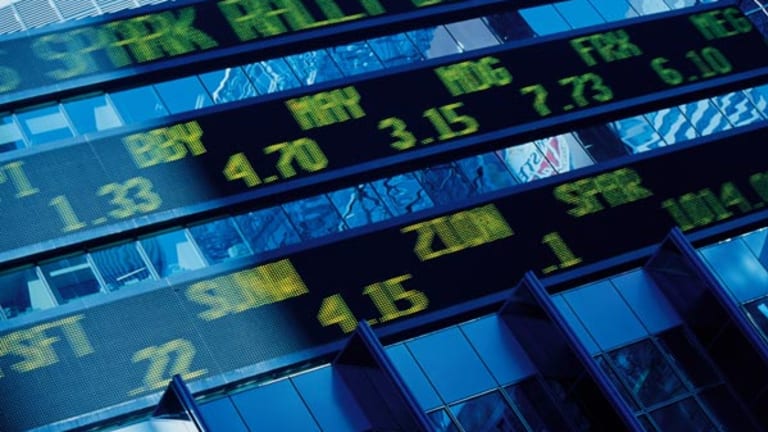 The Case of the Vanishing Phones
The puzzle intensifies after Nokia's disappointing unit volume.
This column was originally published on RealMoney on April 19 at 2:01 p.m. EDT. It's being republished as a bonus for TheStreet.com readers. For more information about subscribing to RealMoney, please click here.
Ahead of
Nokia's
(NOK) - Get Free Report
results, unit volume expectations ran out of control. Consensus expectations of 94 million to 95 million units were topped by some estimates hitting 100 million.
Personally, I expected Nokia's volume to hit 99 million units but show a steeper-than-expected drop in the average selling price from the Christmas quarter. Instead, the company delivered a notably low 91.1 million units but kept the ASP steady at 89 euros vs. an expected 1-euro decline.
This is a mirror of the fourth quarter of 2006, when Nokia's phone volumes beat even the most optimistic expectations while ASP plunged further than anyone had projected. To some extent, the latest first-quarter numbers from Nokia probably represented some kind of a rebound from the extreme conditions of the preceding fourth quarter.
Why are Nokia's quarterly numbers now so difficult to game? Why are these substantial volume surprises happening?
I suspect Nokia might have had a tad too much product in the channel in the fourth quarter, resulting in the slight weakness of first-quarter volumes. The company has excellent control over its distribution and managed to finesse the turbulence without any margin hit.
However,
Motorola's
(MOT)
sudden collapse is an important part of the story. During the first quarter, Motorola's unit volume came in roughly 15 million units short of what it was expected to come in at just a few months ago. That's extremely weak handset volume, and the company probably upset a lot of projections by its fourth-quarter channel-stuffing and its subsequent first-quarter rapid market-share collapse.
Korean brands
Samsung
and
LG
got no extra leverage out of this massive shortfall.
Samsung
did
benefit about as much as expected; its quarterly unit volume of 34.8 million ticked higher sequentially but came in just shy of the expected 35 million. Meanwhile, LG just announced January-to-March sales of 15.8 million units, up more than a million units from a year ago. That's solid, but it's not a surge that might have been expected based on the fresh portfolio.
Now we find out that Nokia did not meaningfully harvest Motorola's missing 15 million units either. I'm sure
Sony Ericsson
will post a great result, but it can hardly be expected to patch up a volume gap this big.
It's now clear that global first-quarter unit volumes are going to be weaker than expected. After roughly five years of upside surprises, we might now be looking at the first unequivocal downside unit surprise in a long time. Motorola's fourth-quarter channel-stuffing is already being cast as the villain, but it's very hard to believe it explains all of the first-quarter softness.
Nokia is maintaining its 10% volume growth estimate for 2007, but this number seemed absurdly coy a few months ago as analysts raced to boost their 2007 growth estimates to 20% or above. Now it looks like Nokia's conservative estimate just might be closer to reality.
The upside is that both Motorola and Nokia delivered solid ASP levels: Motorola beat expectations by no less than $6, and Nokia was about a euro above consensus. It could be that the phone vendors are finding current market conditions difficult to gauge and are pulling back from aggressive pricing strategies until the true volume picture snaps into focus.
But celebrations of ASP strength are likely to be short-lived. This industry lives and breathes volume growth. That's what investors crave. The initial response to both Motorola and Nokia has been positive -- and I believe it is a trap. ASP strength never has trumped volume strength in this business. Phone-sector investors have proved over the past decade that they care deeply about growth.
The puzzling phone-volume weakness of the first quarter will probably trigger substantial jitters until the markets figure out exactly what is going on here, and that process will take months.
At time of publication, Kuittinen had no positions in the stocks mentioned, although holdings can change at any time.
Tero Kuittinen is a senior product specialist for Nordic Partners, Inc., a pan-Nordic brokerage firm. Although Kuittinen is an employee of Nordic Partners, Inc., the statements above are being made in Kuittinen's personal capacity and are in no way are the statements of Nordic Partners, Inc., nor attributable to the company. Under no circumstances does the information in this column represent a recommendation to buy or sell stocks. Kuittinen appreciates your feedback;
to send an email.