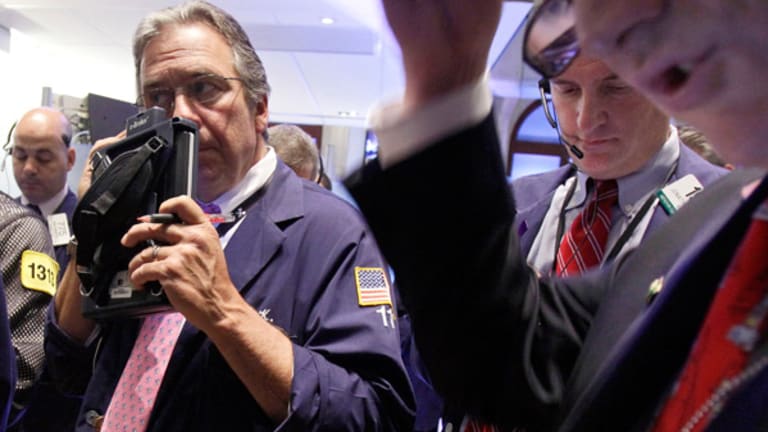 The Canary in the Mine Is Singing
The strength of utilities stocks is a bullish sign for the broader market.
This column was originally published on RealMoney on June 12 at 11:08 a.m. EDT. It's being republished as a bonus for TheStreet.com readers.
It's a good thing the market had the weekend off after Friday's closing bell -- I don't believe anyone could have handled another session without a few days of rest. Unfortunately we now move into the heart of triple-witching options expiration, a period noted for high volatility and unexpected price movement. No rest for the weary.
Rome wasn't built in a day, and neither is an important market low. While Thursday's sharp reversal looks encouraging, we have little choice but to sit back and play the verification game. The indices need to round the bend and exhibit constructive price action before we risk substantial capital on a summer recovery.
Triple-witching has a way of separating truth from reality, so the following bullet points might offer a good starting point for the event. In any case, traders need to take their best shot on the basis of available data, and I'm getting really tired of sitting on my hands.
The May lows of S&P 500 futures were violated and remounted last week, so they remain important price levels to watch. Obviously. But did you know that Thursday also marked quarterly contract rollover day for index futures? That session routinely triggers higher-than-normal volatility as traders readjust positions to the three-month settlement date. This adjustment can greatly skew short-term price development.
The S&P 500 cash index dropped 10 points under the May low before recovering on Thursday, but the new futures contract only violated that level by a single point. The leg down shows similar dimensions on the Nasdaq 100 cash vs. futures. So the depth of Thursday's bungee jump depends on what instrument you were looking at that day.
No doubt, emotions were running high last week, and major anxiety will continue through this expiration week. But now is the right time to shut down all the background noise and focus on pure price action. It will offer better clues about future direction than layers upon layers of frantic commentary.
In this regard, how can anyone ignore what's happening with the utility stocks? The entire sector has woken up from the dead in recent weeks, with many of its components pushing quietly back to new highs. This is significant news and bullish for the broader market.
Utility stocks are major canaries in the market's coal mine. Bear markets rarely begin when this key sector is in rally mode. Additionally, strong sector performance predicts that other market groups will bottom out soon and eventually recover.
How can you take advantage of this budding leadership? It's probably best to avoid the
Utilities HLDRS
( UTH) because it's lagging many of its blue-chip components. This divergence likely reflects the commodity price exposure faced by many utility companies. Therefore, the best plan is to stick with the highest relative-strength stocks in the group.
Here are the top stocks in the utility sector. Many of them show recent breakouts or are testing important highs, and all look like they have further upside in the weeks ahead:
Alliant Energy
(LNT) - Get Alliant Energy Corporation Report
,
Exelon
(EXC) - Get Exelon Corporation Report
,
Allegheny Energy
( AYE),
TXU
( TXU),
Avista
(AVA) - Get Avista Corporation Report
and
Oge Energy
(OGE) - Get OGE Energy Corp Report
.
Internet stocks have been showing up on my "hmm, that's interesting" lists for several weeks now. To me they're now the most promising long-shot plays in the entire tech sector. Let's look at
Yahoo!
(YHOO)
to see why these stocks should be watched closely as we move toward the third quarter.
The stock held far above its May low during last week's broad selloff. Notably this pattern was repeated with
Google
(GOOG) - Get Alphabet Inc. Report
,
Amazon
(AMZN) - Get Amazon.com Inc. Report
and
eBay
. Furthermore, trading volume for the week remained below average throughout the sector. This suggests that the downside is washed out and that these stocks could lead a summer recovery.
Admittedly there is a long list of negatives to match the encouraging signs noted in the utility and Internet sectors. At the top of the list, chip stocks continue their free fall, thanks to the wholesale distribution of
Intel
(INTC) - Get Intel Corporation Report
shares. Just how many more times will we hear that lower prices are a buying opportunity for this stock?
If this market is going to take a stand, it will happen here and now. But that doesn't translate into a slingshot rally that catapults the indices up to new highs. No, the healing process will be slower, duller and longer than the attention span of most financial columnists. And most investors won't realize it's happening until it's well under way.
In the meantime, focus on money flow and look for stocks that failed to print new lows last week. These are the relatively strong issues that will lead to the upside if and when this market finally gets its act together. And don't wait for the big all-in buy signal. It's likely to be a subtle environment where early adapters will book the best profits.
P.S. from TheStreet.com Editor-in-Chief, Dave Morrow:
It's always been my opinion that it pays to have more -- not fewer -- expert market views and analyses when you're making investing or trading decisions. That's why I recommend you take advantage of our
to TheStreet.com's
RealMoney
premium Web site, where you'll get in-depth commentary
and
money-making strategies from over 50 Wall Street pros, including Jim Cramer. Take my advice --
Alan Farley is a professional trader and author of
The Master Swing Trader
. Farley also runs a Web site called HardRightEdge.com, an online resource for trading education, technical analysis and short-term investment strategies. Under no circumstances does the information in this column represent a recommendation to buy or sell stocks. Farley appreciates your feedback;
to send him an email.
Also,
click here to sign up for Farley's premium subscription product The Daily Swing Trade brought to you exclusively by TheStreet.com.
TheStreet.com has a revenue-sharing relationship with Trader's Library under which it receives a portion of the revenue from purchases by customers directed there from TheStreet.com.